About the Show
The podcast you've been waiting for whole life for! Inarguably, the best gymnastics podcast in the history of the universe.  A weekly talk show with interviews, opinions and analysis for fans by the wittiest, wisest fans in the game.
GymCastic in the news: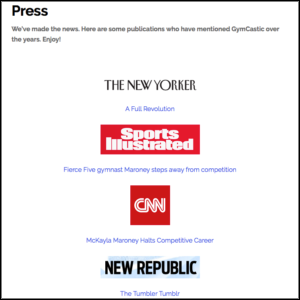 We love hearing from you! Give us your requests, thoughts and feedback by emailing us at gymcastic @ gmail.com or leave a voice-mail on Skype at username "GymCastic Podcast" or by dialing (415) 800-3191. Thanks for listening!
About The Hosts 
Find out all about the hosts in Episode 100 here.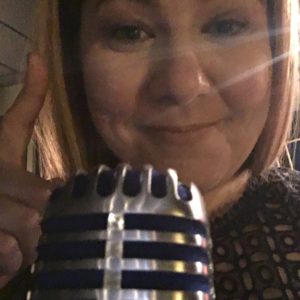 Jessica O'Beirne's mission in life is to make gymnastics as popular as the NFL. No, seriously, she's not kidding. She is the creator and producer of the show. When she is not editing audio or scheduling guests, she works tirelessly to assure that gymnasts know they can continue to do the sport throughout their lifetime for health, fitness and fun over at masters-gymnastics.com (featured here in the New York Times). She has written about masters gymnasts for International Gymnast magazine. Follow her on Twitter @OtotheBeirne or @AdultGymnastics or Google+

Host Emeritus: Blythe Lawrence of

Gymnastics Examiner

 is a journalist from Seattle. She's written about gymnastics for

Universal Sports

,

ESPNw

,

International Gymnast Magazine

and

The Seattle Times

.  She is an editor for the International Gymnastics Federation. You should follow her on Twitter @

GymExaminer

 because she is at every gymnastics event you've ever wanted tickets to.

Uncle Tim writes the blog that would be Spanny's boyfriend… if it were straight, 

Uncle Tim Talks Men's Gym

 and Twitter @

uncletimmensgym

.  

His official biography reads as follows: 
Loves: Jordan Jovtchev's shiny leotards, Philipp Boy's face, Louis Smith's hair, Jake Dalton's toe point, and a good triple full.
Obsessed with: Tim Daggett. Who isn't?
Hates: This is an abridged list… Double pikes off parallel bars, double-twisting double layouts off high bar, bent legs, flexed feet, sloppy handstands, bad round-offs, bad spelling, wedgies, and little kids who fart in your face while you're spotting them.
Hidden talents: I can do a standing back tuck on the high beam even though I'm a boy. Oh, and I'm great at making alcohol-infused desserts, and I speak a lot of languages, and I can eat a large pizza by myself in a single sitting.
Craziest gymnastics moment: When I was in undergrad, I was a poor schmuck, but I studied abroad anyway. On my last day in Rome, I was running low on cash, so I did what any former gymnast would do: I went to the Coliseum, set a hat on the ground and started doing gymnastics. I made 40 euros that afternoon and I had myself a nice meal by the Spanish Steps. (FYI: this happened many years before Emily Kmetko needed train fare on Make It or Break It. She's the copycat–not I.)
Most private thing I'm willing to admit: I have a big gymternet crush on Spanny Tampson. Who doesn't?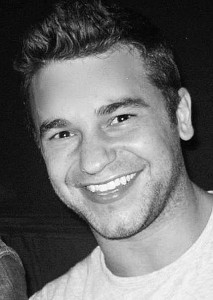 Evan Heiter is originally from the great state of Michigan and currently residing in San Francisco. He part of the gymternet's favorite commentary super duo for the USA Gymnastics live stream #EvanandSam.  He's a former member of the University of Michigan men's gymnastics team, and was fortunate enough to be on the 2010 NCAA National Championship team. Evan is a lifelong gym fan, with strong emotional ties to fluff pieces and form. When he's not developing social content as a profession, you can find him crafting his own brand of (he thinks) humorous content. He loves to make others laugh almost as much as he loves laughing himself. In his spare time, he voraciously enjoys reality T.V., intense elliptical sessions and various appetizer-esque foods. Talk to him on Twitter @ yoEv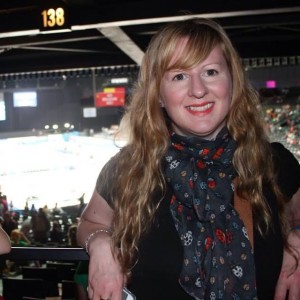 Emma Bailey is our UK correspondent, Vice President of Taking Photos With Gymnasts and the show's Mistress of Scheduling.  Check her out on Twitter @MoominWhisky

Spanny Tampson is one of the most beloved gymnastics-satirists in the game. Her montages are legen…wait for it…dary. Experience it all on her popular blog Spanny's Big Fake Smile. Like her on Spanny Tampson Facebook, or follow her on Twitter @SpannyTampson where she hunts down #fouryearfans and punishes them.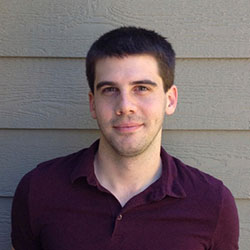 Spencer Barnes has been a devoted fan of gymnastics ever since Svetlana Boguinskaya and Lilia Podkopayeva rescued him from the clutches of a sea monster and brought him to a beautiful island paradise, although that may have been a dream. He is firmly committed to shouting the virtues of NCAA gymnastics from all available rooftops, hills, and stepstools and believes that all floor routines should strive to communicate the sorrow of a nation through the medium of toe point. He can normally be found detailing bizarre commentator moments and obsessing over who deserved a 9.875 at his blog, The Balance Beam Situation, and on twitter @TheBBSituation. Follow his television recaps over in the non-gymnastics world at New Now Next.


Dvora Meyers was raised in the wilds of Brooklyn (way before the hipsters colonized) yet still can pronounce most of her Rs. Like all Orthodox Jewish yeshiva girls, she did recreational gymnastics for several years but with the fervor of one much more talented, and memorized all of the books about the sport contained in the public library. They numbered three.Which is why Dvora went onto write a gymnastics book of her own. Due to a catastrophic failure at compartmentalization, she published Heresy on the HighBeam: Confessions of an Unbalanced Jewess, an ode to obsessive gymnastics fandom laced with high doses of Judaism. (As Forrest Gump once sagely said, gymnastics and Judaism go together like peas and carrots.) She also writes about arts, culture, and religion for a variety of publications including The New York Times, Slate, Jezebel, and The Atlantic. Check out Unorthodox Gymnastics for your thrice-weekly religion-gymnastics fix. And follower her on Twitter @DvoraMeyers for more thoughts on spandex and the
patriarchy. She is also available to breakdance at weddings and bar mitzvahs. Just ask.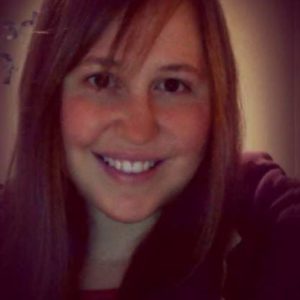 Lauren Hopkins,  began writing about gymnastics for The Couch Gymnast in July 2010, and spent four years there as the U.S. expert while also contributing to International Gymnast magazine, GymCastic, and as a guest on several blogs. In 2014, she created her own website, The Gymternet, now one of the most popular gymnastics sites providing exclusive coverage for the most enthusiastic gym nerds. She is the author of a young adult gymnastics series, The 2016 Trilogy. A New England native, Lauren is a 2014 graduate of Columbia University. She currently lives in New York City and she loves the Red Sox unconditionally. Follow her on Twitter.
Transcription Team Captains: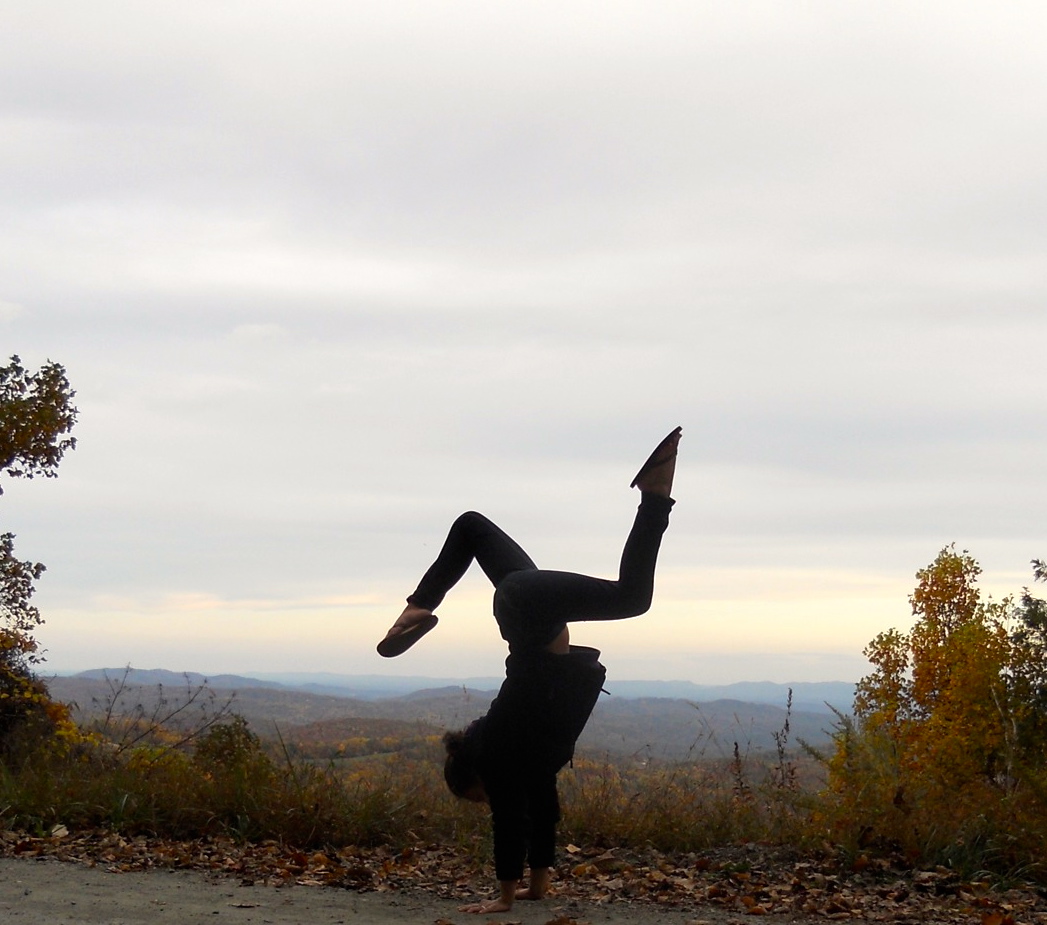 Katy Jones is self-admittedly a better gym fan than she ever was a gymnast. When she's not transcribing or watching endless hours of gymnastics on YouTube, she writes a Flashback Friday series and helps with interviews at GymNewstics.com. You can follow her on Twitter at @katylovin where her overuse of seemingly obscure words like "Yurchenko," "Mustafina," and "Amanar" has driven away many non-gym fans.
Katie P.  – prefers to remain mysterious, like like physics behind Kennedy Baker's  quintuple wolf turn.
Sound Engineer: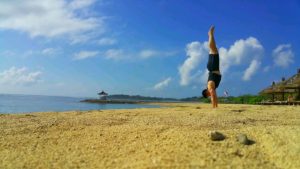 Ivan's love for All-Things-Internet can only be rivaled by his love towards Gymnastics (See pic above).  When he's not busy dealing with the World's addiction toward fossil fuel, he spends his time nurturing his passion in Yoga, Music, Photography, Technology, and of course, Gymnastics.Blessed with the ability to play music by ear, he delved into the uncharted territory of being a YouTube musician in the early age of YouTube. (Read: Pre-Google, Pre-HD era).  Up to date, his YouTube Channel has garnered more than 7 Million views and close to 3000 subscribers.  Although the development of the channel has slowed down as he shifts his focus towards Photography (Check out his website @ www.TripleTwistPhoto.com/Facebook), he's still actively playing music every week as a resident pianist in one of Houston's mega church.
Writer and Editor: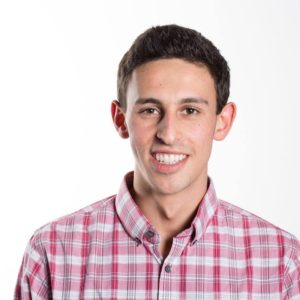 Tanner Nemkov, is a former gymnast and current Gym Nerd who did a brief three-year diving stint for Northwestern University. He lives in Chicago, and when he's not devising a plan to run in to Nastia, he works as a copywriter at an ad agency. Find his gymnastics stream of consciousness on Twitter @tannernemkov.

The GymCastic Podcast by gymcastic.com is licensed under a Creative Commons Attribution-NonCommercial-NoDerivs 3.0 Unported License.
Based on a work at gymcastic.com.