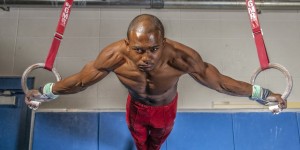 When John Orozco tore his ACL during the post-Olympic tour, some gymnastics fans thought that John wouldn't compete in 2013. But John proved them wrong. By the 2013 P&G Championships, he was back, and he earned a spot on the U.S. World team. At the 2013 World Championships in Antwerp, he won a bronze medal on parallel bars, and he hasn't slowed down since.
Earlier this year, John won the all-around at the Houston Invitational with an impressive score of 92.250, and after one day of competition at the Winter Cup, John is tied for second with Ohio State's Sean Melton. Both gymnasts totaled an 86.150 in the all-around–only 0.050 behind Marvin Kimble, the current leader.
Yesterday, Uncle Tim chatted with John about his performance at the Winter Cup, his new (possibly eponymous) skill on floor, his experience training with the Chinese gymnasts, and his preparation for the American Cup.
Uncle Tim: How do you think the first day of competition went for you?
John Orozco: "There were some good things and some terrible things. (Laughs.) I'm happy with my vault. I did a better vault than usual. But pommels was definitely a disappointment—and floor. But pommels was more of a disappointment because I have been doing that routine for a really long time now, and I think I was just focused on the wrong things. I was thinking about everyone watching me and expecting me to hit before I go to the American Cup. And then, on floor, I was trying a new skill—my own skill that I'm trying to get named after me. I just held back a little bit. I'm not sure if I'm going to go for it in finals or not. But everything else was all right. I wasn't as sharp as I usually am on all my skills. During finals, I have a lot to improve on, so that's what I'm looking forward to."
[Read more…] about Catching up with John Orozco at the 2014 Winter Cup Challenge