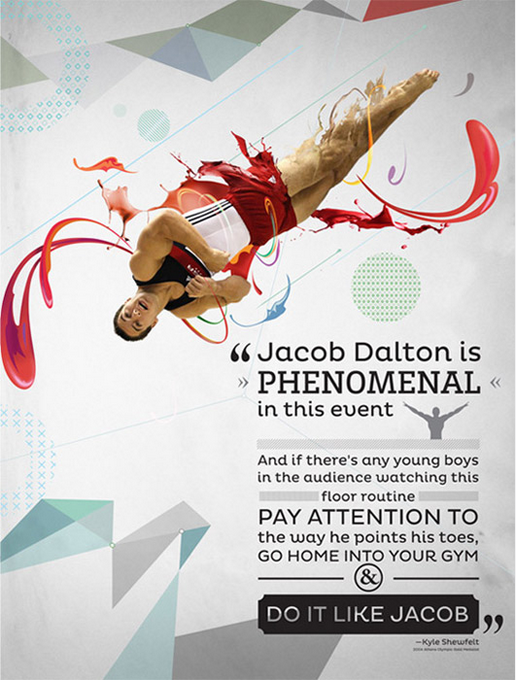 On the podcast, Jake Dalton is known as "Mr. Toe Point"–and for good reason. (Have you looked at his toes while he's competing?) His impeccable feet and consistency have helped him earn a reputation as one of the top male gymnasts in the world.
To toot Jake's horn a bit: In 2011, Jake was a member of the U.S. team that took home bronze at the Tokyo World Championships. At the 2012 Olympics, he finished fifth on floor. And in 2013, he was crowned the American Cup champion, and he took home a silver medal on floor at the World Championships.
Prior to the 2013 World Championships, Jake Dalton jammed his thumb. He competed with the injury in Antwerp, and after the competition concluded, he had surgery on his thumb. When Uncle Tim sat down with Jake at the 2014 Winter Cup, he asked him about his recovery. Here's a transcript of their conversation:
Uncle Tim: Let's start by talking about your hand. How's your hand doing?
Jake Dalton: "It's doing good. Just not a whole lot of flexibility in the thumb still. I've been working on that. But other than that, my thumb's feeling great. My hand has been an issue. You know, when you do gymnastics, you get meat on your hand from parallel bars and pommel horse and things like that. So, the meat went away when I had the cast on for so long, and I just felt like I was getting a stone bruise every time I was swinging. But the meat has built up, and it's coming back. And it doesn't hurt too much."
UT: I'm just curious. Why did you choose to do rings at Winter Cup? It's a hand event, after all.
JD: "It is, but it's just kind of grabbing. It's not a support event, and I'm able to grab things. Rings was actually the event that came back first after the surgery."
"I have kind of bad wrists from before the injury, and the cast didn't help. When I stopped moving my wrists and pounding on them every day, they started to hurt worse. Since I hadn't done anything on my wrists for a few weeks, floor and vault hurt quite a bit when I was coming back. Parallel bars and pommel horse are obviously out because of the pressure on the hand and the wrist, and vault—I didn't have a new vault to show yet. I'm still working another vault. Rings—I was just able to jump back in on rings and feel comfortable competing again."
[Read more…] about Catching up with Jake Dalton at the 2014 Winter Cup Challenge