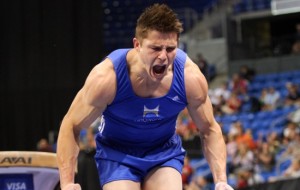 For many, Chris Brooks is perhaps best remembered for "getting extreme" after his vault at the 2012 Visa Championships:
Before Chris Brooks earned the reputation of being an excitable dude with a Blanik vault (handspring double front pike), he was seen as one of the best in the world on high bar. In 2010, he won the event at the Visa Championships, and at the World Championships in Rotterdam, he finished sixth in finals, where he competed against the likes of Zhang Chenglong, Epke Zonderland, Fabian Hambuechen, and Philipp Boy.
In 2011, Chris Brooks did not have the chance to improve on his sixth place finish. After finishing fourth in the all-around at Visa Championships, he was named an alternate to the U.S. World team, and in 2012, déjà vu. After finishing fourth in the all-around at Olympic Trials, Chris was named an alternate yet again, this time, to the U.S. Olympic team.
After coming so close to his goal in 2012, Chris Brooks was eager to prove himself in 2013, but an injured thumb kept him out of competition for most of the year. At the 2014 Winter Cup, Chris Brooks competed in the all-around for the first time since the 2012 Olympic Trials. Uncle Tim sat down with Chris to discuss his progress.
Uncle Tim: Can you give me an update on your injury?
Chris Brooks: "After taking some time off with the Kellogg's Tour and enjoying and celebrating, I came back in 2013, and things were going pretty well. I got into shape quicker than I imagined. So, I went and did a competition in Germany. I had some problems there, but I came back on fire to train. It was just a typical day in the gym. I did a Tak 1/2 on high bar and caught my thumb awkwardly, dislocated it, and popped the UCL ligament in my thumb."
"I immediately called my doctor and said, 'Hey, man, I dislocated my thumb, and it feels really weird. I don't know if it's just loose or what." He got me in the next day, and he literally just touched my thumb and was like, Yeah, the ligament's completely gone. It's completely torn. So, I had surgery and anchored it down. Recovery took a little longer than we anticipated. The doctor repaired it tighter than he normally would because he knows how much stress gymnasts' bodies go through. So, it took a little bit of time to get the flexibility back. But now, it's 100%. It's not keeping me from doing anything. I came in here healthy and trying to earn a spot on the National Team and get on top of the podium."
[Read more…] about 2014 Winter Cup: Chris Brooks on Broken Bones, Blaniks, and Rio