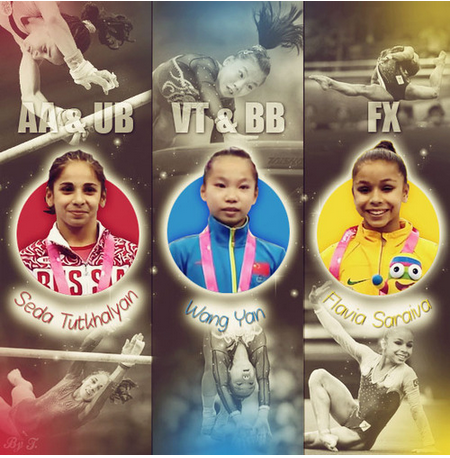 This week Bea, Blythe, Emma and Jessica chat about:
Romanian Nationals

Could Larisa Iordache have a higher difficulty value at Worlds than Simone Biles?
Jessica picks her new junior superstar: Andreea Iridon.
The state of the Romanian World Team and the dreaded (for the seniors) bars.

The Swiss, Romanian, Germany Friendly meet

An update on Swiss stalwart, Gulia Steinbruger.
Germany's steller bar workers are getting it done!

Youth Olympic Games

The most overwhelming display of affection and sportsmanship we've ever seen in the history of gymnastics.
The educational component of the YOG that none of us knew about!
Becky Downie pushing her coach away from the camera to stop from dying of teenage embarrassment.
Vault final was won by a Chinese gymnast, Wang Yan with a big 14.783
Giarnni Regini-Moran, another sign of the next super power is British Gymnastics.

Novara Cup

The fan insanity/zero security for athletes at Italian gymnastics meets.
The return of veterans, Joana Adlerteg (SWE) and Julie Crocket (BEL).

Russian Cup

The return of Victoria Komova on bars from her growth spurt and injury.
Aliya Mustafina is back, with a vengence!
The glorious zero-craps-given attitude of 

Tatiana Nabiyeva.

Sandra Isbasa to do Romanian Dancing With The Stars.

Get more from Bea over at The Couch Gymnast.




Or watch this week's playlist on YouTube here.