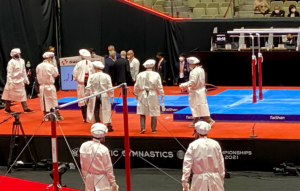 Today, our immediate reactions after watching:
Japan's two Olympic Champions King Uchimura Kohei and Hashimoto Daiki compete in front of a sold out home crowd
Defending world high bar champion, Arthur Nory (BRA)
USA's battle pommel horse between Alec Yoder and Stephen Nedoroscik with Donnell Whittenburg joining the Dragulescu vault-a-thon; Yul Moldauer joined a stacked field in the AA
Irish star 

Rhys McClenaghan trying to repeat his PH greatness after all of the chalk was wiped off of the pommels

 Carlos Yulo (PHI) trying to defend his 2019 floor World Championship

Plus news on the spinal injury to Hatakeda Hitomi (JPN)

COVID disinfection of the equipment after a competing athlete tested positive
 ​​
BONUS CONTENT: Behind The Scenes
Behind The Scenes is a live Q&A podcast just for club gym nerd members! We're providing daily coverage after each day of competition plus podium training days during the 2021 World Championships in Kitakyushu, Japan! It's our appreciation love letter to club members for supporting the show. Here's how to ask questions live.
Behind the Scenes we talk about all the stuff you didn't see on the screen! The HR department has to step in to an internal GymCastic Crew dispute.
Please login 
to your Club Gym Nerd account to listen and/or watch this episode. Not a member? Join 
here
.