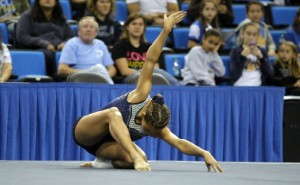 This week we cover the Stuttgart and Glasgow World Cups, the two-per-country rule petition and Gabby's book takes us into a discussion of life lessons in perseverance. A rare interview with FIG Women's Technical Committee President, Nelli Kim leads to talk of ugly artistry, Uncle Tim teaches us about the YMCA's contribution to US gymnastics and we continue our fantasy connection series with beam combos.
In part two of our interview with Miss Val, we discover how she and her former roommate inspired one of the creators of the television show Will and Grace, we find out why so many UCLA athletes have success in elite after college, why Canadians thrive in NCAA, de-programming damaged athletes to build self-esteem and tells us the price of going pro; the actual dollar amount after taxes and experiential cost. Lastly, she tells the story of the amazing wedding gift she gave to a fan.
Nelli Kim interview from Sports Panorama translation curtesy of Rewriting Russian Gymnastics.
Jenny Pinches interview with The Couch Gymnast
Two-Per-Country rule change petition and commentary from Dvora and The Couch Gymnast.
Blythe's review of Gabrielle Douglas's book "Grace, Glory and My Leap of Faith"
Uncle Tim's review of Dvora's book Hersey on The High Beam
Out gymnast Josh Dixon is a Stanford graduate and 2012 US National Team member.
Out gymnasts and University of Michigan graduates Ben Strauss and Evan Heiter shared their journey in an It Gets Better project video.

Will & Grace –  fast-forward to :40 second mark for the water bra episode highlight.

Kristin Furukawa BB- 2011 University of Minnesota

Doris Fuchs Brause Uneven Bars 1966

Mariya Livchikova BB – Front ariel front tuck on beam

Marcia Frederick UB 1978 Gymnastics World Championships

Svetlana Khorkina – 2000 Olympics EF – Uneven Bars

Ksenia Afanasyeva FX – 2012 Olympics qualifying