Update: This episode was recorded before Kyla Ross's withdraw from the American Cup. On 2/26 Ohashi and Biles were announced as the US competitors. After you listen to this episode, you will see that we can indeed predict the future and are freaking geniuses.
This week, three-time World Champion and Olympic bronze medalist Beth Tweddle stops by to talk with us. The 27 year-old chats about the fun of skating costumes, the little known advantages of puberty for female gymnasts, training healthier and smarter for guaranteed competition results and what skills scare her.
Where can you watch and find the list of NCAA meets each week, you ask? Check out Lauren Hopkins weekly schedules over on The Couch Gymnast and College Gym Fans rankings.
GymNerd Challenge Winner of the Week! Chris Jordan took these two lucky newbies gymnastics-meet-virginity! Woot!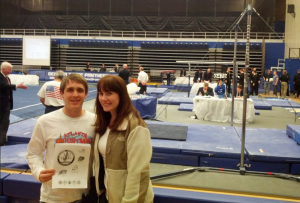 Show links: Tunnel Bear a VPN service. Here are the FIG's Most Commendable Award Criteria 2012. And of course, Beth's Week Four "tuck back" routine.
Lia Del Priore's 10 on Floor for Utah. Starts with vault then goes to floor. Watch for the Tebow at that 1:10 mark.
Oklahoma's distracting "Boobitard".