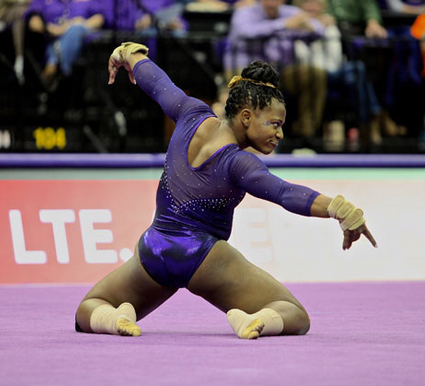 This week we talk to LSU's Lloimincia Hall who is currently ranked second on floor in the NCAA.  She and her coach, D-D Breaux talk about conditioning, gospel floor routines and preparing for hurricanes. Lloimincia's interview prompts us to talk about religion, inclusion and persecution within the gymnastics community. Dvora gives us a ringside report from the Nastia Liukin and American Cup meets, then we chat about our favorite routines from the Russian and English championships.
Lloimincia Hall vs Florida in January 2013.

Be sure to check out LSU's web-series Inside LSU Gymnastics.
Kristian Thomas FX 2013 American Cup

Gabrielle Gupp BB, American Cup 2013
Ruby Harrold UB, English Championships 2013
Becky Downey UB, English Championships 2013
Mustafina at the 2013 Russian Championships