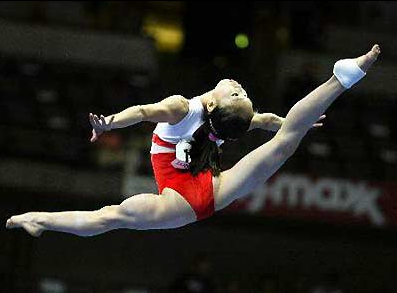 2003 Balance Beam World Champion Fan Ye, is in the United States to promote the 2014 World Championships in Nanning, China. We talked to her about the quality of education at the national training center, her university studies, how the loss of the 10 effected her personally along with the current code and the current state of Chinese women's gymnastics. We owe a special thank you to national team coach, Jiani Wu, for interpreting despite having a bad case of laryngitis! Follow Fan Ye on Webo.
Blythe gives us a behind-the-scenes report from France where she covered the French International, we discuss the crime against gymnastics that was the Utah vs Florida meet, and our most memorable gymnastics related show-off accidents.
Enter our contest! Five of you will win TWO tickets the Women's NCAA Championships hosted by UCLA in April. All you have to do is like us on Facebook or follow us (by adding us to one of your circles) on Google+. For more information on the meet, visit ncaa.com/gymnastics.
Thank you for asking how to support the show! By popular demand, we now have a donate button!
Holland America's Dancing With The Stars Cruises featuring Shawn Johnson. Get a Grip Gymblog on NCAA mess this past weekend, Judge Well, Lest Ye Be Judged.
2003 World Championships Fan Ye Beam

Fan Ye in her favorite blue leotard from the 2005 Chinese National Championships where she won the all around.

Tweet of the Week from Catalina Ponor.
Marine Brevet (FRA) – FX – French International Final

Vasiliki Milousi (GRE) – BB – French International Final

Anne Khum (FRA) – BB – French International

Uchimura Kohei mini-documentary Samurai Soul