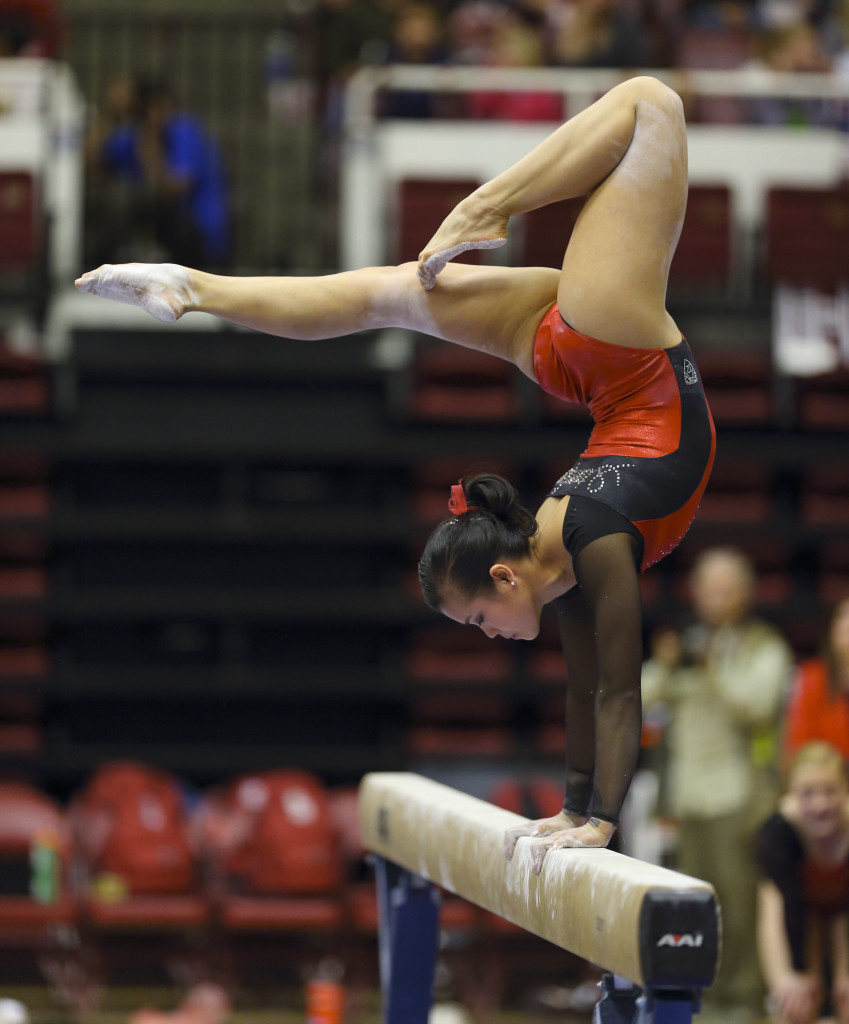 This week we talk to toe-point champion of the universe, Ivana Hong. She was a member of the 2007 gold medal winning World Championship Team and won a bronze medal on balance beam at the 2009 World Championships in London. We ask what she learned from each coach she had during her elite career, if she will join Cirque du Soleil or return to elite after college, what advice she'd give her younger self, what it takes to be so tranquil on beam, and how she learned to be so very very elegant.
We tell our favorite drunken and/or it-can't-be-that-hard gymnastics wipeout stories, talk about NCAA conference title meets, Jesolo, Cottbus, and French nationals. Plus our favorite British Olympian, Jenni Pinches, joins us to talk about the British Championships. Check out her blog for full details with videos. Don't forget to tweet #SendJenniToMoscow to @BGMediaTeam and DFTBA!
The most perfect double front of all time, as performed by Ivana Hong.

Ivana at the 2012 NCAA's Team Finals.

Italy's Erika Fasana posted a photo of her face after seeing Biles perform.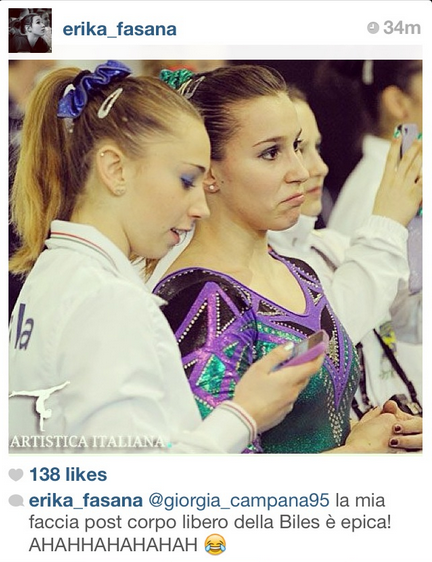 30 year-old, 2000 Italian Olympian, Adriana Crisci, competed AA for Italy's B team at Jesolo!

Our favorite stereotype buster 6-foot-tall Alexander Shatilov (ISR) on HB at Cottbus

Adorable and powerful Jr. Brit Louise McColgan's floor routine from British Championships.

Anna Dementyeva (RUS) Floor, Turnier der Meister, 2013 Cottbus

Maegan Chant (CAN) Floor, Turnier der Meister, 2013 Cottbus

Anastasia Grishina (RUS) BB, Turnier der Meister, 2013 Cottbus

Anastasia Grishina (RUS) UB, Turnier der Meister, 2013 Cottbus

Matthias Fahrig ,Floor, Turnier der Meister, 2013 Cottbus