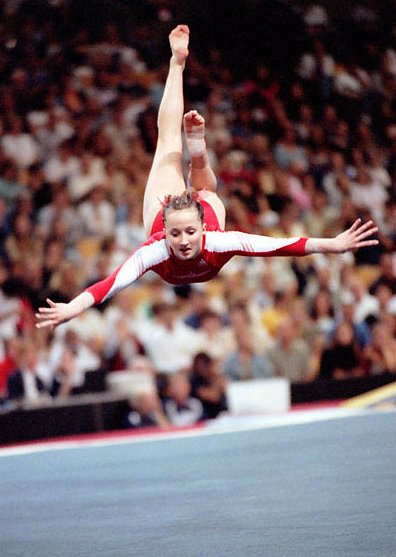 This week our guest is two-time US national champion, 2000 Olympic team bronze medalist, and five-time NCAA champion, Kristen Maloney. She opens up to us about her highs and lows; how did it feel to be awarded an Olympic medal 10 years after the Games (because the Chinese team falsified their ages); and being told you'd never do gymnastics because most of your leg bone had been eaten away by an infection? What does her eclectic experience as a Cirque artist, Olympic and college gymnast bring into her coaching now? And as always, we get to the important facts; even though she's a huge bad ass who always hit and could triumph above any obstacle, she has a super-idol who makes her gymnerd out!
We talk about the best routines from the Austrian Team Open, Marcel, Danell, Oleg Verniaiev and our new wowza worthy bar worker Shang Chunsong at the Tokyo Cup, Men's NCAA Conference championships (won by Michigan), Sam Mikulak and future floor world champion (according to Jess) Stacey Ervin.
Maloney 2000 Nationals Bars, featuring her eponymous skill, the toe-on Shaposhnikova

Kristen Maloney – vault in prelims (vault was at correct height) – 2000 Sydney Olympics

Kristen's NCAA beam from 2001 NCAA Championships, featuring wolf jump to full-twisting swing down.

Maloney's routine form 1997 World Championships event finals.

Shang Chunsong CHN UB 2013 Tokyo World Cup featuring a PIKED HINDORF!

Shang Chansong CHN BB 2013 Tokyo World Cup. She had the highest beam score of the meet–not Iordache good or Ohashi good, but the routine shows potential.

Asuka Teramoto's lovely floor (JPN FX 2013 Tokyo World Cup)

Oleg continues to have troubles on pbars. Very hit or miss:
Oleg Vernyayev UKR PB 2013 Tokyo World Cup

Stacey Ervin handspring double front vault at BIG Team Championships

Stacey Ervin Floor at BIG Event Finals