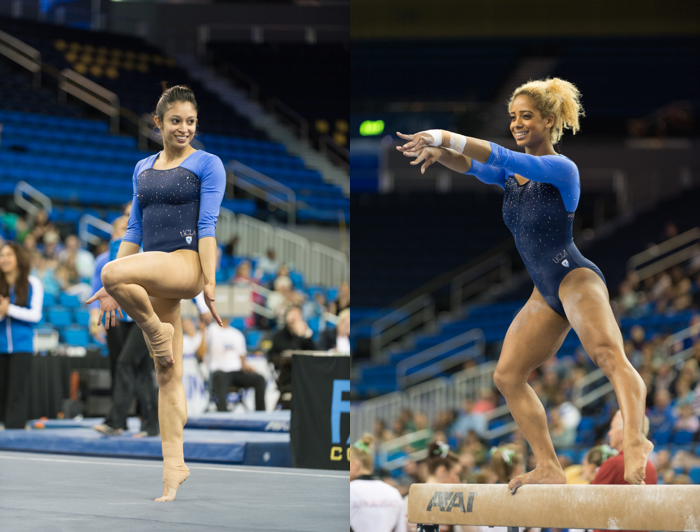 UCLA's Vanessa Zamarripa has once again finished the regular season ranked number one in the all-around. We talked to her about being the first American to compete the Cheng vault, mercilessly teasing her coach, competing an upgraded version of the Cheng (the Zamarripa?), and if she'll return to elite gymnastics after graduation. Her teammate, British Bruin freshman and 2012 Olympic alternate, Danusia Francis tells us what it was like to attend a sports boarding school in a castle, doing injury prevention exercises for her extreme flexibility, competing one handed exhibitions before each session of Olympics, and how she is adjusting to life in Lalaland.
In the second half of the show, Blythe brings us a preview of the European Championships,  Lauren Hopkins from The Couch Gymnast chats with us about Regionals, Uncle Tim gives us the juicy details from the coache's press conference, and  we pick a not-to-be-missed routine from each event at this weekend's NCAA Championships.
To prepare fully for this weekend's competition, including analysis of scoring potential, read The Balance Beam Situation. Read that blog and become a better gymnastics fan.
Zamarripa's HUGE Cheng vault at Visa Championships in 2010 (look at the smiles on the judge's faces)

Vanessa Zamarripa – FX – UCLA Gymnastics 2/10/13

Danusia Francis – BB – UCLA Gymnastics 3/17/13

Shayla Worley – Beam – Mar.23.2013 – SEC Championships – 9.950

Christa Tanella – Floor – Mar.23.2013 – SEC Championshps – 9.850

Southern Utah University's Jamie Armijo performed a back-handspring to full-twisting back-handspring series in her balance beam routine at Regionals last weekend and so beautiful turns.
Natalia Laschenova – 1989 Worlds AA – Floor Exercise

Laschenova's daughter Sasha Tsikhanovich

Minnesota's Kayla Slechta – 9.95 on the vault – 2013

Katherine Grable (Arkansas ) FX 2013 vs. UCLA

Kohei Uchimura 2013 – Kovacs + Kollman + Kollman

Gabby Jupp – Bars – 2013 British Championships – Apparatus Finals