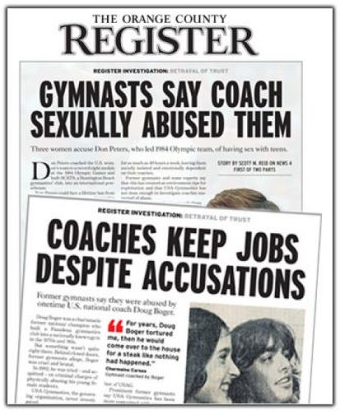 We start our special episode by looking back at some of the physical, emotional and sexual abuse stories from gymnastics' recent past. We start in the 1980's. If you are a long time listener, you'll find out why Jessica always calls the 80's the Dark Ages. With three special guests we discover the history which brought gymnastics to this point of change, what has been done to stop abuse, what loopholes still need to be shored up, and what educational and policy programs for prevention are now available. In addition, you'll find out how to stop and report gymnastics child pornography.
Our guests are, Scott Reid, investigative reporter for the Orange County Register, Katherine Starr, two time Olympian and founder of Safe4Athletes, and Lynn Moskovitz-Thompson, Director of Educational Services at USA Gymnastics.
Check out the resources discussed on the show. Safe4Athletes, including their app.  USAG's Club's Care and We Care campaigns. FBI's Innocent Images Task Force.  The FBI Internet Crime Complaint form. Scott Reid's report on defeated statute of limitations bill in California SB 131 and his abuse investigation. YouTube's reporting hub.
In this episode:
Can club-hopping by abusers be stopped?
How to make a standard of behavior an effective tool for identifying grooming behavior and abusers early.
Stopping character assassination of girls who are abused.
Learning how to speak up and being heard by adults.
Why kids don't come forward when they are abused by a coach.
How to support a gymnast who has been abused once he or she comes back to the gym.
What questions to ask before choosing a gym.
Remember the Halloween Costume Contest is on! Send in your pictures by November 1st to receive the poster of your choice from fan-couture experts, Cloud & Victory.