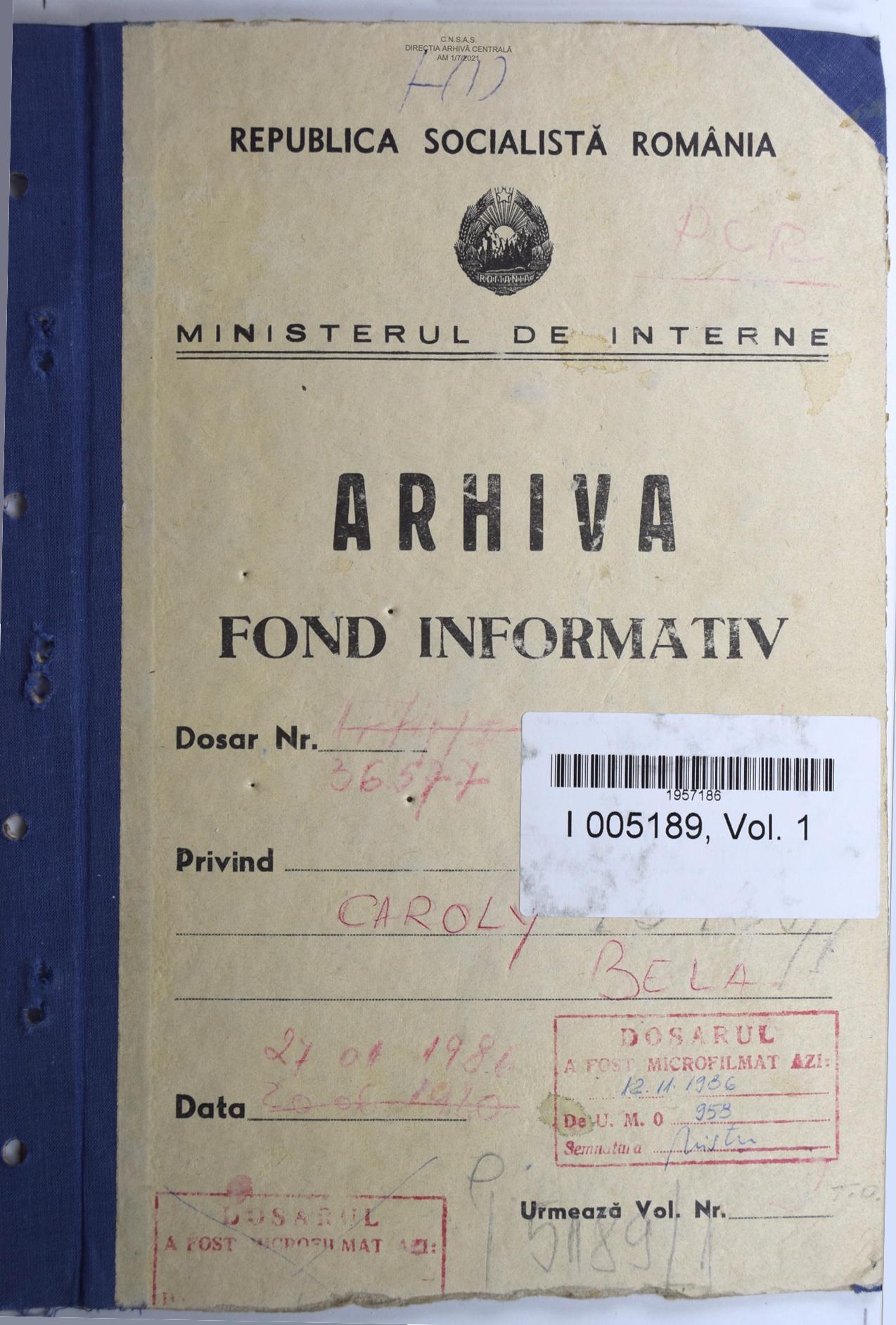 Beginning in 2020 GymCastic coordinated with Romanian freelance journalist Cosmin Bogdan to research and retrieve Romanian Secret Police documents pertaining to gymnastics.
We consulted with experts to translate and interpret the information, to understand what the files meant in the context of communist Romania and the gymnastics program. We have poured over hundreds of documents, handwritten letters, images in the files, and transcriptions of surveillance recordings. This work will shed light on the circumstances surrounding Bela and Martha Karolyi's rise to prominence, their relationship with Nadia Comaneci, Romanian gymnastics, the international gymnastics community and how this history influenced the culture of USA Gymnastics for decades.
Some material we were unable to copy due to the rules of the The Securitate archive–in these instances Bogdan took notes. Some files we obtained were redacted by The Securitate archive–we have no knowledge of the redacted material. And some information in our possession we are choosing not to release to assure the intelligence in the documents is not abused or used in a manner that is inaccurate or unfair.
We have taken great care to understand everything we present and, additionally, the podcast allows us the opportunity to dive deep into the context and circumstances surrounding the documents we share.
In this release we reveal some of the reported abuse by Bela, negligence toward medical advice and diet, lies regarding the discovery of Nadia and the dismissal of medical staff challenging his authority. Furthermore, we share an inventory of items seized from the Karolyis' property after they defected–a revelation of their power and connections within the communist party.
For a deeper understanding into these documents listen to our discussion in the episode titled: Project K: Interview with Nadia & The Secret Police Author Dr. Stejarel Olaru. Further information about Project K is here.
We will release new material next week and continue to discussion on the podcast.
ABUSE
TRANSLATION: – in coaching the gymnasts, he [Bela Karolyi] uses many times brutal measures, such as: beating, shouting, vulgar expressions etc.;
NOTE: Remaining documents are available to club members. Club members also have access to the uninterrupted interview with Stejarel Olaru, author of "Nadia Comaneci and the Secret Police" and early access to future Project K exclusives. Why? Because this kind of work is expensive. We appreciate your support! If you're already a member, please login to your Club Gym Nerd account. Not a member? Join here.

SUPPORT: International reporting is expensive. If you wish to support the work of our independent journalism, please consider joining Club Gym Nerd, which unlocks many benefits, including a bonus podcast each week, or making a donation here.
CREDITS:
Original Reporting by Jessica O'Beirne and Cosmin Bogdan, freelance journalist.
Contributions by Steve Cooper.
Translations by Beatrice Gheorghisor and Cosmic Bogdan.
Official document transcription and translation by Transperfect.