Hello friends!
Christmas time is here again, and by Christmas I mean P&G/Visa/Tyson Chicken/McDonalds/John Hancock/Tampax/Plan B Championships!  It's the very best time of year.  And by very best I mean tolerable, because it's depressing to know that it is one of the first and last meets of the elite season. THANKS MARTHA.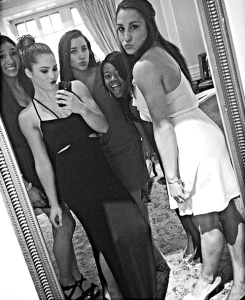 I am here in Hartford, CT with Lauren Hopkins of The Couch Gymnast and Jennifer Iacopelli, author of the new hit tennis novel, Game, Set, Match.  We are staying at the host hotel, which has been a source of amusement in and of itself.  It was apparent to me upon my arrival, at 11pm, that Taryn Maroney runs this joint.  The fact that I know who Taryn Maroney is, and can recognize her terrifies me a little bit.  But what other little girl would be hanging out alone outside of the hotel bar at 11pm?  Luckily, the rest of her gang showed up the next day.  As Lauren, Jennifer and I were winding down in the bar at around, oh, I'd say midnight, we were graced by the presence of not only Taryn, but now the Raisman sisters, Maroney's teenage brother/bestie Kav, and perhaps a Ross or two.  At midnight.  In the bar.  Mr. Ross may have been around somewhere.  Have you ever seen a picture of this man?  GET IT.  He is now my #2 Travis Parton.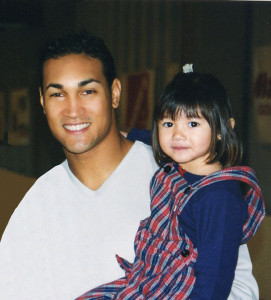 Believe it or not, I did not travel here solely to stalk children.  I did attend the first of the junior and senior meets, and there were definitely some surprises.
I have to say the biggest, most obvious observation I have is that no one died.  No one had to be carried off by her coach.  No one made me cover my face with fear.  Yes, Madison Kocian hurt her ankle, but even that was a slight, if not graceful stumble, from which she was able to walk away under her own accord.  That's a win in my book.
I have grown accustomed to fearing for the lives of every girl in the arena during a meet.  So the absence of that gut fear came as a surprise to me.  Even Mykayla Skinner, while her skills may not be the prettiest to watch, I didn't fear for her life.  You can't DIE from a one-armed Cheng, right?  So because I wasn't busy ripping my hair out with anxiety, I was able to watch, and dare I say appreciate the meet.
Speaking of hair, I want to address a couple of shallow points.  My bread and butter has always been ragging on the disastrous hair and presentation of various gymnasts.  The American girls have always supplied me with tons and tons of material, never letting me down.  Would London have been London without Maroney's hair flopping down the vault runway?  Would Alicia have stayed on beam in Beijing if not for her uncontrolled hair?  Just as I was accepting that I was old and would have to give in to this trend, someone came out from the shadows, and turned a light upon this cold, dark Earth.  And for this, I am forever grateful.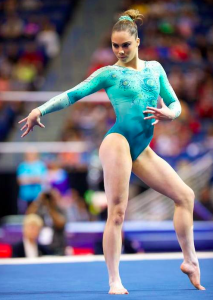 The Spanny Tampson Award for Visual Excellence goes to none other than the now legendary Martha Karolyi.  Rumor has it she has laid the smack down on this messy hair nonsense, and I, for one, could not be happier about it.  Prelims were full of tidy buns, neat ponytails, and sensible scrunchies.  Even the occasional ribbon was done with taste.  Who am I to say that the clean hair lent itself to a delightful meet lacking in injuries?  The evidence is there, however.
Another staple in my diet of snark has always been leotards, a snack that USAG has been stuffing me with for years.  Will they be hot pink?  Will they have swirlies?  How many swirlies will they have?  How many shades of green will they try to fit in one pattern?  What S&M design will GAGE think of next?  These occurrences have been as reliable as the setting sun.
So imagine my surprise when I showed up, and wasn't totally blinded by Princess Bubble Yum leos.  I mean, of course there were SOME, this is America.  And WOGA did bless us with lime green versions of the star leotard Chellsie Memmel wore 100 years ago.  One junior did have an "Effing Swirlies" leo, that I believe Maroney wore in 2011.  You can't win'em all.
Instead of the pinks and greens, the trend has definitely turned towards deep blues and purples, which I love.  Much has been said about Maroney's seafoam green leotard, which I argue looked like it had sparkly eyeballs strategically placed right over her boobs.  However, GAGE had a very similar leo, if not the same leo, in a divine blue color.  Same hombre effect, no boob eyeballs.  Very, very classy.  I AM SAYING GAGE HAD A CLASSY LEOTARD.  Get that on record, because I may never say it again.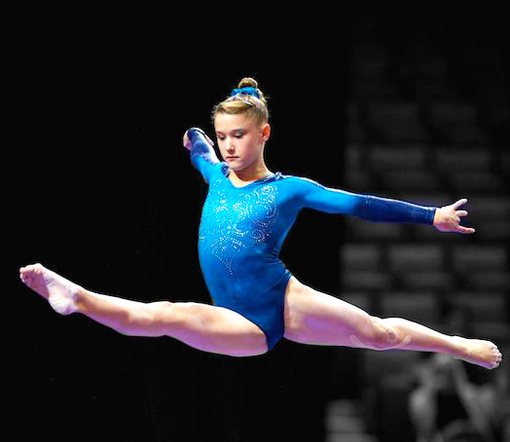 Another favorite of mine was from Texas Dreams.  Blue bodice with a solid (read: NOT MESH) arm, and a single pink flower on the shoulder.  Kim and Chris have about 7,000 elites, in all shapes and sizes, and this leotard flattered each and every one of them.
So we've covered the visual cleanliness of the gymnasts.  However, even the greatest of gymnasts can show up looking fabulous and still shock us physically, like when Aliya Mustafina shows up looking so regal, but then she does her triple full and you're like OH.  So how were the actual gymnastics?
I'm going to jump out there and say that I have never seen such a clean bunch of junior gymnasts.  We've grown accustomed to the younger girls who are able to throw the big skills, but not do them cleanly.  Maybe this isn't real life, but I saw tons and tons of pointed toes, straight knees, and dare I say a little bit of choreography on beam.  Usually, you have one or two girls per meet who catch your eye for being clean.  The Kylas, the Polinas.  You suffer through the beasts to get to these pretties.  So what do you do when 95% of the girls are pretties?  You stare and gawk, which is exactly what Jennifer and I did during Emily Gaskins' floor routine, so much so that we missed Nia Dennis' arabian on beam, something I'm still stabbing myself in the eyes over.
Speaking of, let's talk about Emily Gaskins.
Who is she?  I mean, where did she come from?  She hit her starting pose with her pointed foot and I knew immediately that this was not a home grown CGA girl.  Mary Lee's girls don't stand like that.  They don't point like that.  They most certainly do not have upper body carriage like that.  I couldn't tell you about her tumbling or her leaps, but I do know that she had incredible presence.
Jennifer and I had a lively discussion about presence versus presentation. What's the difference?  Viktoria Komova has fine presentation, but Aliya Mustafina has that PRESENCE.  Komova might be thinking "I'm going to do this skill, I'll do it well.  You can watch me, if you want."  Aliya might think "Here's my skill, this is how I do it, watch it or I'll slit your throat."
Kyla Ross has perfectly serviceable presentation.  Improved, even.  But Laurie Hernandez has presence.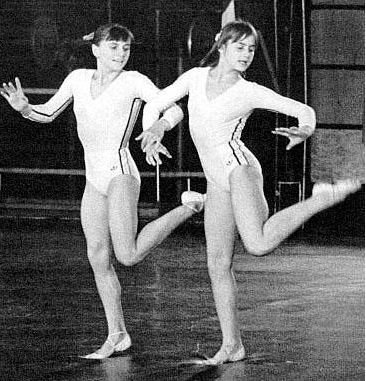 Another person interested in Laurie Hernandez, and all other top-ticket girls, was one Miss Theodora Ungureanu, who happened to be sitting directly in front of me.  When she wasn't busy dialing Sylvia Brestyan in the middle of one touch warm-ups (who you'd think wouldn't answer her phone but totally does,) she was sitting with no less than three hot dogs.  She ate one, and just held on to the last two.  Held them, almost cuddled them.  There is something indescribable about watching an ex-Karolyi gymnast hoard hot dogs.
Theodora defied USAG and recorded all of the top routines with her cell phone.  I suppose now that Sabrina's gone, she needs something to keep her busy.  OR MAYBE SHE'S SPYING FOR BELU AND BITANG???  You heard it here first, folks.
As Theodora and everyone else who watched saw, Biles had a decent meet and is leading after prelims.  I was sitting behind some of the NBC monitors, so I was able to see what was being broadcast and what wasn't.  I am so sorry, you guys.  I would be watching so-and-so's FX, and on the monitor I could see Andrea Joyce on the floor interview Shawn Johnson.  So I guess that's still a thing.  Again, my heart is with you all.
Let's talk about Andrea Joyce.  Lauren, Jennifer and I were in a pub down the street, discussing the evening's events when who should walk in but Andrea, Tim Daggett and Al Trautwig.  Even with my back to the door, I knew the moment Timmy D walked in.  I have Daggett senses.  Now, my intention isn't to blow your minds, but here goes: the three of them were pretty cool.  Andrea was enjoying her drink.  Tim was a bit shy, but kind.  And Al was very self aware, in that he knew that we gymnastics bloggers knew a shit-ton more than he did and that we tended to rag on him online.  The biggest surprise for me was that Andrea was a little hilarious.  She did impressions, and talked about vegemite.  Timmy D remembered us from the podcast, and then proceeded to explain what GymCastic, the first and very best gymnastics podcast, was to Al and Andrea.  I don't know that Al fully understood what a podcast was, but whatever.  I heard he called Nastia a grump on air, so that absolves him of all responsibility, in my opinion.
Who knows what Saturday night holds for us?  Will I find Tim Daggett and force him to sign my homemade Timmy D shirt?  Will Theodora ever finish those hot dogs?  Will Taryn Maroney get busted for breaking curfew?  Stay tuned!
Spanny Tampson is gymnastics' number one satirist. Her humor will transport you to a place somewhere over the rainbow where, Kathy Griffin's behind the scenes celebrity encounters meet Chris Rock's political savvy. Follow her meet commentary on Twitter and YouTube for her world famous montages.