What We're Talking About
The 2022-23 NCAA season is in the books and if they hadn't already, the Oklahoma Sooners have solidified themselves as one of the great, all-time NCAA gymnastics dynasties. Now with six titles under their belt, they're tied with Alabama and behind just UCLA (7), Utah (9) and Georgia (10) for the most titles in NCAA history—and among those teams only UCLA has won a championship in the past decade.
What's particularly impressive with this run is how consistent Oklahoma has been while the sport has experienced a variety of changes; from Covid years extending already impressive careers to Olympians, World Champions and other elites entering the fray across the country thanks to the acceptance of Name, Image, and Likeness (NIL) rules.
When you're in the middle of a run like this, it can seem inevitable, but it's not. Dynasties rise and fall. The question is who will be the spoiler. We thought it might be Florida this year, and two years ago Michigan slowed the run of dominance. UCLA won it in 2018 to stop a three-peat and Florida last won a title in 2015. All of these teams are competing at an extremely high level and any of them could begin their own run.
Next season will be particularly interesting because we'll be in the throes of a run for Paris by several top NCAA elites, including Jordan Chiles, which will surely have an impact on her team's chance to grab the crown. However, most of the talent will return. We're losing some of the greats, like Trinity Thomas and Sunisa Lee, but so many are returning (as far as we know); such as Grace McCallum, Kayla DiCello, Morgan Hurd, Leanne Wong, Haleigh Bryant, Brooklyn Moors, Aleah Finnegan and so many more. Did we mention Jordan Bowers?! In fact, only four Sooners on this championship team are seniors or super seniors.
We have a lot of look forward to, but until then it's time to gear up for elite season! We have Suni, Jordan and Jade as mentioned above, plus Gabby Douglas is back in the gym, and just-married Simone Biles has been spotted in the gym as well. Are the comebacks real? We can't wait to find out. Until then, congratulations to the Sooners and we're excited to witness them chase their three-peat.
* Just want to add that your support is what makes our travel and coverage of these competitions possible. Thank you!
Feelings
Mrs. Simone Biles Owens. Congratulations!
Another congratulations to Alicia Sacramone who announced the arrival of her baby.
Gymnasts pushing for world peace

—

as it should be. Ten current and former gymnasts, including Uchimura Kohei and Nastia Liukin, are attending the G7 Hiroshima Summit.
Lynzee Brown hints at a return to elite… and we're here for it!
That was a gutsy performance by Trinity Thomas to take off the boot and tie the perfect 10 career record

—

and darn near helping her team claim the championship.
We love to watch past generations engaging with the current generation. This is how stories and legends grow. Thank you Jenny Hansen for participating.
The transfer portal makes the NCAA offseason way more exciting.
If you haven't heard the story of Maryland's Tasha Brozowski, be sure to watch this short video.
We all have a new book to read thanks to Chellsie Memmel.
It's great to see Becky Downie get medals draped around her neck again.
---

Behind the Scenes is Back this Friday at Noon Pacific

---
Facts
Maile O'Keefe is your 2023 NCAA all-around champion.

She low-key has an NCAA title on every apparatus except vault!

Maile O'Keefe (AA, BB) is joined by Jordan Chiles (FX, UB) and Olivia Trauman (VT) as your 2023 individual NCAA Champs.
Lindenwood won the USAG Collegiate National Championship.
Sierra Brooks is the 2023 AAI Award winner.
Kentucky is getting new digs.
Casey Jo (Magee) MacPherson is heading to Pitt.
The 2023 NCAA Championship was the most-watched live NCAA gymnastics telecast ever on any ESPN platform.
We've entered the Jessica Gadirova era.
Great Britain women's team won the European team title for the first time ever!
Taylor Rice photobombing Condoleezza Rice was confirmed.
---
🚨Virtual Tickets Still Available Until the End of the Week!🚨
GymCastic Live with Elizabeth Price and Taylor Rice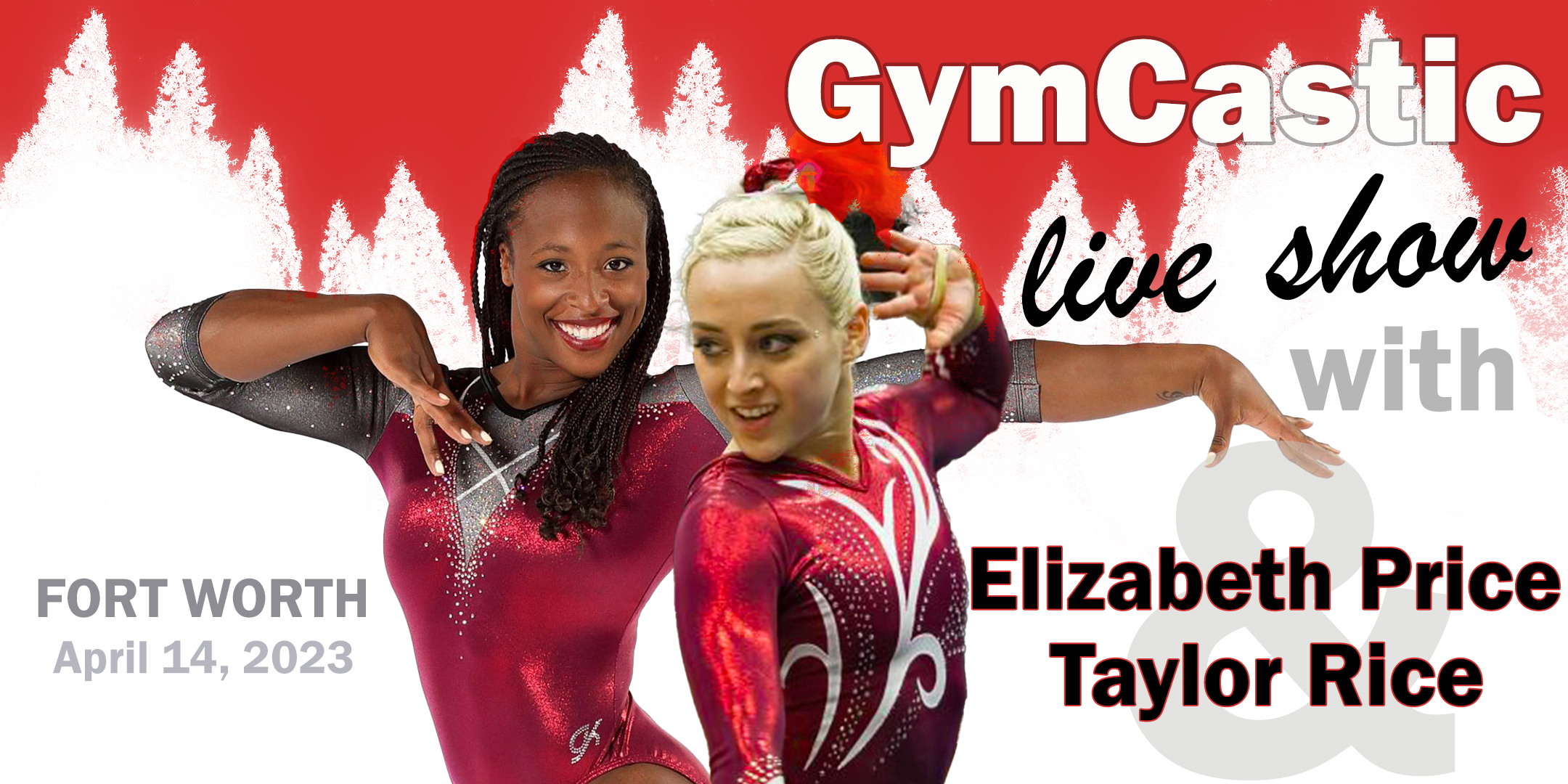 ---
Award(s)
---
What's On the Socials?
TRINITY THOMAS PERFECT 10 NO. 2️⃣8️⃣

She ties the all-time NCAA record 👏 #ThatsaW pic.twitter.com/NpoKWZGK7b

— ESPN (@espn) April 15, 2023
Jordan Chiles is a whole vibe 😂@ChilesJordan I @uclagymnastics pic.twitter.com/rKZ9d53z6r

— espnW (@espnW) April 14, 2023
We're not crying, you're crying 🥹

The moment @JessicaGadirova won European gold 🥇pic.twitter.com/qbCCprYPvB

— Team GB (@TeamGB) April 14, 2023
I do 🤍 officially owens 🤍@jjowens_3 pic.twitter.com/11NFWy5D8d

— Simone Biles (@Simone_Biles) April 22, 2023
---
Quotes
"I could just feel it when everyone walked in (to the arena). They just had this level of confidence that, honestly, I hadn't seen all season." ~ Danielle Sievers, NCAA Champion
In the post-meet press conference the sophomore discussed the team swagger she felt even before the first score flashed.
♦
"I want to say that you… are not alone."
~ Kim Bui, Bulimia Sufferer
The three-time German Olympian is opening up about her eating disorder.
"I wanted to do that routine for him." ~ Tasha Brozowski, Maryland Gymnast
♦
"Run with it. And get anything you can out of it."  ~ Jenny Hansen, Tied Career 10 Record Holder
Jenny offering a congratulations and a bit of advice for the newest member of the perfect 10 career club, Trinity Thomas, along with Jamie Dantzscher.
♦♦♦
---
We Took Some Pictures!
Check out the photo galleries from our trip to Fort Worth.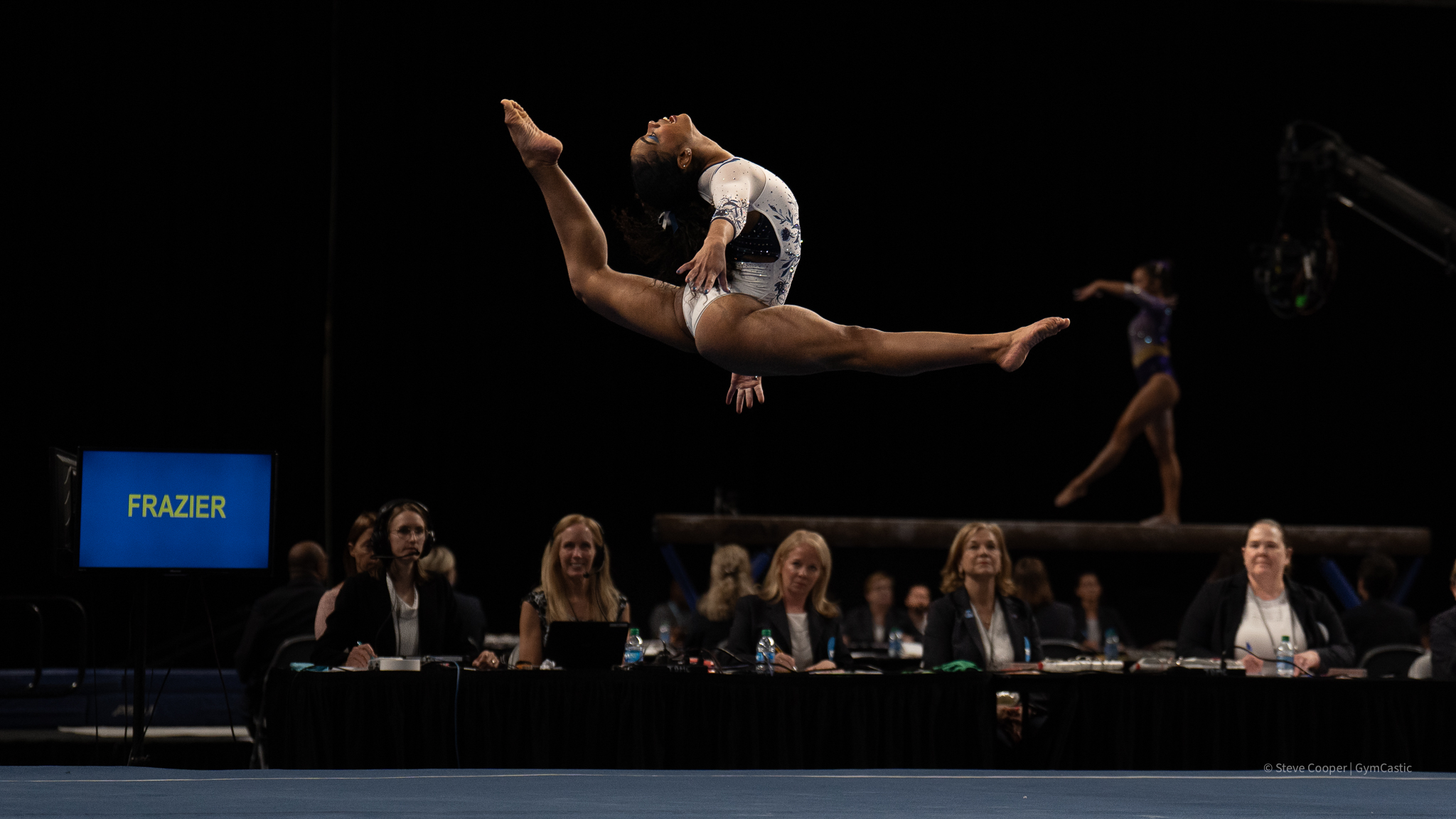 ♦♦♦
What? You want even more? Join Club Gym Nerd and you get a bonus episode, College & Cocktails, every Friday after our meet of the week. Once the NCAA season is over you continue to get a weekly bonus episode every Friday afternoon. Plus you get access to all of our archives, exclusive content and more. Then we give the sober analysis on Monday (or Tuesday) after we've allowed the data to penetrate our feelings.
This column was composed and compiled by Steve Cooper, Editor, GymCastic; as performed by hosts Jessica O'Beirne and Spencer Barnes.
Prefer to get this delivered to your inbox? Sign up for the newsletter here.