What We're Talking About
It was a 10-a-palooza this weekend. Yeah yeah, what else is new? Big scores get thrown around in NCAA meets all the time. But this weekend was different. This weekend was historic! How historic? Coming into February there were 12 perfect 10s for the entire season; and then over the course of three days we saw 11! Friday saw the third most 10s scored in a single day (9), which last happened on March 7, 2003. Ten perfect scores dropped on March 8, 1997; and the all-time record of 12 happened nearly 20 years ago on March 12, 2004.
While the gymnastics community has their eyes on the career record chase by Trinity Thomas (currently five back from tying), it was her teammate, Leanne Wong, who (for the second time this season) posted two 10s on bars and beam. Sunisa Lee also rocked 10s on those same events. The most elated of the night might be Aleah Finnegan and Jessica Hutchinson who both posted the first perfect 10s of their college careers.
Having a 10 on the scoreboard can definitely help you get over the 198 hump, as it did for Utah (thanks Maile O'Keefe) and Michigan (thanks Sierra Brooks and Abby Heiskell). However, it's not necessary. Coming into this weekend 198 had only been broken twice in the first four weeks. This weekend it happened three times and Oklahoma did it for the second week in a row. And this week, when all the 10s were being flashed Oklahoma didn't have a single one–okay, so Jordan Bowers and Audrey Davis received a 10 from one judge. Those help too. In fact, 33 routines got a 10 from at least one judge this weekend. We're living in the golden age of college gymnastics.
Before you move on, please share your thoughts. We have an entertaining survey that is super helpful and will improve GymCastic. We've already received a ton of constructive feedback that will undoubtably make GymCastic better. If you'd like your voice heard, Click Here. And thank you!
Feelings
Eeeeeee! Riley McCusker is back on the competition floor!

 

We want Janelle McDonald in our corner.
We're as uncertain about the award Rebecca Andrade received as she is.
Morgan Hurd's ACL deserved better.
Makarri Doggette might have the best flex after hitting bars.
The more elaborate the celebration the better.
Bart Deurloo will be missed on the floor and in the mixed zone.
Suni should continue NCAA because she's on pace to contend for the all-time 10.0 record.
The top four teams are starting to separate themselves from the pack.
Jordan Chiles is a gift to the sport.
---
Facts
Sticking a landing doesn't mean the landing is free from deduction.
It was a 10-A-Palooza. Take a bow ladies: Sunisa Lee, Sierra Brooks, Abby Heiskel, Luisa Blanco, Leanne Wong, Maile O'Keefe, Mya Hooten, Aleah Fiinegan, Jessica Hutchinson
Arizona State has now posted four 196+ meets in a row and has just cracked the top 20.
Oregon State jumped more spots in the rankings than any team in the nation from 26 to 12.

Then they went on the road and posted their 5th best road score in program history (tying their 15th-best score in program history)… and they fell to 13th in the nation.
NCAA gym is competitive!

Michigan posted their 2nd highest score in program history: 198.300

One of two teams to crack 198 twice this season.

Oklahoma is the other team and they've posted 198 two meets in a row.
Utah joined the 198 club as the third team this season to cross the threshold.
Rutgers put up a season high on floor.

In front of a record-breaking attendance.

Over 11,000 people showed up to watch Arkansas. It's the second time in a row they've broken their attendance record when moved to the big arena.
Suni's two-10 performance was the first ever for Auburn.

And her 39.825 was the highest all-around score ever (for either team) in the Auburn vs. Alabama rivalry.
---
Award(s)
Best Dive Roll: Amari Celestine
Best Leaps: Isabella Magnelli
All Female Commentating Crew: UCLA vs. Utah
---
What's On the Socials?
So cool – performing her mom's 1992 Olympic floor routine in NCAA competition! I can't wait for my daughter to do my 2012 Olympic floor routine in college! 🤸🏾‍♂️ https://t.co/pcQqgtUbod

— Syque Caesar OLY (@SyqueCaesar) February 6, 2023
first bars 10 let's go!!!!🫶🏼🫶🏼 https://t.co/UfvZjsK3QN

— Sunisa lee (@sunisalee_) February 4, 2023
🔥 PERFECT 10.0 – @sierrabbrooks_ !!#GoBlue pic.twitter.com/brYXTmOmUe

— Michigan Women's Gymnastics (@UMichWGym) February 4, 2023
Team Bart Forever pic.twitter.com/Vb0kq0jbK1

— BalanceBeamSituation (@TheBBSituation) February 3, 2023
---
Quotes
"The scores, I'm a little like hmmm… kind of confused about how they got them. But at the same time, Utah is at home and I knew they were gonna score us a little harder." ~ Selena Harris, Freshman who understands how to give oxygen to a rivalry
The standout freshman sharing her thoughts on the lower-than-expected scores she received during the dual.
♦
"[The doctor said,] 'Yeah, tore your ACL but you tore it a while ago because all your fibers are gone.' So, I'm pretty sure I tore it in 2020."  ~ Morgan Hurd, 5x World Medalist
Morgan sharing that she believes she was misdiagnosed and was competing on a torn ACL leading up to the Tokyo games, potentially impacting her ability to make the team.
"In the end, I started experimenting with coaching juniors last year. I liked that and vice versa I received a lot of positive reactions."  ~ Bart Deurloo, Retired Gymnast
Bart discussing his move into coaching after announcing his retirement from competitive gymnastics.
♦
"What she did with the routine, it is her routine now and it fits her perfectly."  ~ Silvia Mitova, Mother, 1992 Bulgarian Olympian
Silvia reacting to her daughter's tribute routine that just scored a perfect 10.
♦♦♦
---
College & Cocktails
Listen to this week's bonus episode: UCLA at Utah
Cocktail of the Week: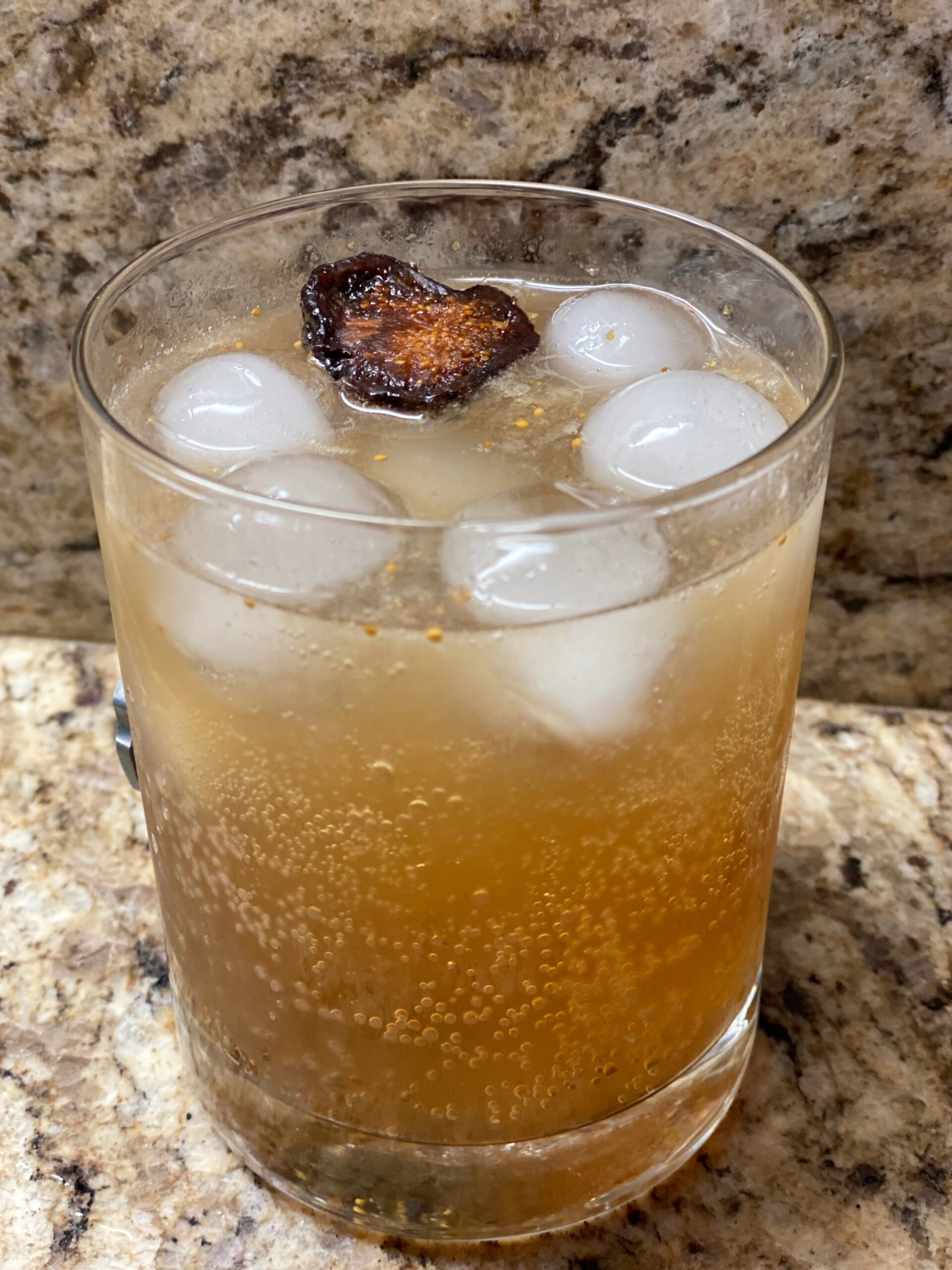 Week 5: Up To The Level
Top this drink off with fizzyness Up To The Level of whatever you think is appropriate… Keep in mind, some judges don't believe in mixer!
Boozy
2oz Dark Rum
1oz Fig Preserves
.75oz Lemon
3 dashes Angostura Bitters
Ginger beer
Fresh Thyme and Fig Slices
Non-Alcoholic
1.5oz Fig Preserves
1.5oz Lemon Juice
3 dashes Angostura Bitters
7up
Fresh Thyme and Fig Slices
Make the Drink:
In a cocktail shaker, combine Rum (if using), Fig Preserves, Lemon Juice, and Bitters. Shake to chill and strain over fresh ice in your glass of choice. Top with Ginger Beer or 7-Up depending on your chosen recipe. The
Stick the Landing:
Garnish with Fresh Thyme and Fresh Fig slices
♦♦♦
What? You want even more? Join Club Gym Nerd and you get a bonus episode, College & Cocktails, every Friday after our meet of the week. Once the NCAA season is over you continue to get a weekly bonus episode every Friday afternoon. Plus you get access to all of our archives, exclusive content and more. Then we give the sober analysis on Monday (or Tuesday) after we've allowed the data to penetrate our feelings.
This column was composed and compiled by Steve Cooper, Editor, GymCastic; as performed by hosts Jessica O'Beirne and Spencer Barnes.
Prefer to get this delivered to your inbox? Sign up for the newsletter here.