What We're Talking About
It was another… um… not so boring week of scoring in the NCAA. We had multiple routines get blatantly, impossibly high scores while other routines seemed to be bafflingly underscored. As we always say, this is about the judging and the integrity of the sport, not the amazing humans executing to the best of their abilities week in and week out. With that out of the way, we had multiple perfect scores that included a step and/or a hop. Trinity Thomas, for example, received her only perfect 10 on her third best routine of the day. She arguably could have received two 10s this week, and neither of them would have been for the routine she actually scored the 10.
The inconsistent scoring was so obvious this week that multiple gymnasts verbally acknowledged the problems, which is not what you want. This should be priority one, two and three in the offseason. Look… everyone makes mistakes. In all other major sports there's a checks and balance system. There's transparency and accountability. There's instant replays and reviews. There's coach challenges. Everything needs to be explored. Nothing will ever be perfect, but there's no way the low-hanging-fruit of hops and steps should receive perfect scores without a correction or challenge. And make no mistake, we're seeing PERFECT 10s! There has been incredible gymnastics this season and it's humbling to witness the depth of skill, talent and excellence spread throughout the country.
Have we mentioned that Lynnzee Brown competed the all around for the first time this season? Or that Kayla DiCello scored her first perfect 10 in college? Or that Maile O'Keefe is a freaking beam machine? Or that Trinity's consistent eminence defies comprehension? What we're saying is that the gymnastics is incredible–we just have a few bugs to work out with the scoring.
Feelings
We're wishing Grace McCallum a speedy recovery after her vault injury.
When UCLA steps onto the floor exercise, they are doing a different sport than everyone else.
Lynnzee Brown is back on floor! Eeeeee!
Jordan Chiles running into the stands to celebrate her first perfect 10 in front of her mom was special.
More coaches need to use a pressure gauge on bars like they do at Auburn.
All the 10s getting thrown around and Anaya Smith can't get any love?
And please do a double-take at Jocelyn Moore's form and try and find the deduction… any deduction.
If you want to make lasting change, you help change the law like Terin Humphrey is pushing for in Kansas.
This is when things get interesting… The official NQS scores are dropping.
Our beloved Deanna Hong is now teaching others how she creates magic.
---
Facts
Maile O'Keefe has competed on the balance beam six times this season and is averaging a 9.975.

Her perfect 10 this week, following a perfect 10 last week helps.

We're only halfway through the season and Oklahoma has already posted the 11th highest NQS in history with a 197.960.
Florida posted a 198.350 this week, which is the second highest score in the country this season.
49.625: The new program beam record for Michigan.
Alabama is the fifth team to reach 198 this season.
Kayla DiCello recorded her first (and we're betting nowhere near her last) perfect 10 as a Gator.
Jordan Chiles performed the first perfect 10 of her season on floor.

It contributed to a career high all-around score of 39.825–tying season highs by Sunisa Lee, Jade Carey and Trinity Thomas.

Somehow it was the first perfect 10 on bars at home for Suni.

She also posted a career high 9.975 on floor.

Natalie Wojcik put up another perfect 10 on beam.
Aleah Finnegan did it on vault.
And Trinity Thomas did it on seemingly everything, but only got scored a 10 on beam.
---
Award(s)
---
What's On the Socials?
To clarify pic.twitter.com/CfErXJlP9m

— BalanceBeamSituation (@TheBBSituation) February 11, 2023
https://twitter.com/uclagymnastics/status/1624551734831095809?s=20&t=9sH4bSnmH1qZmEwcF1gCTA
https://twitter.com/alt_schleudern/status/1625011062549405696?s=20
---
Quotes
"They're not ready. I was 30 before I came out, and sometimes I'm not even ready. I've experienced the biggest stage in the world and I'm still hesitant to come out and talk about it, so I want them to understand that you're just not mentally ready at that age." ~ Terin Humphrey, Changemaker
This week, the Olympian appeared before Kansas lawmakers to argue for the passing of House Bill 2169 and Senate Bill 95, which would remove the statute of limitations for civil and criminal cases for sexual abuse survivors.
♦
"I think they should have been switched."  ~ Trinity Thomas, Truthteller
Trinity expressing that she felt her perfect beam score should have been switched with her floor routine that posted a 9.975. (We'd add her bars should be in that conversation too.)
"Having her in the audience and being able to get a 10 all in the same moment was just really emotional for me because it's something I've always dreamed of." ~ Jordan Chiles, Perfect Bruin
Jordan sharing the emotions of scoring her first perfect 10 as a Bruin with her mom in the stands.
♦
"I love when we have the opportunity to prepare for championship moments, and that is what tonight felt like."  ~ Ashley Johnson, Leader of the Surging Crimson Tide
Alabama's head coach shares her thoughts on pushing Oklahoma, the defending national champions, to the very end, which resulted in a season best 198 for the Tide.
♦♦♦
---
College & Cocktails
Listen to this week's bonus episode: Minnesota vs. Michigan
Cocktail of the Week: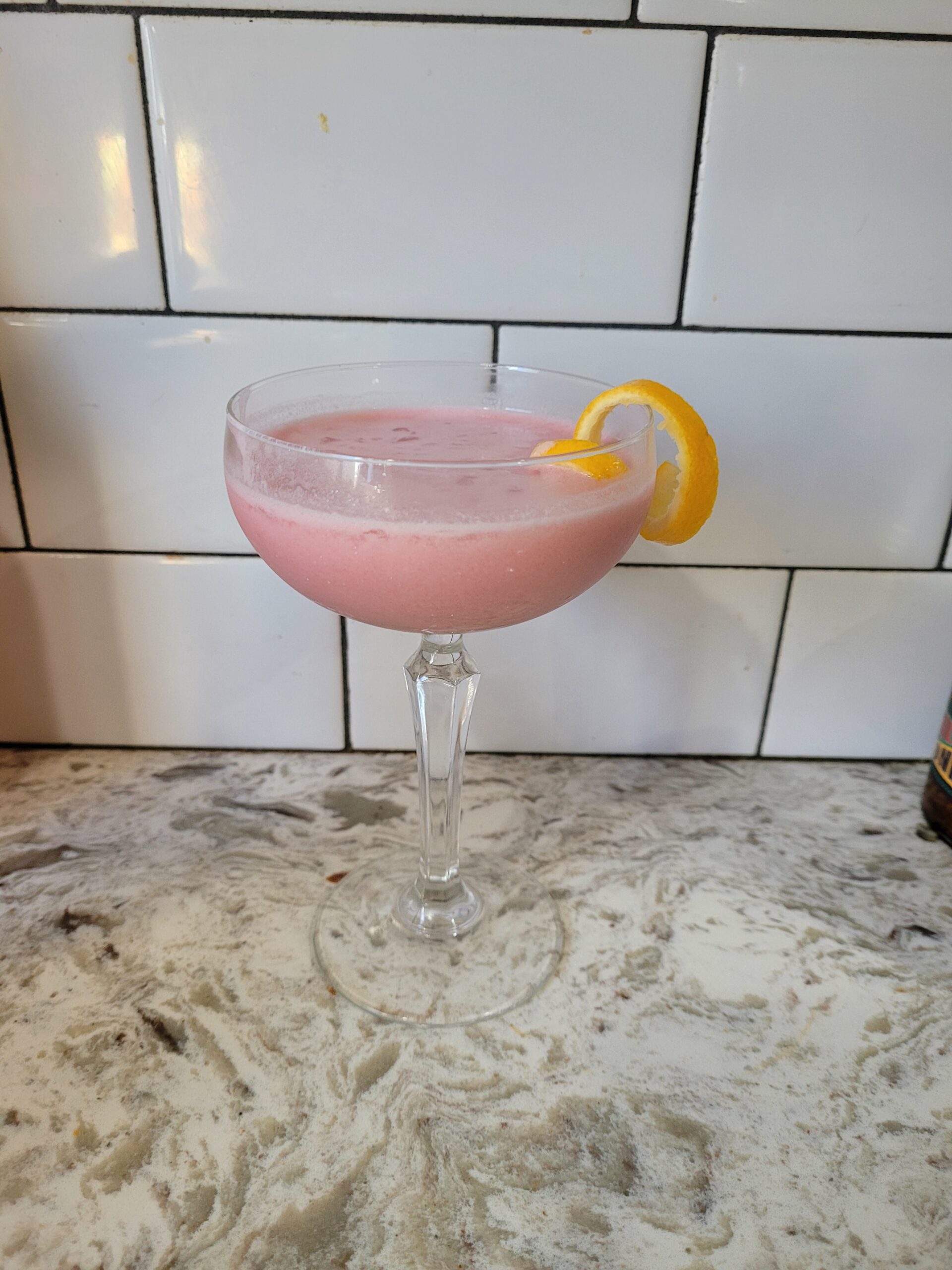 Week 6: The Beam Witch
This concoction can either be a benevolent refreshing treat or leave you on the floor staring up at the ceiling feeling cursed.
Boozy
2oz White rum
1 oz coconut cream
.5oz Lime
.75oz strawberry syrup
.25 Bar Spoon of Food-Safe Cocktail Glitter
Non-Alcoholic
2.5oz coconut cream
1.5oz lime juice
1.25oz strawberry syrup
.25 Bar Spoon of Food Safe Cocktail Glitter
Make the Drink:
Combine all ingredients in a cocktail shaker and shake to chill. Serve up, strained into a chilled coupe glass.
Stick the Landing:
Garnish with a lime twist and marvel at the sparkly beauty.
♦♦♦
What? You want even more? Join Club Gym Nerd and you get a bonus episode, College & Cocktails, every Friday after our meet of the week. Once the NCAA season is over you continue to get a weekly bonus episode every Friday afternoon. Plus you get access to all of our archives, exclusive content and more. Then we give the sober analysis on Monday (or Tuesday) after we've allowed the data to penetrate our feelings.
This column was composed and compiled by Steve Cooper, Editor, GymCastic; as performed by hosts Jessica O'Beirne and Spencer Barnes.
Prefer to get this delivered to your inbox? Sign up for the newsletter here.