What We're Talking About
Arkansas and Kentucky. If you paid attention to the chatter online you might have seen some beginning to express doubts that Jordyn Wieber was up to the task of taking the Hogs to the next level. The SEC is competitive and while Florida looks great and Auburn is on a run, many thought Arkansas would leap into the conversation. Well… Arkansas just took down conference rival LSU. The Tigers, currently ranked 9th in the nation, are now 1-4 on the season while the 18th-ranked Razorbacks are 2-2. More importantly, Arkansas just posted the highest score in program history (197.475); and also sold out their Barnhill Arena for the first time ever. So… it seems like Jordyn is starting to figure this coaching thing out.
A little northeast is Kentucky. Now ranked 10th in the nation, just took down Alabama (ranked 11th) for only the second time in program history. They're now 2-74(!!!) against the Red Elephants. Their first, last and only other victory happened in 2019. It seems like the tide (couldn't help myself) is beginning to shift with this matchup. And Kentucky didn't just win, the Wildcats posted a program record (197.825) to group themselves into the top of the SEC pack.
Lastly, please share your thoughts. We have an entertaining survey that is super helpful and will help make GymCastic better. Click here.
Feelings
Good fans show up. After a shocking upset, Michigan fans arrived in the second largest crowd in program history.
Utah is heading to South Korea. Every team should be doing this… expand the sport!
Soraya Hawthorne's beam. It's a legit moonwalk. You are allowed.
We appreciate how the Florida leotard this week looks like a sports uniform.
Selena Harris mugging for the camera as a freshman?! Swaaagggger!
If you're posting online, you don't need to say, "That's it. That's the tweet" Just retweet it.
Gymnastics Canada, if you've lost Ellie Black, Kyle Shewfelt and Rosie McLennan it's time to make some changes.
Jade Carey and Jordan Chiles make it look so easy.
The IOC and FIG need to realize there is no apolitical move. You're either on the right side of history or you're not. Ban Russia until they stop their invasion of Ukraine. If you don't, Russia will continue to use their athletes as propaganda to further their war effort.
It's not a good look for the broadcast to end then have scores change. We need a better system.
---
Facts
Aja Sims-Fletcher: Talladega's first head coach.
Arkansas sold out their arena for the first time in program history.

They also put up their highest score in program history to beat LSU.

Kentucky also scored a program record.
Denver had the highest attendance in program history.
Trinity Watch: Trinity Thomas now has 23 career perfect 10s. One behind Hope Spivey (GA) and five behind the all-time record.
Makarri Doggette was perfect this week on bars.
Ties were popular this week.
After four weeks the second team cracked 198, Oklahoma.

And boy did they, 198.425 was the fifth highest score in program history.

Ragan Smith helped that effort with a perfect 10 on beam.
The state currently producing the most NCAA gymnasts is California.
---
Award(s)
---
What's On the Socials?
— Summer (@Summergyms) January 30, 2023
https://twitter.com/IowaGymnastics/status/1619138709210935296?s=20&t=SiSJ8aaEni_g3kGCVHn-Yw
https://twitter.com/ou_wgymnastics/status/1619830723887898626?s=46&t=kfwbw8yMBX5dtXjR6G4dmA
https://twitter.com/BamaGymnastics/status/1619136042996748288?s=20
https://twitter.com/uclagymnastics/status/1619858433884434432?s=20
---
Quotes
"Five years ago this week. I can't wrap my mind around 5 yrs… But for the 204 of us who spoke in Ingham and Eaton County – I remember you." ~ Rachael Denhollander, Hero
Commemorating the takedown of a monster on the 5-year anniversary.
♦
"When you are 12 and shaking because coach John just pushed your face into your own anxiety-induced puddle of vomit, Larry will be there with a warm hug."  ~ Sarah Klein, Hero
In a "Note to Self" on CBS News, Sweet Sarah shares a personal letter about how her horrific experiences with her coach, John Geddert, and athletic trainer, Larry Nassar, have shaped her life to help other survivors take down their abusers, making the world a better place.
"I was just on the biggest stage of my life, but yet, I feel like I didn't give my 100% of who I am as a gymnast, So I just felt like, 'You know what, I'm coming back.'"  ~ Jordan Chiles, Gymnast with Unfinished Business
Jordan reflecting on her desire to continue competing (and excelling) in elite and how she's still got a lot left in the tank.
♦
"If you love something, and you're good at what you do, then you should do it for as long as you want to."  ~ Jade Carey, Gymnast Who is Doing it For the Right Reasons
♦♦♦
---
College & Cocktails
Listen to this week's bonus episode: Minnesota at Iowa with Evan Heiter
Cocktail of the Week: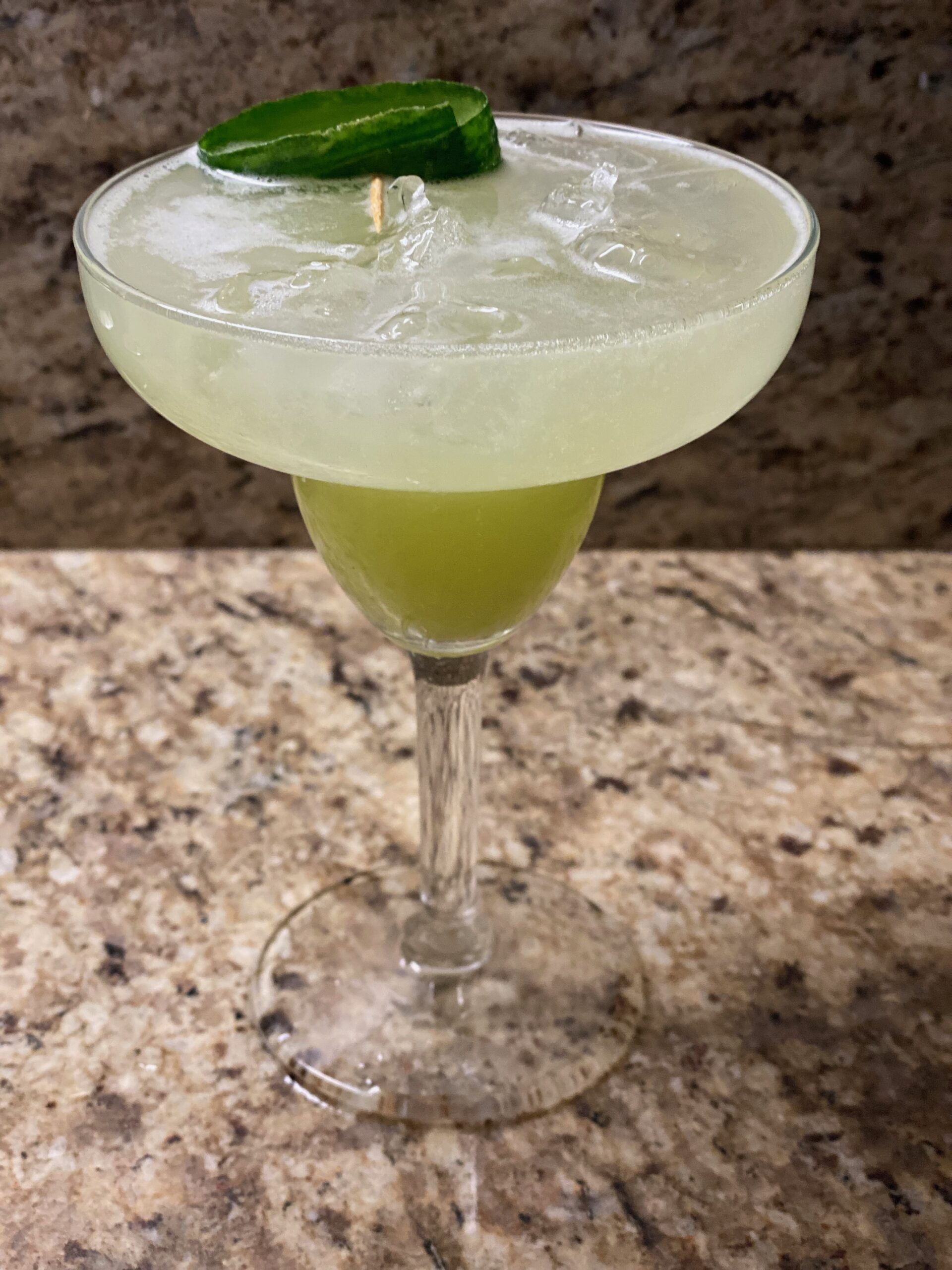 Clutch Routine
What is even considered a clutch routine anymore? Just a basic hit? Like this drink?
2oz London Dry Gin
2oz Cucumber Infusion
Sparkling Water
Non-Alcoholic Version
3oz Cucumber Infusion
Sparkling Water
Meet Week Prep: Cinnamon Clove Simple Syrup
1 cucumber, peeled and diced
3 oz lemon
3 oz simple syrup
Blend thoroughly and pass through a fine mesh sieve. Store Cucumber Infusion in an airtight container/mason jar until ready to use
Make the Drink:
In your glass of choice, combine Gin (if using) along with Cucumber Infusion and ice. Top with sparkling water.
Stick the Landing:
Garnish with a cucumber ribbon and lemon wheel
♦♦♦
What? You want even more? Join Club Gym Nerd and you get a bonus episode, College & Cocktails, every Friday after our meet of the week. Once the NCAA season is over you continue to get a weekly bonus episode every Friday afternoon. Plus you get access to all of our archives, exclusive content and more. Then we give the sober analysis on Monday (or Tuesday) after we've allowed the data to penetrate our feelings.
CORRECTION: An earlier version referenced Leah Clapper as a "former Gator." She is currently on the roster as a 5th year senior.
This column was composed and compiled by Steve Cooper, Editor, GymCastic; as performed by hosts Jessica O'Beirne and Spencer Barnes.
Prefer to get this delivered to your inbox? Sign up for the newsletter here.