Welcome to Behind The Scenes!
We record right here on this page at noon Pacific. Our weekly Behind The Scenes Q&A live podcast is for Club Gym Nerd members. It's our appreciation love letter to club members for supporting our work. Here's how to ask questions live. We are discussing: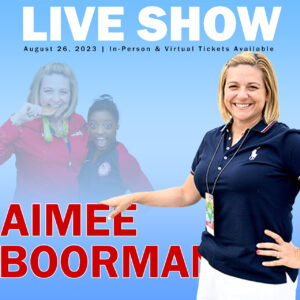 The Live Show details and guests for Championships on August 26th
The preview of Simone Biles bar routine
Shilese Jones skipping Classic and Gabby Douglas signing with a new agency
Classic Behind The Scenes Schedule which happens shortly after:

After Senior podium training – media ends at noon CT

After Senior women session 1 – ends at 3pm CT Saturday

After Senior women session 2 – ends at 9pm CT Saturday

Ruby Stacey's Geinger catch in mixed grip and Ian Gunther's piked Counter Kim
How we'd feel about having our parents coach us in college like Jade Carey's dad
The petition/invitation rules for World Team Trials
Commentators obsessed with male parent coaches
Plus, aliens and vulva pride, a conspiracy theory.
Not a member?
Join here
. Not sure if you are ready to join? Watch College & Cocktails week one for
free here
.