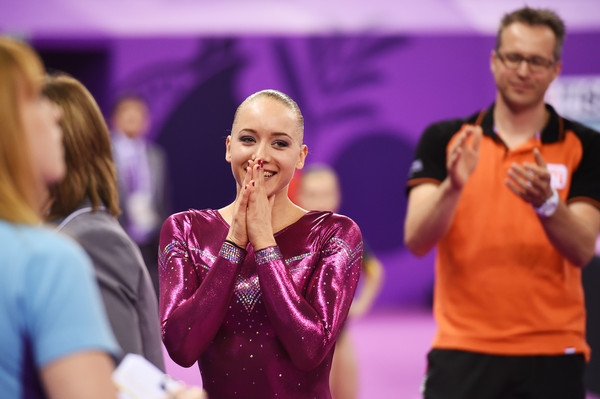 By Elizabeth Grimsley
The elite season is just starting to heat up with the Pan American Games kicking off this Saturday, July 11-15 in Toronto and a stream of U.S. events, from the U.S. Classic to P&G Championships, right around the corner. But just because the biggest chunk of American competitions is still to come doesn't mean the rest of the world has been sitting still.
To catch you up on what's been going on for the first half of the year, we've got the 10 best men's and women's routines of 2015 so far (in no particular order). From fan favorites to astronomical scores, these are some routines you don't want to miss.
Women
Farah Ann Abdul Hadi (MAS)- South East Asian Games
It might not be the most difficult routine in the world, but man, is it making waves. Abdul Hadi, a Muslim gymnast from Malaysia got a lot of attention after her gold medal floor performance because of her choice to wear the standard leotard rather than something more conservative. But she handled the attention like a true champion, thanking her supporters and taking the criticism as gracefully as her choreography on floor.
Seda Tutkhalyan (RUS)- European Games
You've heard of Mustafina and Komova. But what about Tutkhalyan? This little firecracker not only hit a solid beam routine in Baku, she did it with difficulty. Just look at that laid-out full!
Simone Biles (USA)- American Cup
You can't have a bests list without the best gymnast in the world on it. And Biles is by far the best, especially in this floor routine from the American Cup where she scored over a point higher than all her other competitors. Just sit back and be amazed at the height she gets and energy she adds to the routine.
Eythora Thorsdottir (NED)- Ljubljana Challenge Cup
While Biles grabs the crowd's attention through high-flying skills, Thorsdottir does it through dance and execution. From the dance that flows casually from one movement to the next to her near stuck landings on her tumbling passes, this individual is one to keep an eye out for in the future.
Giulia Steingruber (SUI)- European Games
Steingruber came home from Baku with a nice little collection of medals. One of those came on vault for her combo of a nearly stuck handspring Rudi and a simple but clean Yurchenko full.
Lieke Wevers (NED)- European Games
The first time you see Wevers on beam the word "elegant" comes to mind. Moving from one effortlessly performed skill to the next, this Dutch gymnast showed she can hang with the seasoned veterans by taking hold the gold. It's things like a simple back handspring to posé in the middle of the routine that make her a joy to watch.
Aly Raisman (USA)- City of Jesolo Trophy
She's back, ladies and gentlemen! Unlike other comebacks in the past, Raisman is serious about making the team that travels to Rio next summer. It's still early in her return, but if this floor routine is any indication, Raisman is a force to be reckoned with.
Oksana Chusovitina (UZB)- Cottbus World Cup
What are you doing when you're 40 years old? It probably won't be winning World Cup medals with vaults that are still quite competitive on the international scene. And the thing that's even more impressive? Her form seems to be getting better with age!
Men
Jake Dalton (USA)- Doha World Cup
Dalton is known for his highflying skills and toe point that will make any person swoon. And while he is always fitting with the big guns in the finals, he never comes away on top — until Doha. Dalton's score edged out other perennial floor final mainstays like Brazil's Diego Hypolito by just half a tenth.
Epke Zonderland (NED)- Ljubljana Challenge Cup
Every time Zonderland hits a high bar routine, it's worthy of making a list of best routines. Yeah, his form might be less than desirable, but what he lacks in execution — and he is working on it — he makes up for in difficulty.
Kenzo Shirai (JPN)- Cottbus World Cup
If you pull up floor exercise results from all the major competitions around the world, most of the top scores on the event sit around the low 15s with maybe a high 15 thrown in for the bigger competitions. But Shirai blew all those scores out of the water with his 16.450 in Germany. We all know he can twist, but with this routine, Shirai threw in a casual triple twisting double tuck to keep us on our toes.
Oleg Vernaiev (UKR)- European Games
Vernaiev is usually known for his work on parallel bars (don't worry, we're getting there!), but he truly excelled in qualifications at the European Games on vault. He started with a casual, perfectly-stuck Dragulescu, and followed it up with another well-landed vault.
Oleg Vernaiev (UKR)- Cottbus World Cup
We told you it was coming! Vernaiev's signature event didn't disappoint with this near-perfect performance at the Cottbus World Cup. He not only surpassed a 9.0 in execution — a virtually unheard of thing in the sport in this day and age — but also had a whopping 7.1 difficulty value as well for a 16.250 total.
Louis Smith (GBR)- European Championships
If you had any doubts Louis Smith's comeback was for real, look no further than this pommel horse routine. We all know he's good on the event — he was the Olympic silver medalist — so just sit back and enjoy this one.
Oleg Stepko (AZE)- European Games
Another parallel bars final, another Oleg. But this time it's Azerbaijan's Oleg Stepko; and the routine wasn't just exciting to watch, it came with meaning too. Azerbaijan is an up-and-coming gymnastics nation due to a large number of nationality changes over the past months. Stepko's gold gave the country the recognition it needs on an international stage.
Manrique Larduet (CUB)- Anadia World Cup
Cuban gymnasts have mostly been held out of major international competitions in the past, but boy are we happy that tradition is starting to crack. Larduet made a name for himself, winning the vault and floor gold medals in Anadia. One word for him: power.
If you want to add a routine to the list, please comment below!
About the Author: Elizabeth Grimsley was a Conrad Fink Scholar at the University of Georgia where she focused on multimedia sports journalism. She has written for The Red and Black, Inside Publications, and completed the prestigious Communications Internship at USA Gymnastics. She's also kind of a Storify ninja if you ask us.