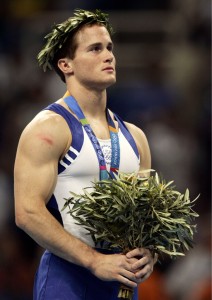 In 2003, Paul Hamm became the first U.S. man to win the World all-around title. Heading into the Athens Olympics, Paul was the favorite for all-around gold. But, during the fourth rotation, Paul missed his Kasamatsu 3/2, causing him to topple over sideways, almost having a Daniel Purvis moment of falling on top of the judges. Paul's score: a 9.137.
With two events to go, it seemed as if Paul had taken himself out of medal contention. Commentators across the world said that Paul's chances for gold were gone. Paul, however, proved them wrong. After scoring a 9.837 on both parallel bars and high bar, Paul found himself on top of the podium in Athens.
Paul experienced "24 hours of total glee," according to Sheryl Shade. But his bubble of joy popped quickly.
During the competition, Yang Tae-young, the South Korean gymnast who finished in third, just 0.049 behind Paul, was credited for a 9.9 start value on parallel bars. He should have been credited with a 10.0 start value, but the judges had mistaken one of his skills for a simpler skill. (They credited him with a Morisue instead of a Belle on parallel bars.)
Kim Dong-min, a Korean judge on parallel bars, noticed the error, and spoke with George Beckford, an American and the head judge for the p-bars. Beckford said that a 9.9 start value was correct. Kim then spoke with a member of the Korean delegation, who reported the error to two A-panel judges, Bultrago Reyes of Colombia and Benjamin Bango of Spain. They noticed their error. Yang should have been given a 10.0 start value.
Had Yang received credit for a Belle, he would have had a 10.0 start value, and he would have won the meet. As you can imagine, the Korean delegation filed a protest, which the FIG refused to hear because the protest was filed after the event.
Two days after the meet, the FIG Executive Committee reviewed the routine and released a statement admitting that Yang's start value should have been a 10.0. Bruno Grandi, the FIG President, wrote a letter to Paul, asking him to voluntarily give his gold medal to Yang.
We'll spare you the details of the rest of the history. Suffice it to say that, after much arbitration, Paul Hamm was allowed to keep his gold medal.
With the controversy and his gymnastics career behind him, Paul is now a coach at Premier Gymnastics. He is in Las Vegas at Winter Cup, coaching Alex Diab, a junior who will attend the University of Illinois in the fall. GymCastic caught up with him after the first day of competition.
 Would Paul rather be a gymnast or a coach?
"Ultimately, being a gymnast is probably more fun because you're flying through the air. The excitement of competition is hard to match. But I enjoy the role of the coach at this point because there are so many people you can influence and help. I work with kids from the age of 6 all the way up to 18 – Not to mention that I go to National Team Training Camps and help some of the top athletes in the United States. As an athlete, there are certain things that are really fun, but as a coach, the way you can help people is just as rewarding."
On making the jump from competing to coaching…
"One thing that is difficult is understanding that the actual performances aren't actually in your hands. It's very difficult to sit back and watch because you can't control the situation. Your athlete is out there, and he's the one who is going to be doing the gymnastics. That's difficult at times."
"The other thing is finding a way to motivate, to try to push people, to try to lead them. It's difficult when you were in the opposite position–when you were always being led by somebody. Changing roles takes a little time and adjustment."
On Alex Diab's back spin into his press handstand…
"Alex's dad was a gymnast. He was the NCAA Champion on rings, so Alex was born to be good at rings. The back spin was done similarly–I'm not sure if it was exactly the same–by his father in the past, and he passed that onto his son. I think it's awesome."
On looking back at the 2004 Olympics…
"When I look back, it hasn't changed all that much. It has just become more distant. The thoughts that I had back then when I was going through the controversy are still the same thoughts that I have today. Given the way the situation happened, I thought that I was the rightful winner of the gold medal, and I still feel that way today…"
"The fact that I was on the podium at the end of the day means something. Imagine that you're at the Super Bowl, and you crown the champion. Then, the next day, the officials say that your foot was on the line during your run up the field before a touchdown. That's not something you go back and check. In football, in situations like that, you're supposed to throw the flag. In gymnastics, you're supposed to do a similar thing, which is file a protest in a certain amount of time."
"It was a difficult situation to go through. But I think that the arbitrators did the right thing by allowing me to keep my medal."
Looking ahead to Alex Diab's future…
"Alex is going to the University of Illinois in the fall. He has accepted a full scholarship there. And that's a great place for him to be. He has Justin Spring as the head coach. Then there's Ivan Ivankov, who was a great champion whom I used to watch, and Daniel Ribeiro. He'll be in good in hands."
"In the junior program, that's something that coaches have to get used to – building up an athlete and saying, 'Okay, go fly in college.' The college atmosphere is great. The fact that they have trainers. They have better equipment. They have people who are dedicated all day long to gymnastics. That's what really helps them progress to the next level."
On not doing college gymnastics…
"I think that there is a part of the college experience that I wish that I would have had – the team environment, everyday working towards the goal of becoming NCAA champions with the guys who are like your brothers. I don't think that I got that quite as much as I would have liked. But I did train at Ohio State with my brother. We were around the Ohio State gymnastics team, so we got a sense of what that was like."