Welcome to College & Cocktails!
College & Cocktails combines our weekly Behind The Scenes Q&A live podcast with a college meet of the week. We start after the college meet ends on Friday nights (Pacific time). It's our appreciation love letter to club members for supporting the show. Here's how to ask questions live.
This week we are watching Arkansas at Auburn, featuring Olympic Champion Sunisa Lee. We're going live right here on this page around 7pm Pacific after the meet ends. For more info on how to watch your favorite elites, Olympic and World medalists all year long, check out The Balance Beam Situation's schedule with links.
Can't make it live? Just subscribe to club member episodes in your favorite podcast player or watch the video replays anytime.
Not a member? Join here.
Not sure if you are ready to join? Watch College & Cocktails week one for free
here.

Drink of the Week
The Unintentional Dismount
One too many of these and you, too, can perform an unintentional dismount from something.

Boozy Version
2oz Reposado Tequila
1oz St George Spiced Pear Liqueur
1.5oz Pear Nectar
.5oz Lime Juice
1oz Cinnamon Clove Simple Syrup
Fresh Rosemary
Non-Alcoholic Version
3oz Pear Nectar
1.5oz Cinnamon Clove Simple Syrup
1oz Lime Juice
Fresh Rosemary
Soda Water
Meet Week Prep: Cinnamon Clove Simple Syrup
.5c (100g) Brown Sugar
.5c Boiling Water
2 Cinnamon Sticks
6-8 Whole Cloves
In a mason jar or other air-tight container, combine all ingredients. Wait until cool, secure the top, then stash in the fridge until next week's cocktail. Leave the spices in the syrup until you're ready to use it.
** Will keep up to 4 weeks in the fridge
Prep Your Glass:
On a safe surface (like a plate) light a small sprig of fresh rosemary on fire. Take your glass and place it upside down over the rosemary until the fire goes out and the glass fills up with smoke. Leave the glass upside down over the rosemary while you make your cocktail.
Make Your Drink:
Combine all ingredients (except soda water) in a shaker with ice; shake to chill. Double-strain into your prepped glass, top off with ice and soda water.
Stick the Landing:
Garnish with fresh sprig of Rosemary
**if you can't find the Pear Liqueur (or just don't want to buy it for one drink lol) increase the Pear Nectar to 2oz and the Simple Syrup to 1.25oz.
[That Pear Liqueur is DELICIOUS though. Very much recommended just to have if you're building a home bar. Great in sparkling wine or on its own over ice.]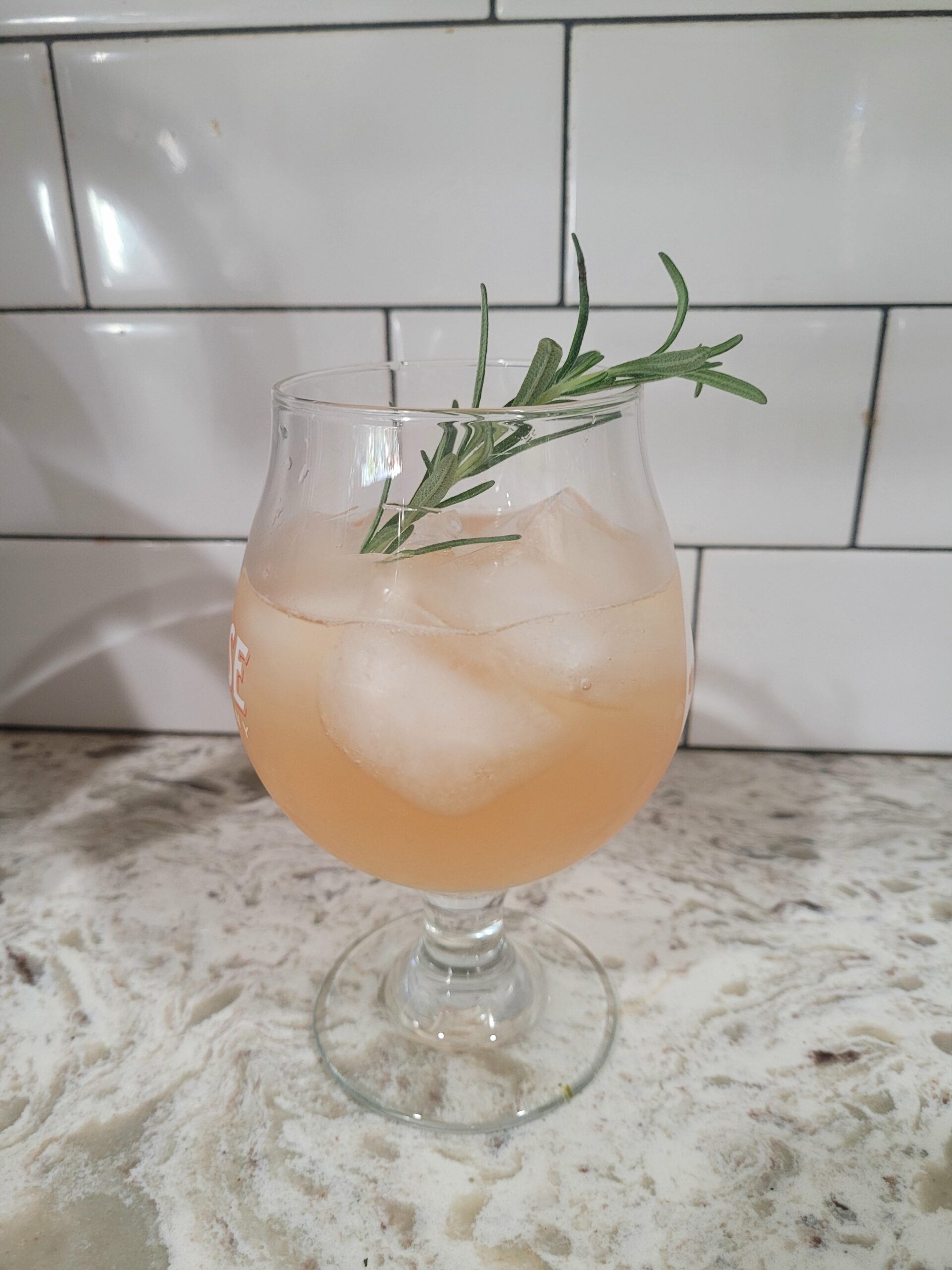 Bonus Cocktail: The Dead Gina
This one's a shot with no N/A counterpart, and if you were around for last week's C&C then you know why. Shake all ingredients with ice to chill, strain into a short glass and knock it back like you're Gina….
.25oz vodka
.25oz melon liqueur
.25oz amaretto
.25oz cranberry juice