Born in Germany, Michael Reid looks to return there later this year to earn Jamaica's first World Championship medal. The NCAA standout and former team and pommel horse national champion got his start in gymnastics near Ft. Hood, Texas where he was coached by Kathi-Sue Rupp; he later trained at Crenshaw's Gymnastics in Austin, TX. As he progressed through the ranks, he wanted to compete at the collegiate level. He looked at Ohio State University before ultimately settling on the University of Oklahoma.
An unusual start to his collegiate career left his ability to compete for the Sooners in question. Showing up with no paperwork ready meant Reid would have to spend his first semester on the club gymnastics team. The following semester, he tried-out on pommel horse, parallel bars, and vault, and ultimately, it was Reid's stellar pommel horse set that earned him a spot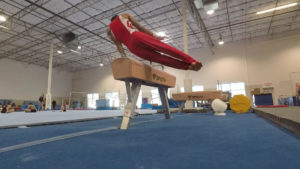 in the Oklahoma Varsity line-up. After placing 2nd at the 2014 NCAA national championships, he won the pommel horse title in 2015. His former coach, Mark Williams, said of Reid's accomplishments, "It's one of the greatest walk-on success stories."
Many gymnasts choose to retire after their collegiate career, but Reid felt he had more to give to the sport. Reid began pursuing a change of FIG license to being competing for Jamaica, his mother's home country. In 2019, he was granted his Jamaican license after successful showings at the Houston National Invitational and the WOGA Classic. He will be representing Jamaica at the Paris World Cup in September and at the Jamaican Classic in November. His ultimate goal for this year is to represent Jamaica at the 2019 Stuttgart World Championships in October. No Jamaican gymnast has ever medaled in an event final and Reid has a shot.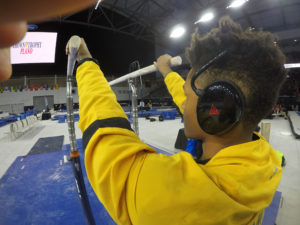 With an eye-catching, upgraded 6.7 difficulty, his routine has a higher degree of difficulty than anyone in last year's World pommel horse final, except reigning Olympic Champion, Max Whitlock. Jamaica will send three gymnasts to the World Championships this year and Reid is hoping to be one of them. Aside from medaling at the World Championships, Reid's other goal is to qualify to the next Olympic Games. To qualify for the 2020 Olympic Games in Tokyo as an individual, Reid needs to be named to this year's World Championship team, make the pommel horse final, and be among the top three competitors not already belonging to a qualified team. He believes he can do it.
Many Olympic hopefuls plan their careers in quadrenniums around the Olympic cycle. Reid, however, hasn't given a timeline for his retirement stating, "I'll keep going until I've hit my ceiling." His goals are not solely medal related, rather, he also hopes to bring more awareness to the sport by entertaining fans and utilizing social media to his benefit. His original idea for Instagram live challenges will showcase skill for skill challenges among the best gymnasts in the world in an attempt to bring more awareness to men's gymnastics.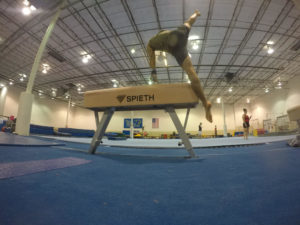 In tandem with is training schedule, Reid works 40 hours a week at Texas Dream Gymnastics in Coppell, Texas to train the next generation of athletes. Some weekends, he plays both coach and athlete at the same meet. Though his schedule is busy, his love of the sport and his goals are clear, to become Jamaica's first world medalist. You can follow along with his journey on Instagram at mjrview.
Good luck with the rest of your season!
Article by: Kensley Behel