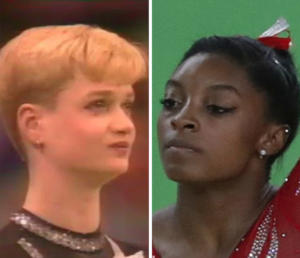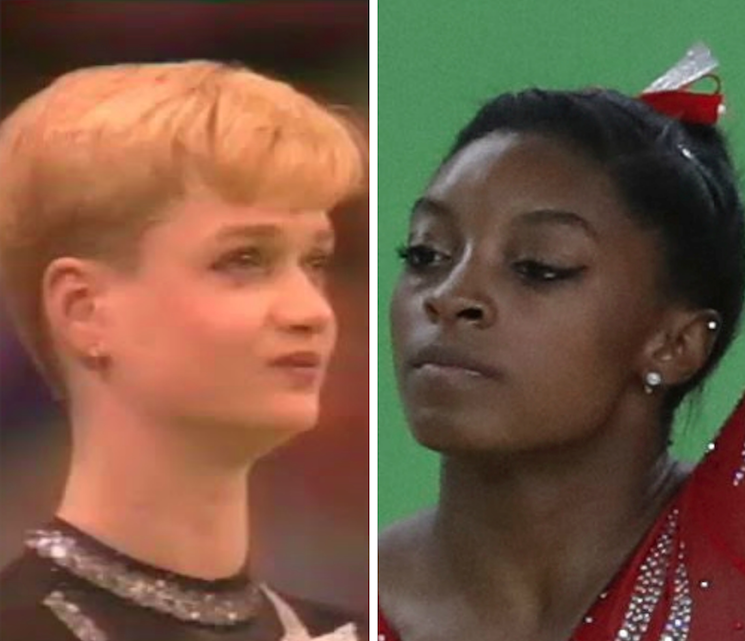 Article by GymCastic Crew Member Steven Leip.
Svetlana Khorkina and Simone Biles are unquestionably the queens of women's artistic gymnastics. Although it's almost impossible to compare their respective gymnastics styles, evaluating their respective dominance could indicate just who is the greatest gymnast of all time. It comes down to which you believe is more valuable: short-term dominance or masterful longevity.
Age before beauty, so let's start with Svetlana Khorkina. This gymnast's elegance and grace were unrivaled—at 5'6" she was a giant among her competitors. (Though we know gymnasts don't have to be as short as the media believes.) Her height allowed her to create long, beautiful lines on every event that theoretically should've hindered her from doing the same difficulty as her peers. But Svetlana was an innovator who created eight different skills across all four events. These skills made her routines even more difficult than those of her competition. The chart below lists all of her eponymous skills with values according to the 2013-2016 Code of Points.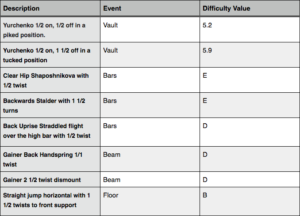 Although Simone isn't ungraceful, her grace is massively overshadowed by her unparalleled power and precision. Her floor routine features three of the most difficult elements in the Code of Points: two H-level skills and a G. Her full-in dismount was a skill Svetlana was never even capable of performing consistently. Simone has completed a double-double in combination off BB and trained a triple-twisting Yurchenko. She could very well be the most powerful athlete in the world across all sports, and she has a tumbling element named after her.

Svetlana competed over a span of 10 years from 1994-2004 at three Olympic Games and eight World Championships. Simone has won almost as many individual medals as Svetlana in less than half the time—only one Olympic Games and three World Championships.
Now, on to the medals—both World and Olympic because Simone has finally competed at an Olympic Games.
To determine who is the best by medal count, we created a point system for each color medal: gold is worth three points, silver two and bronze one. Since all medals are not created equally, AA-medal point values will be doubled, so gold in the AA will be worth six points, silver worth four and bronze worth two. Using this system, Svetlana scores 62 points, beating Simone's 52.


According to this system taking all individual medals into account, Svetlana Khorkina is the greatest gymnast of all time. However, Simone is only 19 and has the potential to come back for 2020. She would need two AA gold medals in the next quad to top Svetlana's legacy.
Though Svetlana currently holds the title of greatest ever strictly by the numbers, it's not all about the numbers and it would be unfair to say Simone is the subordinate gymnast just because she hasn't had the chance to earn more medals. While Svetlana's longevity is something to commend, there may never be another gymnast as strong, powerful and precise as Simone Biles. And for that reason, it's easy to make the argument that she is the greatest gymnast ever.
After looking at the numbers and the gymnasts themselves, who do you think is the best ever?