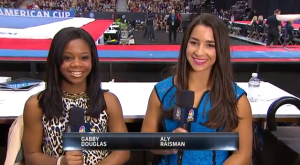 What a difference a year makes. Last year, the American Cup was held at Madison Square Garden to a near capacity crowd with former champions—Mary Lou Retton, Carly Patterson and inaugural winner, Nadia Comaneci—in attendance. Bela Karolyi had emerged from his between-the-Olympics hibernation to mutter indecipherably for the cameras. Gabby Douglas, in a sign of things to come, unofficially won the all-around competition, beating the favorite and defending world champion, Jordyn Wieber.
Fast forward one year to the 2013 American Cup held this time in Worcester to much less fanfare. The "Fierce Five" were arguably the biggest story coming out of the London Olympics yet none of the stars competed. Can you imagine Tom Brady winning the Super Bowl and not playing on opening weekend the next season? We might've seen the frontrunners for Rio, but the Olympic team's absence from this year's American Cup illustrates why gymnastics will only be popular in Olympic years, even as it tries for greater multi-year popularity.
As a longtime fan of the sport, it pains me to admit this. When I was a kid, I'd search the TV Guide for gymnastics listings, which, if they ever appeared, came right after "golf." According to my recollection, golf always seemed to be on. I couldn't understand why the networks preferred to broadcast a bunch of white guys putting over girls in leotards flipping. (I probably never will.)
But as I watched the competition, I understood why other sports not oriented towards one specific competition that takes places once every four years have more of a shot at year-round popularity.
First, there is the lack of continuity. After the Games, many athletes retire or take time off. Though Gabby Douglas and Aly Raisman were present for press and fans, they did not compete. Douglas announced that she is set to return to training in Iowa in May; Raisman would not put a date on her return to competitive form. Certainly it won't happen before her run on DWTS ends. Kyla Ross had originally been slated to compete, but withdrew with a bruised heel (she performed an exhibition routine after the meet concluded).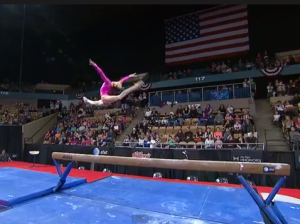 What does this mean for any of the new fans that the sport accrued during a very successful Olympics? It means they have less incentive to tune in if their favorites aren't competing. Imagine the type of press the meet would've received had Douglas or Raisman competed. (Maroney, perhaps the most popular Olympic team member, is still recovering from two leg surgeries.)
Also, every four years the rulebook of gymnastics changes. Spectators who might've come to understand the scoring by the time the competition in London ended will have to learn a new set of requirements if they wish to follow the meets in the next quadrennium. That's a big investment of time and energy. Only the hardcores are willing to go that extra mile.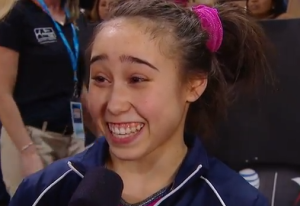 Other popular sports thrive on sameness. I watch exactly one football game a year—the Super Bowl—and yet I know what's going on each time I tune in. A touchdown, a field goal, a first down—they're all as I remember them from the previous year (and worth the same number of points). The game appears unchanged to the untrained eye. And for other popular team sports, all you really need is an untrained eye to follow what's going on.
And though every year brings some new rookies, enough of the older players remain so fans aren't expected to learn a completely new roster each year. There is continuity—both with the rules and stars—from year to year.
This lack of continuity isn't the fault of USA Gymnastics or any of the individual athletes. After years of intense training, it is understandable that the gymnasts would want to take time off and enjoy all of the opportunities that come their way. The window for gymnasts making money off the sport is very limited so they must take advantage of it immediately. They might also need this downtime in order to let their bodies recover from the brutal Olympic preparation process. Nearly every gymnast is competing with some form of hurt.
The gymnasts can take a break, comforted by the knowledge that this year doesn't actually matter, in the Olympic scheme of things. And therein lies an additional problem—the fact that one year in four has drastically lower stakes than the rest. Without stakes and drama, you lose excitement and quite possibly, the audience too.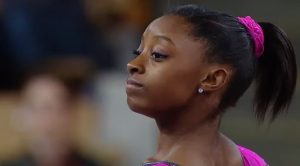 Even the athletes acknowledged the lowered stakes in their post-meet interviews. All seemed particularly focused on testing out new skills and routines for the coming years. Competing them perfectly, while desirable, wasn't their top priority. In gymnastics, 2013 is sort of like a year-long preseason.
Will Ohashi and Biles be in Rio in 2016? While I would love to see both girls (and especially Ohashi's dimples) in Brazil, looking towards the Olympics in the year after the previous Games is like trying to pick an Oscar contender in March. (In that case, I would've gone with 21 Jump Street.) It's not exactly the right time to be placing bets.
The greater question is how can a sport that is arguably the most popular during the Games transcend the Olympics and become popular in its own right? Or is gymnastics virtually nothing without the Olympic Games at the end of the four-year tunnel?
Dvora Meyers is a freelance writer who's work has appeared in The Atlantic, Slate and Deadspin. Follow her at Unorthodox Gymnastics.