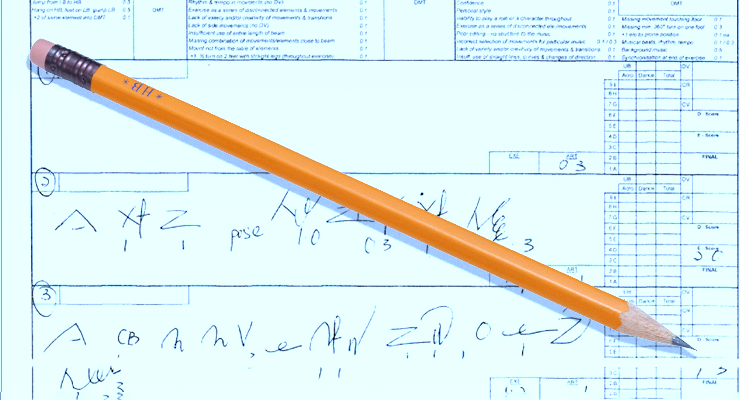 Where are all the female judges in Men's Artistic Gymnastics (MAG)? With 852 MAG Brevet level judges worldwide, only 13 are female. That's a radically lopsided discrepancy and it might be that way because of the hurdles women have historically had to jump and the patriarchal seat women are given when they are awarded an assignment. It wasn't until 2013 when Great Britian's Nikki Hanley became the first woman to judge men's gymnastics at the World Championships level. As the only female, category-1 rated Brevet judge in the world, she has rightfully received international attention. As a pioneer in the field, she hopes to bridge the gap for others.
While Nikki was the first female MAG Brevet judge to judge at a world championships, Australia's Kath Graham was the first known woman to pass the MAG Brevet exam. After passing the exam in 1989, and each successive 4 years after that, she was repeatedly denied accreditation by the International Federation of Gymnastics (FIG). The FIG was contacted for comment and noted that they had no records regarding the first female Brevet judges.
Finally, in 2001, Kath was approved to begin judging, however, it wasn't until 2005 that she became the first Brevet-level female to judge MAG internationally. Kath's first assignment was the University Games in Izmir. The following year, she became the first female to judge the Commonwealth Games.
In the United States, Karen Muschinske was the first woman to attain the Brevet rating (2006). In her tenure at the highest level, she has been told by NCAA coaches, "I don't want women judging on the floor," showing just how difficult it is to break into the judging realm as a female. As with any field, women have had to persevere to be treated with respect
The struggle to break into men's gymnastics as a female judge has continued into recent years. 2017 was the first time an American woman judged at the American cup. Former national team member, Amanda Stroud Gagnon, former U.S. national level rating, and became certified as a Brevet judge in 2013. Amanda is one of four known judges to be certified Brevet in both MAG ( FIG 3) and WAG (USA-non F.I.G.). Despite her accomplishments, she notes that it hasn't been easy.
Great Britain continues to lead the way in giving opportunities for female, MAG judges. In the past several years, they have offered Brevet judge, Kathi-Sue Rupp several opportunities to judge FIG competitions. She, like Nikki, is forging the way for female judges by researching and compiling data on biases within the gymnastics judges' community. Unlike Nikki who said females judging in GBR is normal and accepted, in the U.S. women have often been overlooked in the place of men with lower ratings.
According to Karen Muschinske, "Women have to work harder and know more to get the same respect as men."  This idea is exemplified as four sources confirmed that at competitions including Winter Cup, NCAA championships, and others, female brevet judges with higher ratings have been seated lower than male judges with lower ratings.  Thank you to the 13 amazing women worldwide who continue to bridge the gap and lead the ways for others.
Lynn Boman (USA) – 4
Janet Davies (GBR) -2
Joanie Fortin (CAN) – 3
Kathleen Elizabeth Graham (AUS) – 4
Nicola (Nikki) Hanley (GBR) – 1
Caroline James (AUS) – 4
Melanie Jenkins (AUS) -2
Claire McAneny (GBR) – 2
Kristen Miller (USA) – 4
Wai Mui Ngan (HKG) – 4
Kathi-Sue Rupp (USA) – 3
Montserrat Sirera-Garrigos (ESP) – 4
Amanda Stroud (USA) – 3