No Borders: Pro Gym Challenge Review and Suggestions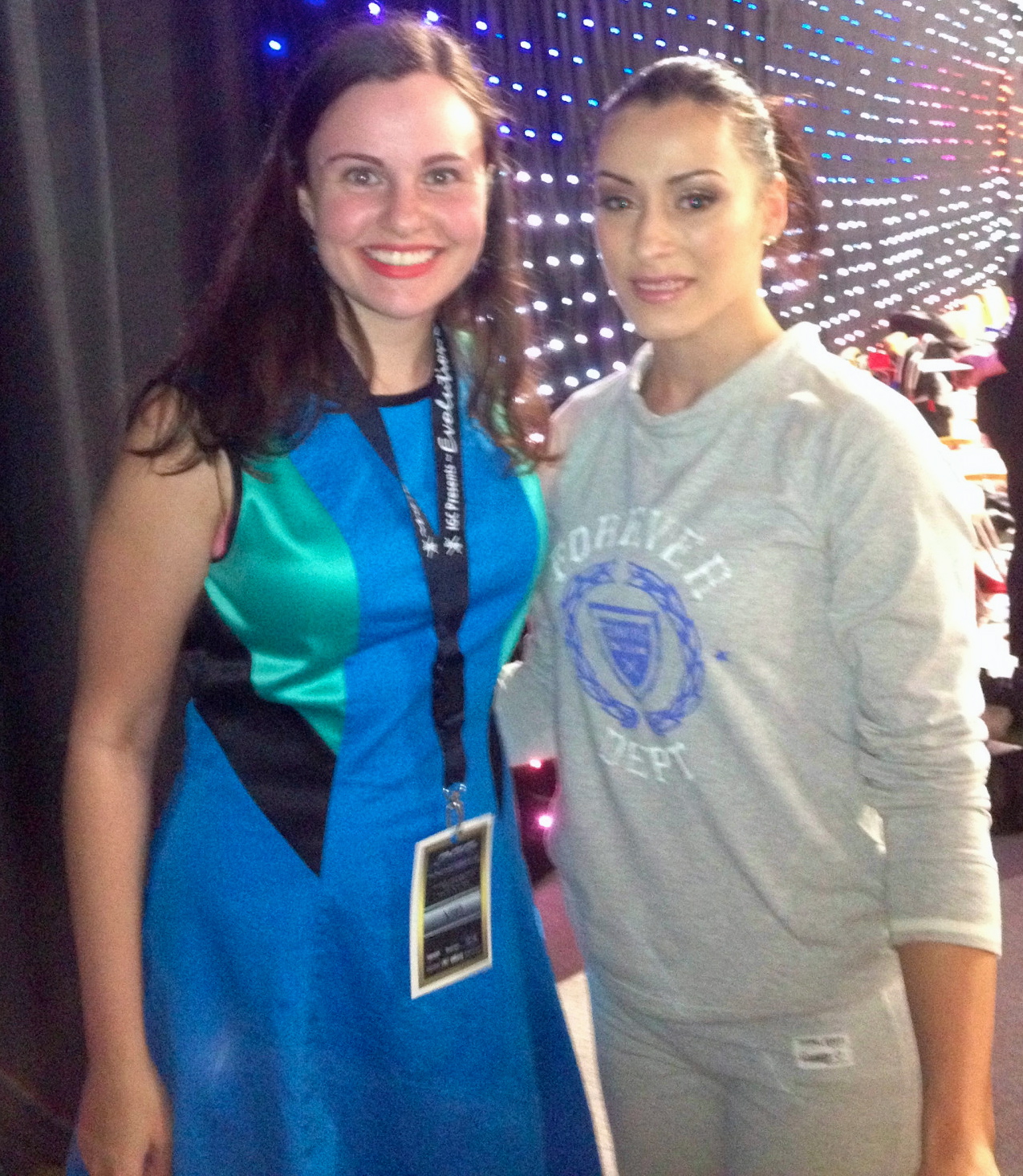 Editor's Note: The meet airs on May 20, 21 and 22 on ESPN2 at 8pm Eastern. Listen to live commentary from the gymnasts as the event airs on TV here.  Official video of the meet will be posted online after the meet airs on television but a low-quality version is available now.
As a long time gymnastics fan, I was very excited when I heard about the Pro Gym Challenge. A meet that brings together USA and international athletes to show off skills without being held back by the FIG rules, regulations, and the need to code-whore for the chance at a medal. What wasn't to like? Well, having gone to the first night of this event I can say there is definitely room for improvement.
Pre-Meet Reception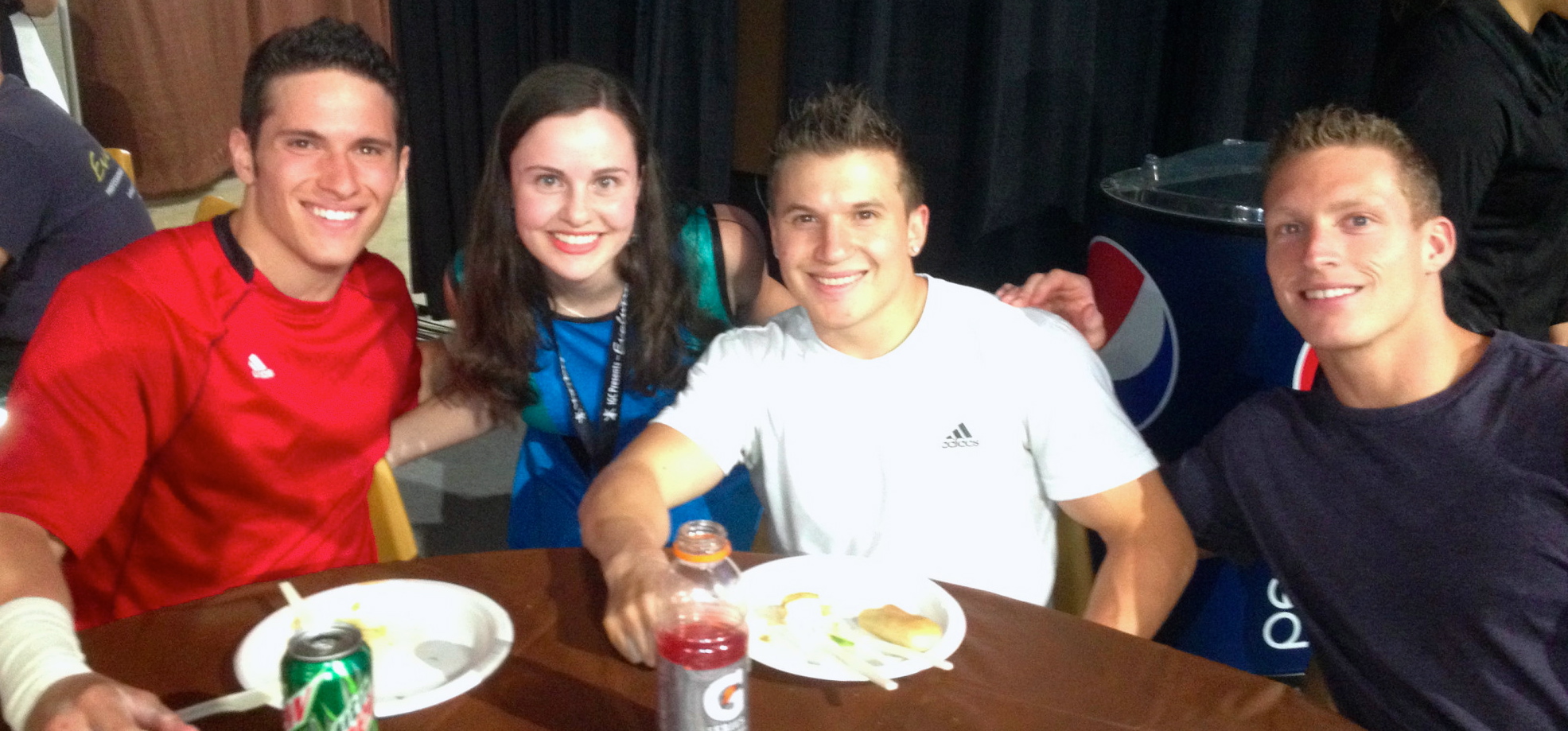 As a VIP ticket holder, I enjoyed the pre-meet reception. There was an area set aside where we could meet with the athletes, food was also provided (some sort of meat, mozzarella bread sticks, salad, broccoli, and desserts) for both athletes and VIPs. John Orozco, 2012 Olympian, was there to greet us and he was also making sure that if we wanted to meet a specific gymnast, that he or she would find us. We had roughly an hour and a half to schmooze and I managed to get 25 signatures from both competitors and non-competitors. I also got pictures with many of the athletes. While I didn't get to spend much time talking with them, they were pretty good about interacting with the little kids.
Impressions: 9/10
The Meet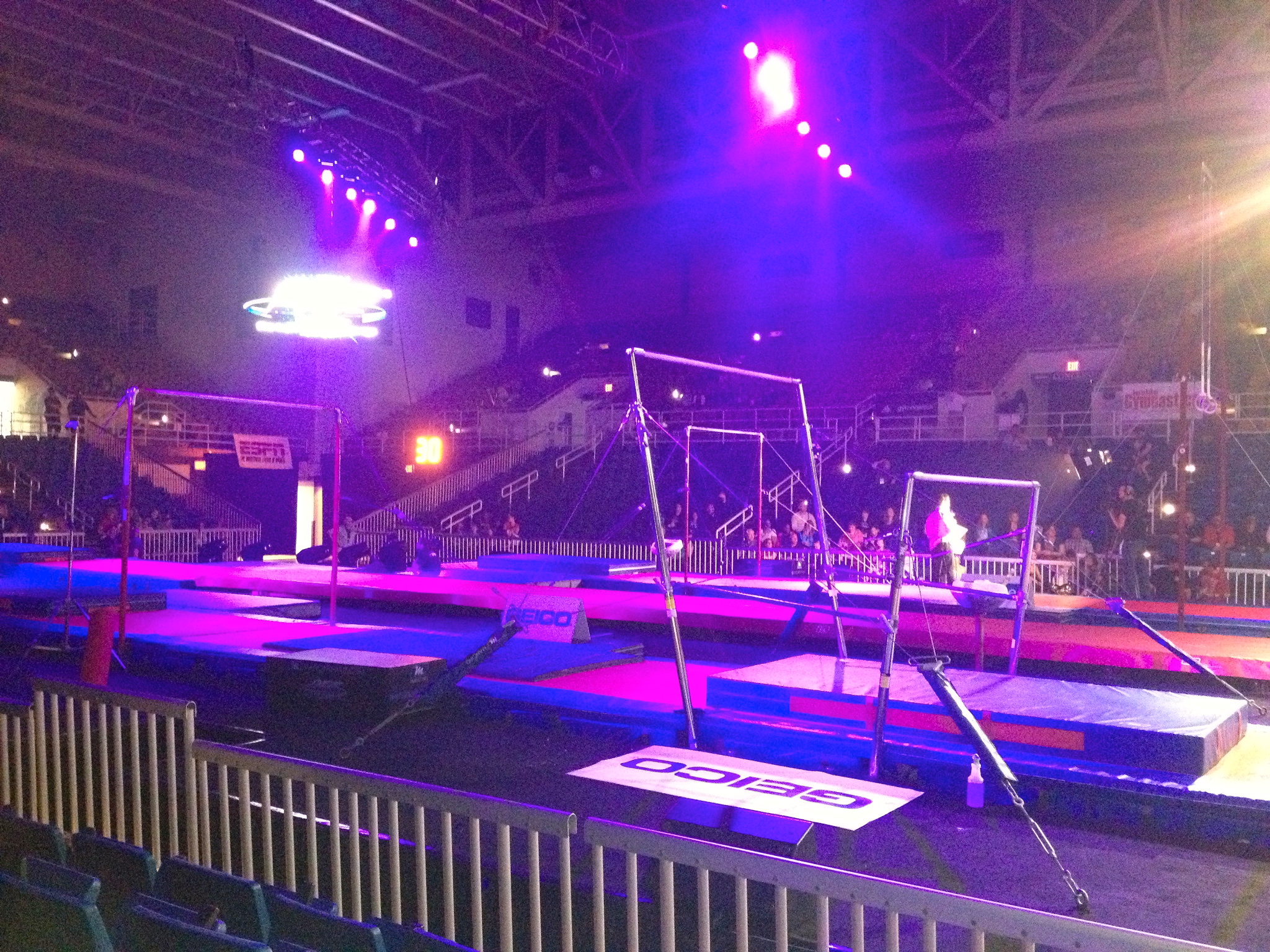 As this was the first day, the teams were "mixed," meaning they included both USA and international athletes. One team was Team Balance Bar, the other was Team IGC. The athletes were called out one at a time much like in NCAA meets, and the announcers gave a quick run through of how things were going to work. Basically one team would put up a gymnast to compete a certain predetermined skill or series and the other team would put someone up to try and do it better.
There were two judges, who would raise a blue flag (Team Balance Bar) or a yellow flag (Team IGC) for the team they thought did the best; if they disagreed the decision would go to the audience. In the event of an audience pick, the athletes in question would have their pictures pop up on the big screen and we would have 30 seconds to text in as much as we could while the percentage of the vote each athlete was receiving showed next to their picture. Sadly, it was a bit hard to tell which gymnast was which during voting (and I say this as someone more knowledgeable than probably most there). It didn't help that the international athletes were wearing yellow and the USA athletes were in blue, leaving us without the visual cues matching uniforms can supply.
The teams also had the option to do something called a "double down." Basically, if the gymnast messed up they could "double down" and attempt the skill again. Their second attempt would be the only one to count, and whomever won that round was rewarded with 2 points instead of 1. The first team to get 7 points won the rotation. Impressions: 3/10
Tumbling
The first event was tumbling (in lieu of floor). As both men and women compete similar or even the same tumbling passes, male athletes could be put up to try and top female athletes and vice versa. Tumbling passes in this section included a triple twist (Vanessa Zamarripa vs. Sam Oldham), Arabian double pike (Jade Barbosa vs. Alyssa Pritchett), 2.5 punch front into a double front (Andrew Smith vs. Jake Dalton) and many others. Overall the difficulty was very good. One set resulted in a split decision and the audience seemed to pick the flashier looking pass over the same pass which appeared to be more technically proficient from my view. Impression: 8/10
 Bars
The second event was Parallel Bars and Uneven Bars. As I know very little about p-bars, I can only say the skills the guys were throwing seemed cool (3 back tosses in a row, peach double back?, etc.), the women were a major disappointment. The most interesting was Zam's vs. Laura-Ann Chong's toe on, stalder, toe on, stalder combo, but other skills included a giant full, and a toe on toe on full. The ladies form was sub-par, especially for the difficulty, and the skills were too repetitive.  Impression: Men: 8/10,  Women: 1/10
Vault
Vault was next, and like tumbling men and women could mix during the face offs. Sadly the women didn't have much difficulty, throwing a FHS front pike, and a couple yurchenkos (layout, layout half). It was kinda funny to see Josh Dixon do the yurchenko half for his team's response to Anna Pavlova's half, but even with Oksana Chusovitina and Marissa King the toughest vault was a tsuk full. Meanwhile, the guys were doing handspring double fronts, and tsuk 2.5's. Impression: Men: 8/10,  Women: 3/10
Rings & Beam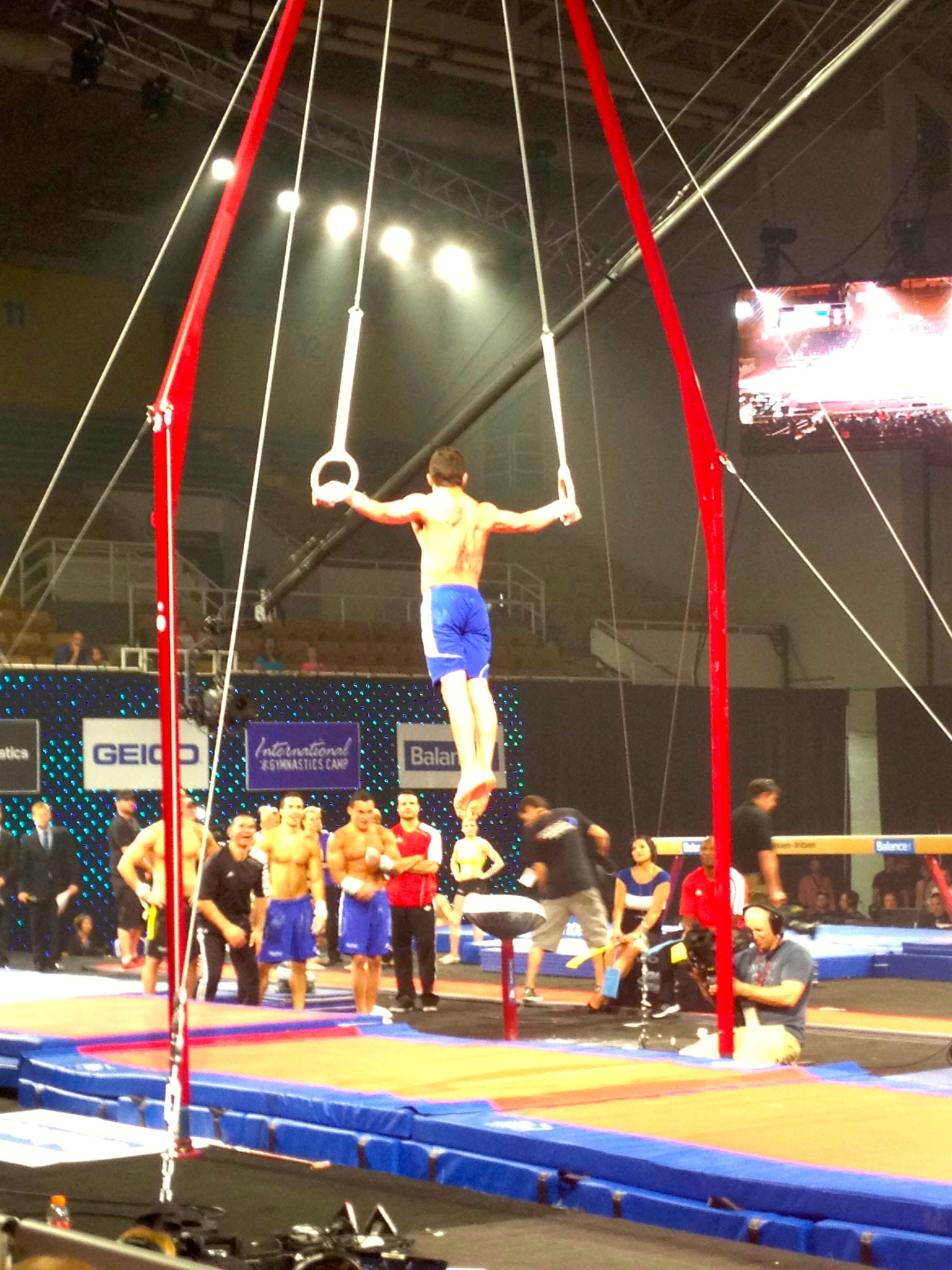 Rings and beam were the next. I don't have much to say about this rotation. The skills the men did looked tough and several were in combination (planche, triple back; azarian planche, azarian maltese) while the women didn't quite measure up (front aerial front aerial, front aerial to back tuck). Catalina Ponor and Pavlova did go head to head with a ¼ twisting bhs to split handstand, lowering into different poses.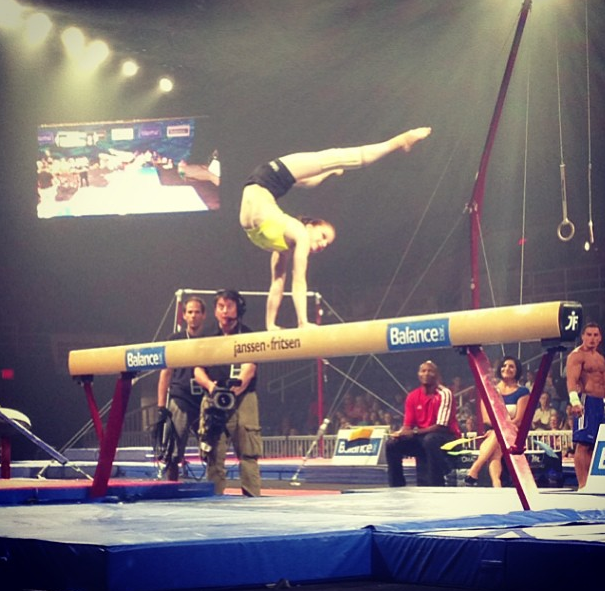 Sadly there were two occasions during this rotation where the opposing team didn't even bother having someone try the skill(s), resulting in a forfeit for that point. Impression: Men: 7/10, Woman: 4/10 
Rope Climb & Audience Skill Request
Rope was a short rotation, with the teams racing to see which group could climb up and down the fastest. Following rope, there was the "Audience All-Around," which consisted of athletes doing skills the audience had voted on previously. There was only one set of competitors per event, so this too went by pretty quick. Sadly by this point it was getting late and some of the younger audience members were starting to leave. Impression 6/10
High Bar & Single Rail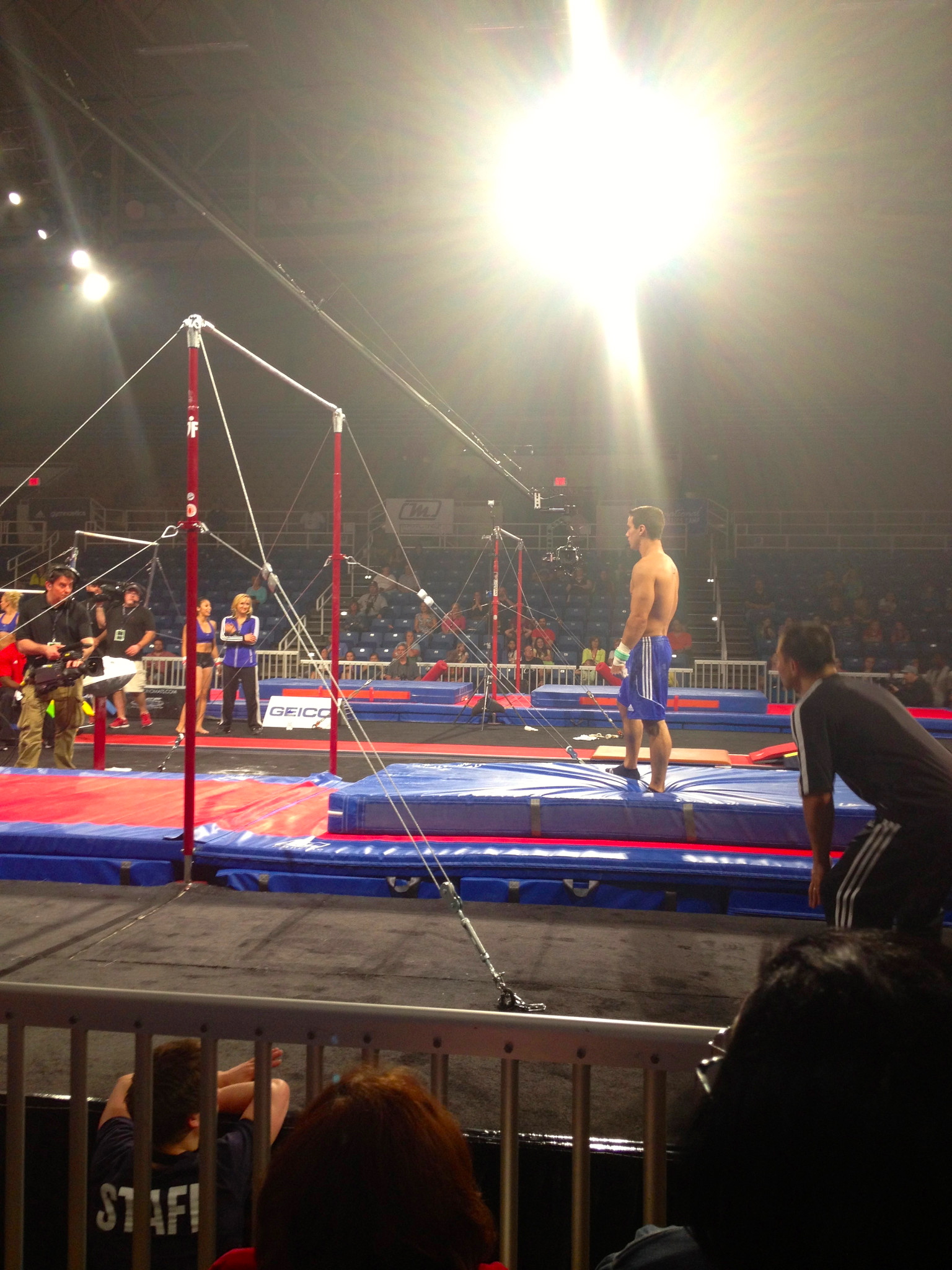 The final rotation was high bar/single rail, and the men brought their A-game, doing Kovacs and combos while the women were once again a disappointment. Brie did show her full twisting DLO, and Marissa did her Khorkina, but otherwise it was a bunch of stuff you could see at any college meet. The men did have some interesting wipeouts, but nothing too crazy.  Impression: Men: 7/10, Women: 2/10
Post-meet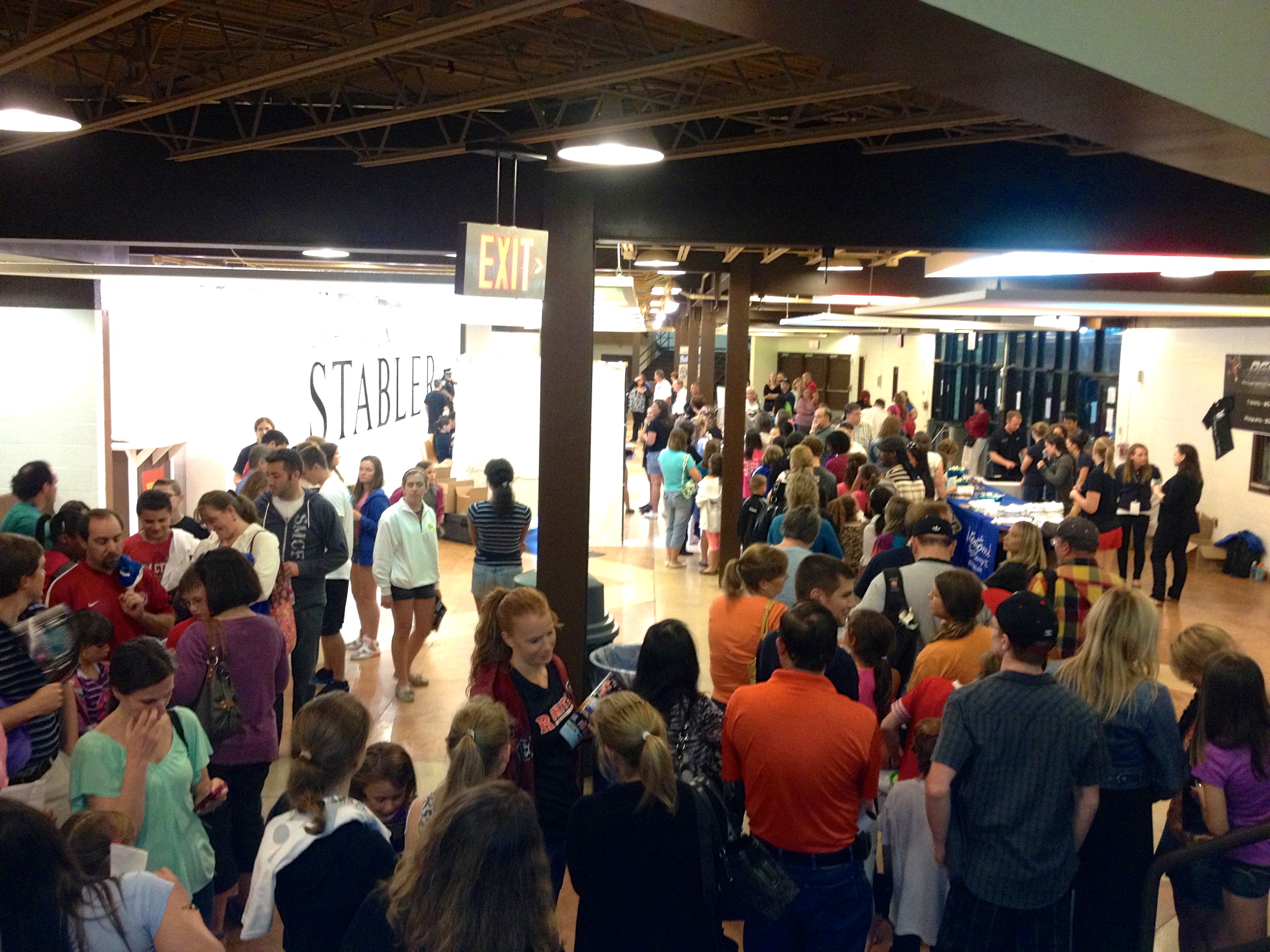 After the meet the gymnasts went out to sign autographs for those willing to wait in line. It was already after 11pm at that point, I wondered how many parents of young children had to pick between getting their kids an autograph or getting them to bed.
Suggestions
Overall I'd have to say the men were great to watch, while the women really need to step things up about 10 notches. GymCastic listeners whom have been hearing about ways to make MAG more interesting/appealing might be pleased to know the men competed sans shirts, the women wore gym shorts and sports bras.
The meet was too long (close to 4.5 hours, not even counting the 1.5 hour meet and greet beforehand), and the rules and teams were more confusing than they needed to be. The athletes looked like they were having fun, especially the guys who were constantly hamming it up for the cameras. Sadly, the best part of the night was the meet and greet and the tumbling, which was over within the first couple hours. For future Pro Gym Challenges, I'd recommend:
A higher level of difficulty for individual skills ::cough:: ladies ::cough::
A limit on similar skills within a rotation
Consistent uniforms within a team
Shorter/faster rotations
Clearer rules. There were a few instances where even the announcer wasn't sure what was happening or supposed to happen.
One thing I hope they find a way to incorporate is a section for the gymnasts to show off fun skills or combos they can do, much like we've been seeing them post via videos on Twitter. No points need to be added, just crazy gymnastics skills for no reason other than they can.
I also want to note that some of the gymnasts were better at interacting with the fans during the downtime between rotations and skills than others. Paul Ruggeri and Vanessa Zamarripa both came around and were signing things and taking pictures with kids over the barriers when they could. I hope more athletes follow their lead tonight, the kids in the audience really seemed to enjoy it.
I'm interested to see how they edit it together for ESPN. I can say some of the camera angles may be a bit weird, at least based on what would pop up on the big screens in the arena. I felt bad for the camera crew, there was a lot of chalk in the air and I could see them having trouble with chalk in their eyes when near certain apparatus.
If I had to give this meet a grade it'd be a C+. I had a good time, and for the first meet in this format things didn't go too badly. I 'm really glad I got the VIP tickets though, meeting everyone was certainly the best part of this meet for me. Hopefully they will be able to get higher caliber WAG in the future, ones who are willing to throw the big skills. Courtney Kupets, why weren't you here?
Emma's Review of Day 2 will be posted shortly. Check out more of her photos from the event at  ImPressToHandstand.blogspot.com