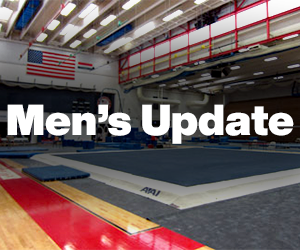 The 2019 Junior World Championships are set to take place June 27 – 30 in Gyor, Hungary. The U.S. men began their second of two qualifying events yesterday at the Olympic Training Center. Garrett Braunton, Matt Cormler, Isaiah Drake, Ian Lasic-Ellis, Brandon Nguyen, and Khoi Young have been confirmed the six gymnasts invited to compete for a spot on the Junior World's Team. Per USA Gymnastics, three team members and a traveling alternate will be named to the team at the conclusion of the camp.
The first qualifying event was the Men's JO Nationals and took place in Reno, Nevada from April 30th to May 30th where Asher Hong (15), Brandon Nguyen (16) Colt Walker (17),  and Lazarus Barnhill (18) won each of their respective divisions. Barnhill, who also won the Mas Wantanabe award, is age-ineligible for the Junior World Championship and will head to college later this year to compete for the University of Oklahoma. Asher Hong, who first came on the elite scene by winning the 2018 Winter Cup challenge, is ineligible due to his age.
In addition to the Junior World Championships, this camp serves as the qualifying meet for the Pan American Games in Lima, Peru. For the senior division, the MPC invited former national team members Cameron Bock, Grant Breckenridge, Adrian de los Angeles, and Brody Malone to the national team camp to vie for a spot on the Senior PanAm team. Malone was accepted by petition on April 9, 2019 to this camp and later that month won the NCAA individual all-around title and helped his Stanford team unseat reigning champions, Oklahoma, at the NCAA Championships. It is unclear how the other three gymnasts were selected. Joining them in their quest for the Pan American Games are current National Team Members Robert Neff of Stanford University, Genki Suzuki of the University of Oklahoma and Riley Loos who will head to Stanford this fall.
The remaining Senior National Team members will use the camp to train for 2019 National Championships in Kansas City, MO and the 2019 World Championships in Stuttgart Germany.
Article by: Kensley Behel