What We're Talking About
The perfect problem. That's the title mountain-climbing former Utah coach, Greg Marsden, gave his tweet, which included a chart of perfect 10s dating back to 2000. The thing you immediately notice is a big spike starting after 2000 before it dips back down in 2005 and then another huge spike starting last year. Here's the thing… what happened after 2000? The NCAA saw its first large influx of Olympians who entered and competed in college! After they graduated the numbers clearly dip. The next few cycles you got a smattering of Olympians, but nothing like that 2000 class, which included the likes of: Jamie Dantzscher (28), Elise Ray (3), Kristen Maloney (5), Tasha Schwikert (5), and Mohini Bhardwaj (8, who represented Team USA after graduating college). Together, this group alone account for 49 10s over the stretch of their careers. To put that into context, in 2006 there were only five perfect 10s in all of NCAA. In 2011 there were only two. In 2012 there were just five.
When Olympians in other years did touch the collegiate floor you saw something happen. Perfect 10s! In 2009 there were 15 10s. A 2004 Olympian, Courtney Kupets (you might have heard of her), scored nearly half of those (7) by herself that year. Her Olympic teammate, Courtney McCool, added another two that season. That's two Olympians (out of only six gymnasts in all of NCAA to record a perfect score that year) representing over half the 10s.
Now consider the impact from what we declared The Greatest Freshman Class of All Time last year. There are honestly too many elites, world team members, medalists and Olympians to name; but just to rattle off some from the U.S. Olympic team: Sunisa Lee, Jade Carey, Jordan Chiles, and Grace McCallum. It stands to reason we'd see a lot more 10s, right?
However! Why are all the scores going up across the nation? Twenty teams put up all-time team scores. Twenty four teams recorded all time NQS scores (although a team like Fisk doesn't really count since it's their first year). And a whopping 79 team apparatus records were broken. Is it the result of high tides raising all boats? Look at the incoming class I named above. Four gymnasts representing four different programs—three in the Pac-12. Wanna guess what conference has three of the four No. 1-ranked apparatus leaders?
With the talent spread out across the country, are scores everywhere getting lifted? Is the scoring just wrong? Could it be some combination of factors? Yes… probably… to all of it. Without a doubt, the week-in-week-out quality of gymnastics from top to bottom is better today than it's ever been—and it is a perfect problem.
Feelings
---
Facts
Abby Heiskell got 10 on beam.
Ragan Smith got one on beam too.
Trinity Thomas is now just one 10 from tying the all-time record after she recorded not one, but two 10s during the SEC Championships.

Trinity also completed the Gym Slam in a single season.

The Gators are peaking when it matters, they recorded a season high this week.
The Sooners are circling the wagons… recording the highest Big 12 conference championship score ever (counting a neutral deduction!).
A lot of records were broken this year… the Balance Beam Situation has them all listed for you.
The European Championship team draw has happened, and Russia nor Belarus were included, which means they can't qualify as a team for Worlds or the Paris Olympics.
We're getting our popcorn ready for the Denver regional featuring: Michigan, LSU, Oregon State, Denver, Minnesota, Georgia, Nebraska, Arizona and North Carolina.
Every event has a different No. 1 ranked athlete: Haleigh Bryant (VT), Jordan Chiles (UB), Maile O'Keefe (BB), Jade Carey (FX).
---
Award(s)
---
What's On the Socials?
A perfect 10 is a language that everyone understands.

We sat down with Olympians, coaches and gymnasts from across the conference to share what a perfect 10 means to them 👏 pic.twitter.com/9HEaVa8GCK

— SEC Network (@SECNetwork) March 17, 2023
OH MY GOD!!!! Y'ALL!!! https://t.co/VFUwuWXLIj

— Joscelyn (@Josc_Roberson) March 19, 2023
Sometimes a coach has got to do, what a coach has got to do. pic.twitter.com/YZJpHIKLVM

— Mark Williams (@wellsgymn) March 18, 2023
Yep, gymnasts are more likely to fall when walking than when balancing on the beam! Let's go @LionsGymnastics pic.twitter.com/UF8gNTc7rd

— Katelyn T (@kmtom) March 17, 2023
---
Quotes
"Brody Malone sustained a knee injury during high bar finals at the DTB Pokal Competition. He is receiving care at a local hospital and plans to travel home with the team tomorrow." ~ USA Gymnastics
The statement released shortly after Brody's gruesome knee injury that will keep him sidelined for a while.
♦
"To me that's one of the great things our sport has contributed to the sports landscape. That's one of the defining brands of the entire sport going back to Nadia Comaneci, back in 1976."
~ Bart Conner, Mr. Nadia
The Olympic gold medalist who knows a thing or two about the perfect 10, commenting on the cultural impact of the 10.0 in the SEC short documentary on the sacred achievement.
"I realized that this is everything I wanted." ~ Naimah Muhammad, History Maker
♦
"It was a long process, during which I proved that I had no intention to doping."  ~ Oleg Verniaiev, Eligible Athlete
After missing the Tokyo games for a doping ban, the Ukrainian Olympic Champion had his suspension halved by the Court of Arbitration for Sport, making him eligible to compete immediately.
♦♦♦
---
College & Cocktails
Listen to this week's bonus episode: College & Cocktails: Conference Championships
Cocktail of the Week: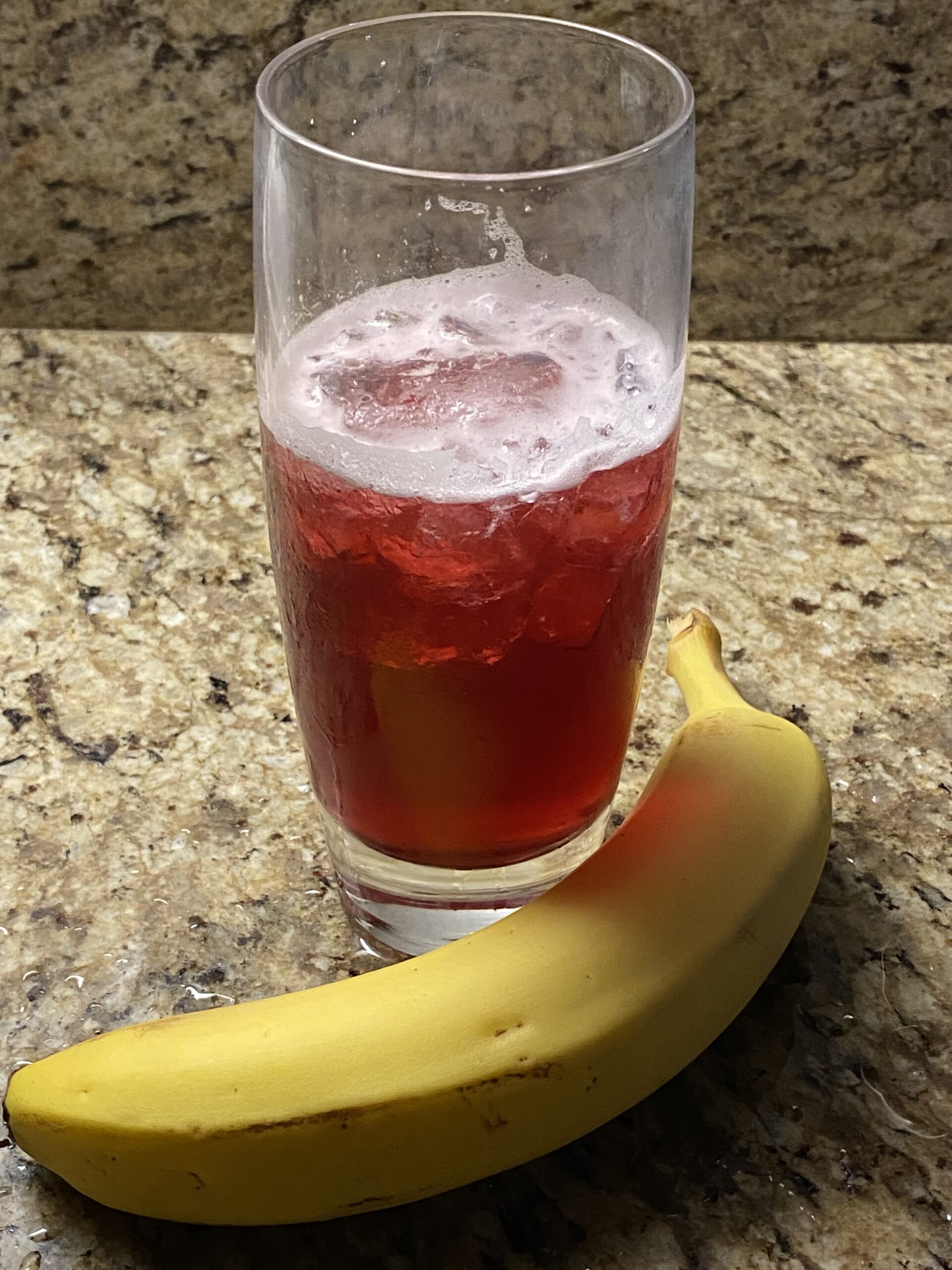 Flying Banana Jesus
This one will leave you feeling flying like Suni.
Boozy
1 oz light rum
1 oz spiced rum
1 oz banana liqueur
.5 oz Creme de cassis
1 oz pineapple juice
.25oz grenadine
Make Your Drink:
Combine all ingredients and shake with ice to chill. Double-strain over fresh ice in a fun glass.
Stick the Landing:
Garnish with a variety of fresh fruit, enough to match the unique look of this vault.
♦♦♦
What? You want even more? Join Club Gym Nerd and you get a bonus episode, College & Cocktails, every Friday after our meet of the week. Once the NCAA season is over you continue to get a weekly bonus episode every Friday afternoon. Plus you get access to all of our archives, exclusive content and more. Then we give the sober analysis on Monday (or Tuesday) after we've allowed the data to penetrate our feelings.
This column was composed and compiled by Steve Cooper, Editor, GymCastic; as performed by hosts Jessica O'Beirne and Spencer Barnes.
Prefer to get this delivered to your inbox? Sign up for the newsletter here.