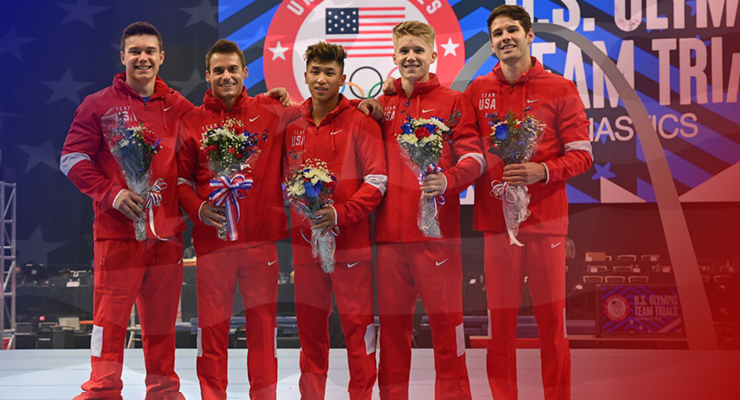 Reaching the Olympic Games is a feat many young athletes aspire to, yet it's a dream few can attain. The dream for gymnasts has been made even more challenging as the International Federation of Gymnastics has limited team size from 7 in 1996 to just 4 in 2021. Looking at the selected 2021 U.S. Olympic Team, there is nothing overtly different from the 2012 and 2016 teams, but there is a deepness and a perseverance through this team that I have not seen since 2008, when Team USA brought home a surprise Bronze medal from the Beijing Olympics.
Sam Mikulak is the only repeat Olympian on this team. A champion at the University of Michigan, and a champion of his own right, he has been open and honest about the trials he has endured. On the surface, fans remember the 2013 Sam dance cam, and his happy-go-lucky attitude. Recently, his transparency about the burdens he felt from the expectations of others, his mental breakdown, and his fear of failure has created an awareness that this team leader has struggled with far more than met the eye.
Yul Moldauer is the most decorated men's NCAA gymnast of all time. He is a world medalist on floor, and has made every world team since 2017. In 2020, USA Gymnastics leadership allegedly indicated that if Yul automatically made the national team at the 2020 Winter Cup, he would retain his spot to compete at the 2020 American Cup. Despite doing what was allegedly asked of him, Yul was pulled from the American Cup roster. A month later, the World Health Organization declared the COVID-19 crisis a pandemic. Yul was forced to train in his garage, and upon the University of Oklahoma's temporary closure for former athletes, he could no longer workout on campus; Yul then made the move to Colorado to try and reach his goal of becoming an Olympian. At the Olympic Trials, Yul made sure no one person could keep him off the Olympic Squad by securing himself an automatic spot to compete in Tokyo,
Like Moldauder, Shane Wiskus also made the choice to move to Colorado to train during a pandemic, but it wasn't because he was a former NCAA athlete, it was because University of Minnesota athletic director, Mark Coyle, announced that they would be cutting their men's gymnastics team. Shane made the impossible decision to leave his NCAA team in his final year to train at the United States Olympic and Paralympic Training Center in Colorado Springs. Only returning for a handful of competitions, including the BIG Ten Championships and the NCAA Championships, Shane continued to fight to save the Gopher Gymnastics team through an appearance on 60 Minutes. Shane managed to defy the odds by moving states and fighting for his NCAA team to be saved and still earning a spot on Team USA.
Reigning Olympic Trials and National Champion, Brody Malone, like Sam, has recently been open about the personal struggles he has endured. Will Graves reported that Malone lost both his mom and his step-mom to medical conditions while growing up. Malone said that it was in these moments of struggle that you can move on in life, not forgetting the past, but doing better. It's that same determined attitude that helped him persevere as Stanford University closed its doors to all current and former athletes. Malone and a handful of other Stanford gymnasts were displaced and moved to Texas to train with Tom Meadows. Still, Brody showed up and swiftly, determinedly, and quietly beat the rest of the competition earning an automatic spot on the Olympic Team.
In addition to the team of four, Team USA earned an additional spot for an individual competitor that was awarded to Alec Yoder. Yoder was considered the best junior in the country, winning the bronze medal in the all-around at the 2014 Youth Olympic Games. Heading into 2016, he was unable to compete at the Olympic Trials, and again at the 2019 National Championships due to injury. Twice, he has been overlooked for the National Team after tieing or beating other competitors. After being left off of the National Team earlier this year, Yoder posted a picture of the pommel horse he trains on and said, "I'll decide my own fate." He did just that.
If there is one word I could use to describe this team of four plus one, it's perseverance. Depression, fatigue, loss, displacement, ignored. These five men defied everything life has thrown at them to fulfill lifelong dreams and compete at the Olympic Games. They are not favorites to medal as a team in Tokyo, but they have a bond and an understanding between them that will give them that familiar perseverance and drive to come together, something the past two teams have not possessed. Though the numbers on paper are not in their favor, grit, drive, and determination are.
Article by: Kensley Behel