Move over falsified Chinese birth certificates—there's a new gymnastics scandal that has more surprises than a bottle of Heinz ketchup has tomatoes.
What do you get when you cross two gymnasts representing Trinidad and Tobago (TTO)—native-born Thema Williams who lives in Michigan and Canada-born Marisa Dick—a questionable gymnastics federation, a set of topless social media pictures, and a mysterious pair of Heinzes?
Here's what has happened so far.
2015
At the World Championships, Williams finishes 59th and Dick finishes 77th, securing a single TTO spot—presumably for Williams—at the Olympic Test Event in Rio.
Despite her lower finish, Dick is nominated by the Trinidad and Tobago Gymnastics Federation (TTGF) for Sportswoman of the Year.
2016
January 18: The Dick, as in Marisa's beam mount, is officially added to the Code of Points. Jokes ensue.
February 22: "Georgette Heinz," the self-proclaimed mother of a young female gymnast, sends the TTGF a year-old Instagram selfie of Williams topless, but unexposed. Williams has since justified her photo as a means of displaying her pride to be a black woman. She says:
It was supposed to be about appreciation for your body, especially in the skin that I am in. The caption itself said I am a proud black woman.
Heinz demands that the TTGF take disciplinary action against this "disgraceful" photo.
Williams' godmother and local TTO celebrity, Nikki Crosby, champions a social media movement supporting Williams. Several other local female celebrities appear topless on Facebook, backing the "We Support Thema" campaign. Public support for Williams grows quickly.
#isupportthema #wesupportthema #themaforrio pic.twitter.com/JtLbpxMNsy

— Carisa Lee (@Carisa_Lee) March 2, 2016
Madness. One side there's a reach for equality and on the other, the absolute opposite #WesupportThema https://t.co/uXDzUtlXfF

— Roulin Khondoker (@RoulinKhondoker) March 2, 2016
February 25: Another Heinz, another topless photo. This time, it's "Kamara Heinz" who forwards a topless Snapchat of Dick (again, as in Marisa) to the TTGF. As topless photos of both Williams and Dick are leaked, taking the single spot for the Test Event as a punishment to Williams is not an option for the TTGF.
Both gymnasts are sent to a TTGF Disciplinary Committee. The decision of who will represent TTO at the Test Event is drawn out and incites public distaste for the TTGF, as support for Williams continues to build.
Sttteeeuuuuppppsss…. TTGF is officially full of idiots.

— Cherylee C. Legair (@CheryleeLegair) April 16, 2016
TTGF pic.twitter.com/j412wWQ9PM

— Jelani (@ValeboyLani) April 16, 2016
I truly hope the TTGF not getting our tax payers dollars after this. A waste of time organization.

— SicSynic (@le_sanika) April 16, 2016
March 15: The TTGF officially selects Williams to represent her country in Rio, but only if she receives medical clearance to compete before the event. According to the federation, her coach, John Geddert, said she was dealing with a knee injury and wasn't yet able to train landings. The federation responds, "This situation will be monitored closely to ensure that Thema will be competition ready for her Test Event."
April 15: Geddert emails the TTGF at 7:24 p.m. saying:
Podium was a disaster with 6 falls on 3 events. She has been dealing with a sore ankle to the point that I asked her to withdraw last week. She assured me she can do this.
April 16: TTGF President David Marquez responds via email at 12:27 a.m. He says, "What this says to us John it is that Thema will not perform well at this competition due to her injury. This is a country place and as a federation we must do what is best for the country, i.e. ensuring the best athlete represents the country." Marquez then plainly states—the night before the competition—that Williams will be pulled from the competition and replaced by Dick.
Then Dick, who was currently in Canada, would make a last-minute international trip to Rio to compete in just a few hours.
April 16: At 5:17 p.m., Geddert explains that he believes his words were taken out of context. "The rationale for the podium is to have the athlete acclimatize themselves to the competition arena. This '6 falls' reason singled out by you to pull her is irrational in my respectful view."
It was reported that according to the TTGF player contract, the head of delegation, physiotherapist, coach and athlete must be consulted before an athlete can be removed from a competition. As the TTGF made their decision in haste during the middle of the night, neither the head of delegation, Geddert nor Williams were consulted of the final decision before it was made.
Complicating things further, Geddert leaves Rio altogether to tend to a family emergency at home.
April 17: If only for a public guise, Williams and Dick seem to get along following the Test Event.
T&T gymnasts Thema Williams & Marisa Dick pose for a 📸 AFTER the Olympic Test event on 17 April 2016. [📸 @Wired868] pic.twitter.com/9D5vzSBCoA

— Clydeen McDonald (@ClydeenMcDonald) April 22, 2016
April 18: Trinidad and Tobago Olympic Committee (TTOC) President Brian Lewis says his committee has "'sole and final and exclusive' authority for the composition of the T&T team for the 2016 Rio Olympic Games."
In the meantime, Williams' mother, Helen Adams, has sought legal assistance from attorney Keith Scotland. They claim the decision to remove Williams "was irrational, illegal, null and void."
April 19: Dick officially secures the first-ever Olympic berth for a TTO gymnast, placing 55th at the Test Event. She says:
I am really proud that T&T will be represented in the Olympics whether it's myself or Thema…Yes she supported me in Rio and I supported her after Worlds. I was heartbroken that I would not be the one going to the Olympics but I was so supportive of her because it's T&T that will be going to the Olympics it's not myself or Thema it's T&T.
April 19: An October 8, 2015 email surfaces sent from TTGF President Marquez saying he believes Worlds will "most likely be Thema's last competition."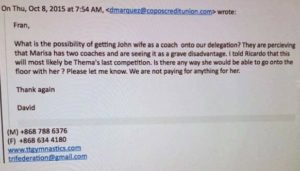 April 20: Williams returns home to a warm welcome and outpouring of support. People named the previous day "Thema Tuesday."
Everybody know say Thema @ThemaY_Williams a #champion pic.twitter.com/oKtZtGkNTG

— Dwayne DJ Bravo (@DJBravo47) April 20, 2016
Thema Williams arrived to a hero's welcome last night, at the PIA .
Photo courtesy Penelope Spencer. pic.twitter.com/spRtE3Ludi

— Elizabeth Williams (@EWilliamstv6) April 20, 2016
April 20: Local TV station CNC3 shares an interview conducted with Geddert, in which he says the TTGF has "been frustrating beyond the definition of the word since we started…It seems like they like to be in the spotlight more than they like to be behind the scenes assisting the athletes." He also explained that he received the October 8, 2015 email from Marquez by mistake. When he inquired about it with Marquez, Geddert never received a response.
In the same interview, Geddert lauds Williams in comparison to Dick.
She is a more powerful athlete, she is a more polished athlete, she is a more athletic athlete.
April 21: Marquez admits that Head of Delegation Nicole Fuentes was not properly consulted about the decision to pull Williams. He claims that the TTGF had to make a rapid decision because they received Geddert's initial email so late in the night.
April 22: To date, four members of the TTGF have resigned, and more resignations are expected.
Public support for Williams remains strong with a movement to immediately cut the TTGF's funding.
April 28: Williams' lawyers say there is a chance for her to represent TTO in Rio, "but only with the support of the Trinidad and Tobago Olympic Committee."
April 29: The FIG makes a statement saying Dick cannot be replaced by Williams for TTO's Olympic spot.
The TTOC has until May 9 to confirm Dick's place on the Olympic team. Since it is a nominative position, no name change or replacement is allowed. If no decision is made on time, the first reserve from the Test Event will earn the chance to compete in Rio.