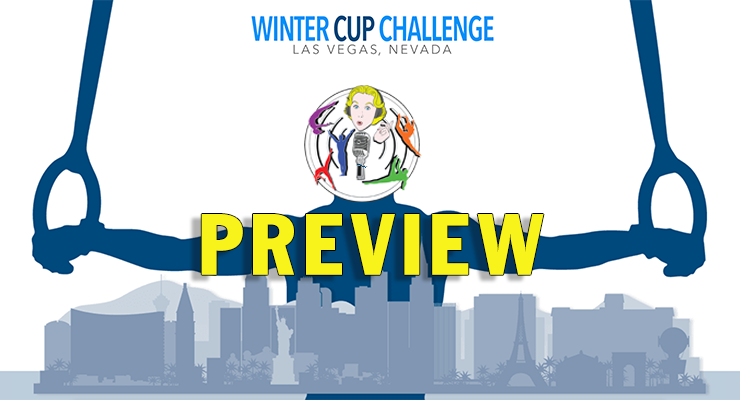 The gymnasts spoke and the coaches listened. According to a recent interview by Blythe Lawrence, the gymnasts asked for a revision of the mandatory two-days of competition at Winter Cup, which they were granted. This year, the top six all-arounders, (and Sam Mikulak) will have the opportunity to save their body if they don't wish to compete the second day of competition. As long as Sam competes on day one and qualifies to finals in any capacity, he will be named to the national team because he won a medal at the 2018 World Championships. If history is any indicator, should the five-time national champion compete in the all-around he should place well within the top six, and he will probably lead the all-around standings–meaning a total of seven gymnasts will be named to the national team after night one. Consequently, there will be only five spots to be determined by the second night of competition or medical petitions.
The 2018 all-around silver medalist and 2017 National Champion, Yul Moldauer, has yet to compete in the all-around this year; making Winter Cup his all-around debut. This will be a lead-up meet to his competition at the American Cup in March. The 2017 world bronze-medalist on floor has upped his difficulty by .3 tenths from last year's world championships. Expect him to contend for the the floor title here should he perform with his normal form and ability to stick the landings.
Allan Bower, who placed third at nationals last year, is coming off his win at the Houston National Invitational where he took home the all-around, floor (tie), and vault titles. His teammate and current national team member, Colin Van Wicklen, placed second in the all-around at the same competition and took home the floor (tie) and high bar titles as well. Van Wicklen has changed vaults from a Dragulescu (handspring double front half) to a Blanik (handspring double pike). Both vaults are worth the same, however the Blanik has a forward landing which is easier on his ankles. In a recent interview with Gymnasticsville, he stated that he hopes to upgrade the Blanik to a double front pike half known as a Ri Se Gwang 2 and holds a start value of 6.0.
Trevor Howard, who was named to the national team after being named a non-traveling alternate for the 2018 World Championship squad, placed third in the all-around at the Houston National Invitational. He has two vaults and a superb ring set to anticipate.
The final member of the 2018 World Championships team competing this weekend is Akash Modi. He is best known for his work on parallel bars.
The Comebacks
Unfortunately, injuries have plagued a large number of our current and former senior men's national team members.  Last season Donnell Whittenburg, Eddie Penev, Marvin Kimble, and Donothan Bailey, all suffered from significant injuries that prevented them from competitively competing for a spot on the World's team.
In an interview with GymCastic, Donnell described his journey through gymnastics the last few years as he has continued to work to come back from a partially-torn rotator cuff. It is undecided if he will compete the all-around or choose to compete less events this weekend. For him, health is his priority because the end-goal is the Olympics.
Donnell has down-graded his routines to allow for him to stay as healthy as possible and wants to communicate that he is back and that his return will only get better from here. When asked about his choice to compete at nationals last year instead of petitioning for medical reasons, he said, " I wanted to compete. I wanted to do something." Though his choice to compete didn't earn him a spot on national team, he had an extremely positive outlook because he was finally able to fully cheer his teammates on.
The most anticipated comeback for this meet is none other than former NCAA star and current national team member, Eddie Penev. Known for his explosive power on vault and dynamic tumbling on floor, the 2017 World Challenge Cup floor champion couldn't be happier to be doing gymnastics again.
He said he will be doing five events and is thrilled to be back given he had surgery just 6 months ago. He has  upgraded pommels, p-bars and high bar. He will be performing a slightly watered down floor, but thinks it should be the highest start value. On vault he's doing a "Simone-esque man-amar."
Marvin Kimble is also a superb vaulter and pommel horse worker. Showing consistency here will go a long way in his quest towards a second world championship team.
Still missing from the senior field at Winter Cup is Donothan Bailey as he recovers from surgeries last year. He will, however, have the opportunity to petition to the national team.
NCAA in Elite
There are only three–out of the 56 gymnasts competing–that do not have ties to the NCAA. That means 94% of senior gymnasts this weekend are competing or have competed in collegiate programs around the country. This number shows the significance and continued relevance of the NCAA men's gymnastics programs to our elite national program.
Current NCAA stars and national team members competing in this meet include Cameron Bock of the University of Michigan, Genki Suzuki of the University of Oklahoma, Shane Wiskus of the University of Minnesota, and Alec Yoder of Ohio State University. Bock owns the highest AA score this year in the NCAA and Yoder is known for his internationally-competitive pommel horse work.
Under the Radar
Names like Sam Mikulak and Yul Moldauer are familiar to most gymnastics fans, but who are the ones with an outside chance a national team?
Levi Anderson (Oklahoma) is my pick for a surprise spot on the national team. He's ranked first on HB in the NCAA and can put together a solid all-around score that may well earn him the chance to wear red, white, and blue. High Bar is the weakest event for Team USA right now and his score could be invaluable in the future.
Stephen Nedoroscik has a phenomenal pommel horse routine. Though it would be hard to win a spot on the team by only competing one event, he could easily snag the title this weekend.
Sean Melton, though a familiar name to most, hasn't competed since last year's national championships. He has often been a regular on the national team, but was dealing with some nagging injuries at last year's championships. Look for the reigning Winter Cup still rings champion to compete to retain his title.
In fact, all 2018 Winter Cup champions are returning to reclaim their titles. The 2018 event winners were:
Sam Mikulak: AA, FX, PB, HB
Alec Yoder: PH
Sean Melton: SR
Marvin Kimble: VT
Junior Gymnasts
The 2018 Winter Cup junior champion, Asher Hong, will not be competing in this event. He is healthy and is choosing to focus on other meets coming up.
Though the MPC has yet to finalize the qualification process for choosing a team for the 2019 Junior World Championships, we know consistency plays a role in who is chosen based on Brett McClure's statistics database. Additionally, only all-around athletes will be considered for the team due to the format of the world championships, and the gymnasts must be born between 2002 and 2003. Unlike the senior men, junior gymnasts do not have the option of a second chance each year for a spot on national team. However, the good news is that a gymnast does not have to currently be on national team to be selected for the world team in Hungary. Gymnasts competing this weekend who are age-eligible include: Fuzzy Benas (NT), Garrett Braunton, Michael Jaroh, Rithik Puri, Luke McFarland, Isaiah Drake, Raydel Gamboa, Nicolas Kuebler, Ian Lasic-Ellis, and Khoi Young.
How to Follow
The meet will be live-streamed by USA Gymnastics.
Kensley and Jessica will be live blogging and giving behind-the-scenes coverage of event finals on Sunday night.
Start lists and live results can be found here.
Article by: Kensley Behel