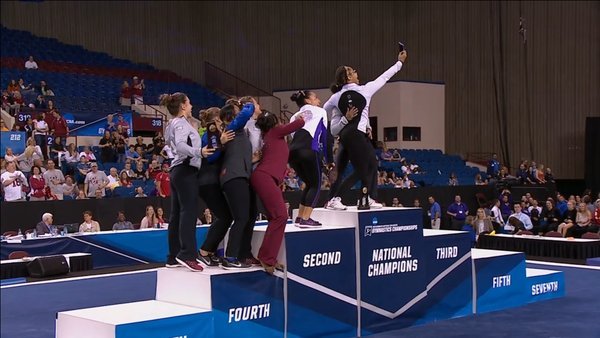 We, gym nerds, have said goodbye to event finals at the Women's NCAA Gymnastics Championships. This year, individual event champions were crowned based on the scores from the semifinals, where six judges watched 70+ routines over the course of one day. Obviously, this new format made direct comparison of routines much more difficult.
Some people love the new format. Other people hate it. And still others just don't care.
Whether you love it, hate it, or are indifferent, here are the 2016 individual event champions. Let us know what you think of the winning routines and the new format in the comments below. And, of course, feel free to tell us who was robbed of a title.
The 2016 Vault Champions: 9.950
Brandie Jay, Georgia
Katie Bailey, Alabama
The 2016 Uneven Bars Champions: 9.950
Brittany Rogers, Georgia
Bridget Sloan, Florida
The 2016 Beam Champions: 9.950
Bridget Sloan, Florida
Unfortunately, a video isn't currently available.
Danusia Francis, UCLA
The 2016 Floor Champion: 9.950
Nina McGee, Denver (and Denver's first NCAA Champion)