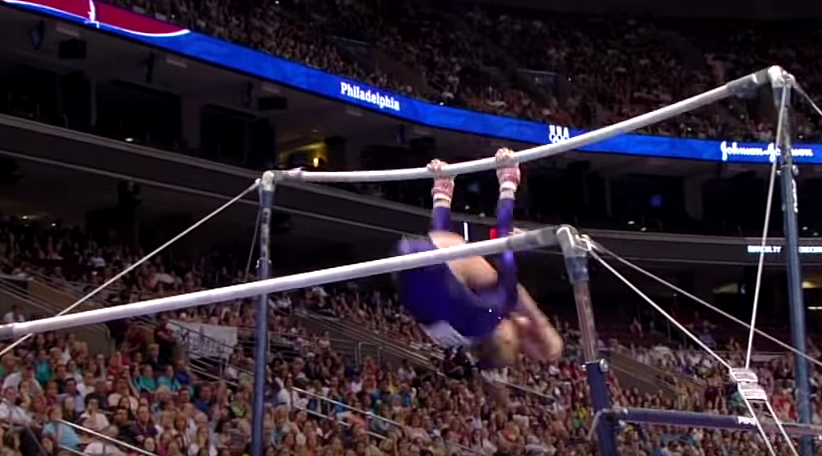 LISTEN HERE
LIVE VIDEO PODCAST FUNDRAISER
Attention! Dave Tilley of Shift Movement Science is hosting a FREE online gymnastics summit on Saturday May 2 to benefit Feeding America's COVID-19 hunger relief, and we're going to be part of it! The all-day video marathon will feature a bunch of people who know what they're talking about and then also us, with the GymCastic segment starting at 5:00pm ET sandwiched between Jordyn Wieber, Chris Brooks, Colin Van Wicklen, Kyla Ross, Madison Kocian, and Miss Val. Just like we were meant to be.
Check out full details at the Event Info page and the Feeding America fundraising part at the GoFundMe page.
THIS WEEK
Gymternet News: Morgan's gym needs your help, the Netherlands and Italy are moving toward reopening gyms, there was a "calendar error" in the Maggie Haney ruling, and the Argentinian federation may have stolen USAG's dumpster title.
Less Is More: We're taking a red marker to the rules and crossing out the things we don't like.
Mini-Commission on Inbars: Why are they considered harder than the other entries? Why do they mess up everyone's backs? And why was Bridget Sloan's so different?
Mini-Commission on Spencer's Weird Opinions: One time, Spencer categorically asserted that Huang Mandan was robbed on bars in 2000 and should have made the bars final over Ling Jie and Yang Yun. That was a weirdly specific take to be so passionate about, so…talk about that.
Plus, some important feedback on Stick It pregnancies and Full Out 2.
BECOME A CLUB GYM NERD MEMBER
Join Club Gym Nerd and get access to Behind the Scenes episodes here.
Buy our awesome clothing and gifts here.
RELATED EPISODES
MORE WAYS TO LISTEN