[et_pb_section fb_built="1″ admin_label="section" _builder_version="3.22″][et_pb_row admin_label="row" _builder_version="3.25″ background_size="initial" background_position="top_left" background_repeat="repeat"][et_pb_column type="4_4″ _builder_version="3.25″ custom_padding="|||" custom_padding__hover="|||"][et_pb_text admin_label="Text" _builder_version="3.27.4″ background_size="initial" background_position="top_left" background_repeat="repeat"]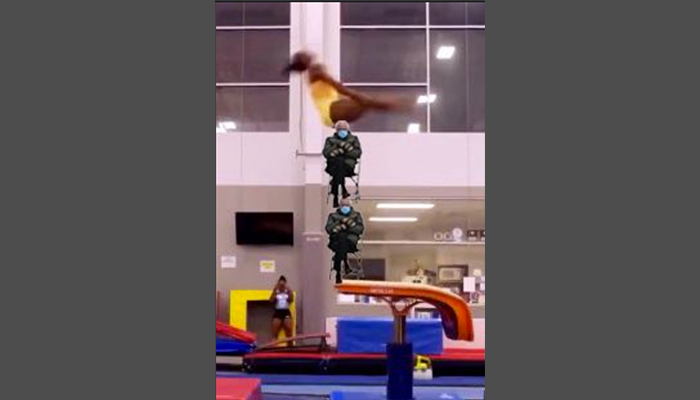 Season 21, Episode 7: Celery Beam
LISTEN

WATCH
Club Gym Nerd members can watch the podcast being recorded and see video clips of the gymnastics while we discuss.Please login to your Club Gym Nerd account to listen and/or watch this episode. Not a member? Join here.

HEADLINES

Simone showed a competition-ready Yurchenko double pike on 60 Minutes. We discuss what it should be valued and how we're preparing for the injustice of it all, plus the inevitable fact-checking when civilians try to talk about gymnastics
Dianne Durham died last week. We discuss her legacy, what happened in 1984 and why we're still not over it, and why she's not in the US Hall of Fame. Sign the petition here.
The AA Olympic qualifiers have been canceled and the Doha World Cup has been postponed. We run through what it means for Olympic qualification
Aliya is the new acting head coach of the Russian juniors, and we have PLANS.
Sarah Finnegan has been elected athlete representative on the USAG board. How should we feel about this considering her #BroomGate past?
NCAA NEWS
The 198s went flying. Spencer has…some views…about the scoring at LSU and Metroplex
Trinity Thomas went 39.900. Was it the best all-around NCAA performance we've ever seen?
The LIU beam rotation wasn't basic, and opportunities for comedy were everywhere in stag-cat-pounces and Nia Dennis running away from vault.
THE POSTS
JOIN CLUB GYM NERD
RELATED EPISODES
MORE WAYS TO LISTEN
[/et_pb_text][et_pb_comments _builder_version="4.4.1″][/et_pb_comments][/et_pb_column][/et_pb_row][/et_pb_section][et_pb_section fb_built="1″ _builder_version="4.4.1″][et_pb_row _builder_version="4.4.1″][et_pb_column type="4_4″ _builder_version="4.4.1″][/et_pb_column][/et_pb_row][/et_pb_section]