[et_pb_section fb_built="1″ admin_label="section" _builder_version="3.22″][et_pb_row admin_label="row" _builder_version="3.25″ background_size="initial" background_position="top_left" background_repeat="repeat"][et_pb_column type="4_4″ _builder_version="3.25″ custom_padding="|||" custom_padding__hover="|||"][et_pb_text admin_label="Text" _builder_version="3.27.4″ background_size="initial" background_position="top_left" background_repeat="repeat"]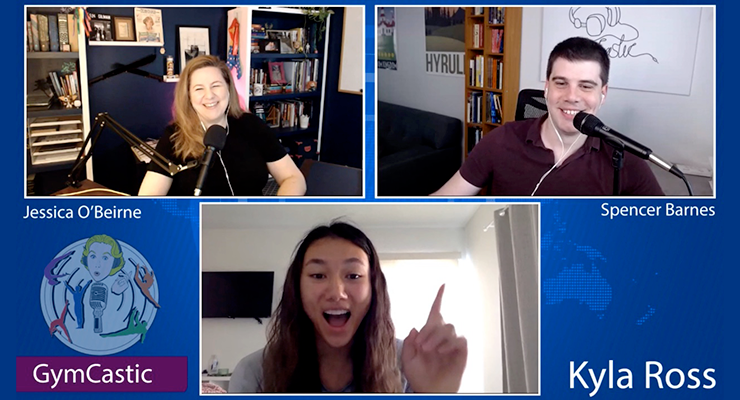 LISTEN

WATCH
Club Gym Nerd members can watch the podcast being recorded and see video clips of the gymnastics while we discuss.Please login to your Club Gym Nerd account to listen and/or watch this episode. Not a member? Join here.

KYLA IS HERE

Olympic, World, and NCAA Champion Kyla Ross joins us this week! We discuss: What it's like returning as undergraduate coach this season after her own senior year was cut short, her current coaching duties, the weirdness of preseason this year, whether UCLA has had any COVID cases, her reaction to Sara Taubman's bars routine, and more.
RAINING HELL FIRE
USAG signed a broadcast deal with FloSports. Yeah. We're not happy about it either. We reached out to USAG with MANY questions, and we'll tell you what they said.
NCAA NEWS
Florida had a Pride meet, Arkansas is taking the world by storm, Oklahoma melted down on beam, and we were graced by two 10.000s
Jessica puts some people in their place on COVID Or Correct
Cal, Boise State, and Arizona weren't basic this week
Rachel Baumann, Cammy Hall, Marz Frazier, and the Air Force team deliver the comedy
We're taking leap combinations to the honesty corner
THE POSTS
Sunday Live Blog – January 31, 2021

January 31, 2021

Saturday Live Blog – January 30, 2021

January 30, 2021

Friday Live Blog – January 29, 2021

January 29, 2021

Things Are Happening – January 27, 2021

January 27, 2021

Keeping Up with the Cool GIFs – Week 3

January 26, 2021

Top Scores of Week 3

January 26, 2021

Shift Movement Science Podcast:
JOIN CLUB GYM NERD
RELATED EPISODES
MORE WAYS TO LISTEN
[/et_pb_text][et_pb_comments _builder_version="4.4.1″][/et_pb_comments][/et_pb_column][/et_pb_row][/et_pb_section][et_pb_section fb_built="1″ _builder_version="4.4.1″][et_pb_row _builder_version="4.4.1″][et_pb_column type="4_4″ _builder_version="4.4.1″][/et_pb_column][/et_pb_row][/et_pb_section]