[et_pb_section fb_built="1″ admin_label="section" _builder_version="3.22″][et_pb_row admin_label="row" _builder_version="3.25″ background_size="initial" background_position="top_left" background_repeat="repeat"][et_pb_column type="4_4″ _builder_version="3.25″ custom_padding="|||" custom_padding__hover="|||"][et_pb_image src="https://gymcastic.com/wp-content/uploads/2021/01/skinnerhead.png" _builder_version="4.4.1″][/et_pb_image][et_pb_text admin_label="Text" _builder_version="3.27.4″ background_size="initial" background_position="top_left" background_repeat="repeat"]
LISTEN HERE

Club Gym Nerd members can watch the podcast being recorded (pre-edits with all the bloopers and blunders that don't make it onto the final show) and see video clips of the gymnastics while we discuss.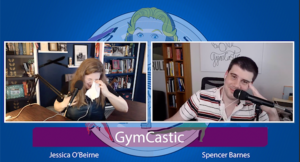 Please login to your Club Gym Nerd account to listen and/or watch this episode. Not a member? Join here.

HEADLINES
MyKayla Skinner's adventures with COVID and pneumonia and Oleg Verniaiev's provisional suspension by the FIG lead our news discussion this week.
2020 IN REVIEW
We managed to find a couple highlights (18 to be exact) in the gymnastics year that was, from Chellsie Memmel to Simone's vault to Guan Chenchen's beam to Derrian Gobourne to a very special award for Marta Pihan-Kulesza.
2021 IN PREVIEW
We run down the storylines we're excited to follow in 2021 with a roadmap for the year ahead, and Spencer goes through the painstaking task of forcing Jessica to make her official 4-member (and only 4!) US Olympic team prediction.
COLLEGE GYM
The college gymnastics season begins this week. We discuss who's not competing, who is competing, and why, and how. Plus, do we think any teams will intentionally forgo the season?
JOIN CLUB GYM NERD
RELATED EPISODES
MORE WAYS TO LISTEN
[/et_pb_text][et_pb_comments _builder_version="4.4.1″][/et_pb_comments][/et_pb_column][/et_pb_row][/et_pb_section][et_pb_section fb_built="1″ _builder_version="4.4.1″][et_pb_row _builder_version="4.4.1″][et_pb_column type="4_4″ _builder_version="4.4.1″][/et_pb_column][/et_pb_row][/et_pb_section]