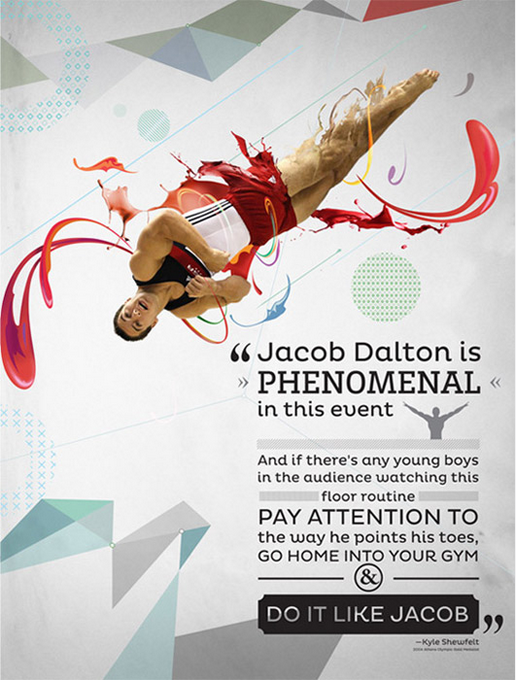 On the podcast, Jake Dalton is known as "Mr. Toe Point"–and for good reason. (Have you looked at his toes while he's competing?) His impeccable feet and consistency have helped him earn a reputation as one of the top male gymnasts in the world.
To toot Jake's horn a bit: In 2011, Jake was a member of the U.S. team that took home bronze at the Tokyo World Championships. At the 2012 Olympics, he finished fifth on floor. And in 2013, he was crowned the American Cup champion, and he took home a silver medal on floor at the World Championships.
Prior to the 2013 World Championships, Jake Dalton jammed his thumb. He competed with the injury in Antwerp, and after the competition concluded, he had surgery on his thumb. When Uncle Tim sat down with Jake at the 2014 Winter Cup, he asked him about his recovery. Here's a transcript of their conversation:
Uncle Tim: Let's start by talking about your hand. How's your hand doing?
Jake Dalton: "It's doing good. Just not a whole lot of flexibility in the thumb still. I've been working on that. But other than that, my thumb's feeling great. My hand has been an issue. You know, when you do gymnastics, you get meat on your hand from parallel bars and pommel horse and things like that. So, the meat went away when I had the cast on for so long, and I just felt like I was getting a stone bruise every time I was swinging. But the meat has built up, and it's coming back. And it doesn't hurt too much."
UT: I'm just curious. Why did you choose to do rings at Winter Cup? It's a hand event, after all.
JD: "It is, but it's just kind of grabbing. It's not a support event, and I'm able to grab things. Rings was actually the event that came back first after the surgery."
"I have kind of bad wrists from before the injury, and the cast didn't help. When I stopped moving my wrists and pounding on them every day, they started to hurt worse. Since I hadn't done anything on my wrists for a few weeks, floor and vault hurt quite a bit when I was coming back. Parallel bars and pommel horse are obviously out because of the pressure on the hand and the wrist, and vault—I didn't have a new vault to show yet. I'm still working another vault. Rings—I was just able to jump back in on rings and feel comfortable competing again."
UT: What vault are you working on?
JD: "Just another front vault. I had a double front at Worlds and was working towards a double front half. And that was here and there, but my technique for front vaults is not very good. So, I'm trying everything right now. I'm moving the board back and diving in a little more. Just trying to fix my technique so that it is more technically correct."
UT: Are you still working on the double front half?
JD: "I'll probably be trying both the double front and the double front half and see which one comes along better. I'm kind of looking towards a Randi just because I'm a better twister than flipper."
UT: How are the other events coming along?
JD: "They're coming. About two weeks ago, I was starting to feel really good on parallel bars. I started doing peaches and peaches to one bar again, and I just did way too many and started getting rips all over my hands. That obviously slows you down, so I feel like I've taken a step back on parallel bars. Vault—I can do normal vaults. Just working on a second one. Floor—I'm trying to upgrade a little bit, and I just wasn't ready for a full routine. There wasn't a point to rush the other events. I have a little time to try to add things. Usually, we're pretty packed, competing every weekend, so it's hard to find time to add things. So, this is kind of nice."
UT: What are your goals for 2014?
JD: "I'm just looking forward to possibly doing some World Cups. We're still in the process of approving things for World Cups, but I'd like to get out there, do some of those, and get on the podium for whatever events I'm doing. The end goal is Nationals and making the World team. It's a team Worlds this year, so really, the focus for me is: Do everything I can to help Team USA."
UT: Would you prefer to compete in the individual event World Cups or in the all-around World Cups?
JD: All-around is definitely more stressful because you have more events that you're focusing on. But I really like those. I had a lot of fun at the American Cup last year. When I'm in shape, I feel consistent and comfortable, and it's a lot of fun to go out there and compete with those guys. But it's also fun to compete with the World Cup guys on individual events. The category A World Cups are all the guys from World and Olympic finals, so it's also a very intense competition."
"They're both fun. They're a little bit different. But I really enjoy them both. The World Cups in the all-around are a little tougher to get into, especially since Sam [Mikulak] is doing so well right now. He competed all-around at Worlds, so he's the one doing the all-around World Cups. So, it's kind of hard for me to jump into those. Right now, I'm really looking forward to the individual World Cups."
UT: Last time we spoke at the Winter Cup, I asked you about your girlfriend Kayla Nowak's injury. Can you give me another update?
JD: "She's good. Pretty much full recovery. She's working out all the time now—obviously no gymnastics. She'll bounce on the tramp here and there, so it's cool to see that again. But yeah, she feels great. Some things are a little different. Even when I just hug her, I can feel the screws in her back, and you can't really squeeze her too tight. So, that's definitely a weird change. I used to pop her back, so now I'm scared to pop her back. But yeah, she's normal. She's doing well, and she's working in the marketing department at [Oklahoma University]."
UT: The Winter Cup is a fun event. The little guys are running around and competing at the same time that you're training. If you could give any advice to the next generation of male gymnasts, what would it be?
JD: "Just have fun. I think it's really cool to have the little guys around here. I remember when I was younger how cool it was for me to watch the college guys or the National Team guys. I know that I got really nervous when I was a young kid. I used to throw up before competitions…"
UT, laughing: Pardon, but did you say throw up?
JD: "Yeah… (Laughing) I used to puke. I would get so nervous that I would throw up before a meet. But yeah, just go out and have fun. Things are obviously harder when you get older. They get a little harder, but if you're having fun, it's a great sport. I've had a lot of good memories and have had good things come out of it."

Jake Dalton's routine on rings at the 2014 Winter Cup Challenge