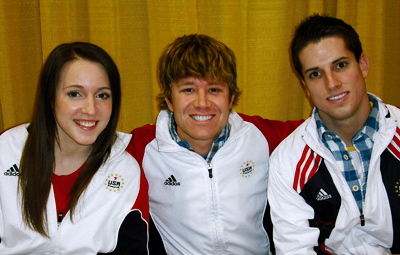 This week we lament events totally unrelated to actual gymnastics at the Rhythmic World Championships in Ukraine; geek-out over British Bad-Ass-in-Chief, Becky Downie, with Up-and-Coming-Bars-Bad-Ass, Ruby Harrold, at the Dutch Friendly; then coach Justen Millerbernd gives us answers about how the greatest US tumbler of all time, 8-time National Champion, Kalon Ludvigson, bruised his spine in an accident that has rendered him temporarily paralyzed. Justen tell us how he recruited artistic world champion, Chellsie Memmel, into competitive tumbling, why women in their late 30's dominate the sport in the United States, how he overcame a serious neck injury after he retired from tumbling, what really happened at the Cali Games when the FIG asked the athletes to sign waivers to compete, but then the US team was forced to sit in stands during the competition. Justen also shares how he is putting Kalon's accident in perspective as his spouse, coach and gym owner. And because here at GymCastic, we adore a good gymnastics love story, Justen shares their journey from coach and athlete to married couple.
Leave a message for Kalon on his Facebook page here. Follow Justen on Twitter at _TeamRevolution.
Related:
Episode 9 with Chellsie Memmel 
Episode 37 with US Rhythmic Olympian Julie Zetlin
Episode 38 with THE Svetlana Bogkinskaya
US Association of Independent of Gymnastics Clubs  has adopted Safe for Athletes to protect gymnasts from abuse.
Do your homework for next week's episode by read Rewriting Russian Gymnastic's interview with  legendary Soviet coach Alexander Alexandrov here.