In gymnastics, reputation only goes so far. In the case of Romanian gymnastics, it only goes until 2016. Here's what's happened surrounding the Romanian team.
2015
October: Almost unthinkably, Romania does not qualify for the Team Final at Worlds. Finishing in 13th with a 217.220, they are over five points below the Netherlands, who grabbed the 8th and final spot in the Team Final.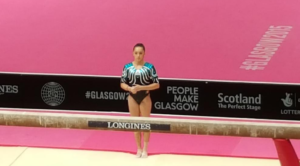 It's not just the Team Final Romania misses out on, however. Only the top eight teams at Worlds earn an automatic spot at the Olympics in Rio. This means Romania must compete in the Test Event in April to qualify for a spot at the Olympics.
Heightening the stakes of an already pressure-filled situation is the storied past of Romanian gymnastics, including Nadia, one of the modern mothers of the sport. Romanian gymnasts have competed at every Olympics since 1952, with the exception of the 1968 Games, and have medaled as a team at every Olympics since 1976. Three times they have won gold.
At the Test Event, they will need to finish in the top four to earn their spot at the Olympics.
December: A handful of changes befall Romanian gymnastics. Lacramioara and Cristian Moldovan resign as coaches, leading Mariana Bitang and Octavian Bellu to come out of retirement to return as the team's coaches. Additionally, the team moved from Izvorani to Bucharest.
2016
March: Larisa Iordache is injured and will not be able to compete at the Test Event, weakening Romania's chances of qualification. Andreea Iridon will also miss competition due to injury. Catalina Ponor has recently started training again after recovering from an injury of her own. Even Romanian fans are unsure of their team's chances.
April: This time, it's real. Romania finishes 7th of eight teams at the Test Event and, according to the Olympic qualification process, does not qualify to the Olympics. Adrian Stoica, president of the Romanian Gymnastics Federation, comments:
I can not give statements now, I must clear my mind after what happened. The girls, this is how much they trained, this is what they showed. They missed.
Belu says:
If a scapegoat is really wanted, I'm offering myself. No matter how you look at the situation, still Bellu and Bitang are guilty.
In an open letter to the Romanian gymnasts, Paul Ziert, publisher of International Gymnastics Magazine, decries the system for these results, and not the gymnasts themselves. He writes:
I don't think it was your fault at all. You were simply pawns in a very ugly game of power and egos.
Needless to say, fans were shocked.
Still can't believe Romania (gymnastics) didn't qualify for Rio. ASTOUNDING

— Råchæl (@rachhh1234) April 26, 2016
Romania didn't qualify a women's gymnastics team for #Rio2016, despite having medaled in every Olympics since 1976. This breaks my heart.

— Sorina Radu (@sorinaraduPKMN) April 30, 2016
It's also revealed that Bellu and Bitang were paid 7,200 lei per month (about $1,800), while Diana Bulimar and Iordache were paid 1,800 lei per month (about $450).
May: Still, Romania has an individual spot for the Olympics, likely to go to Iordache or Ponor. In yet another twist, Iordache's most recent surgery does not go as expected and she requires further surgery. This means that Ponor will be Romania's sole competitor in Rio at her third Olympic Games.
To add to Romania's woes, Bulimar ruptures her achilles, rendering her unable to compete at the European Championships in June.
For more insight on this story, listen to Episode 196: The Romanian Situation with Bea.