[et_pb_section fb_built="1″ admin_label="section" _builder_version="3.22″][et_pb_row admin_label="row" _builder_version="3.25″ background_size="initial" background_position="top_left" background_repeat="repeat"][et_pb_column type="4_4″ _builder_version="3.25″ custom_padding="|||" custom_padding__hover="|||"][et_pb_text admin_label="Text" _builder_version="3.27.4″ background_size="initial" background_position="top_left" background_repeat="repeat"]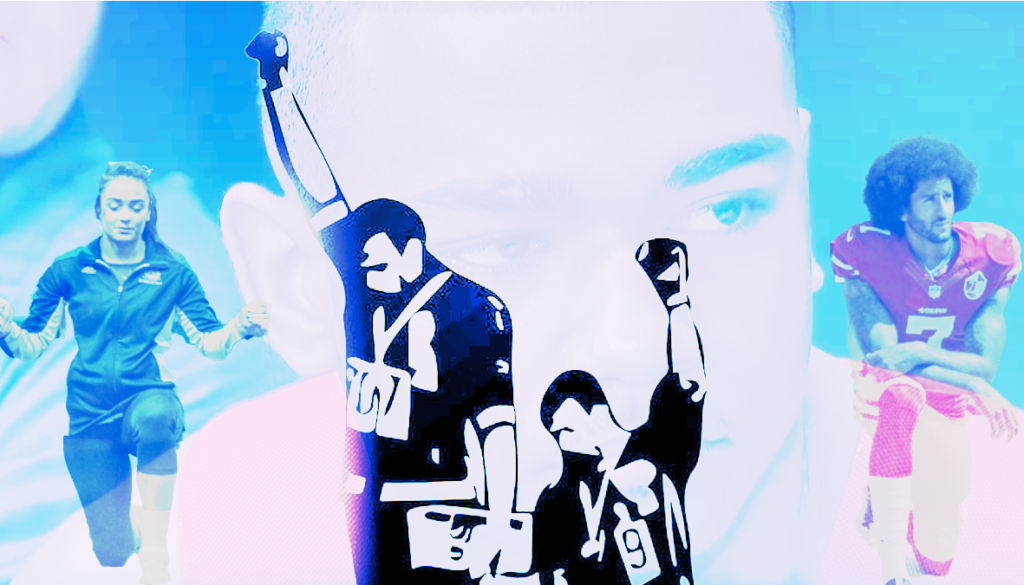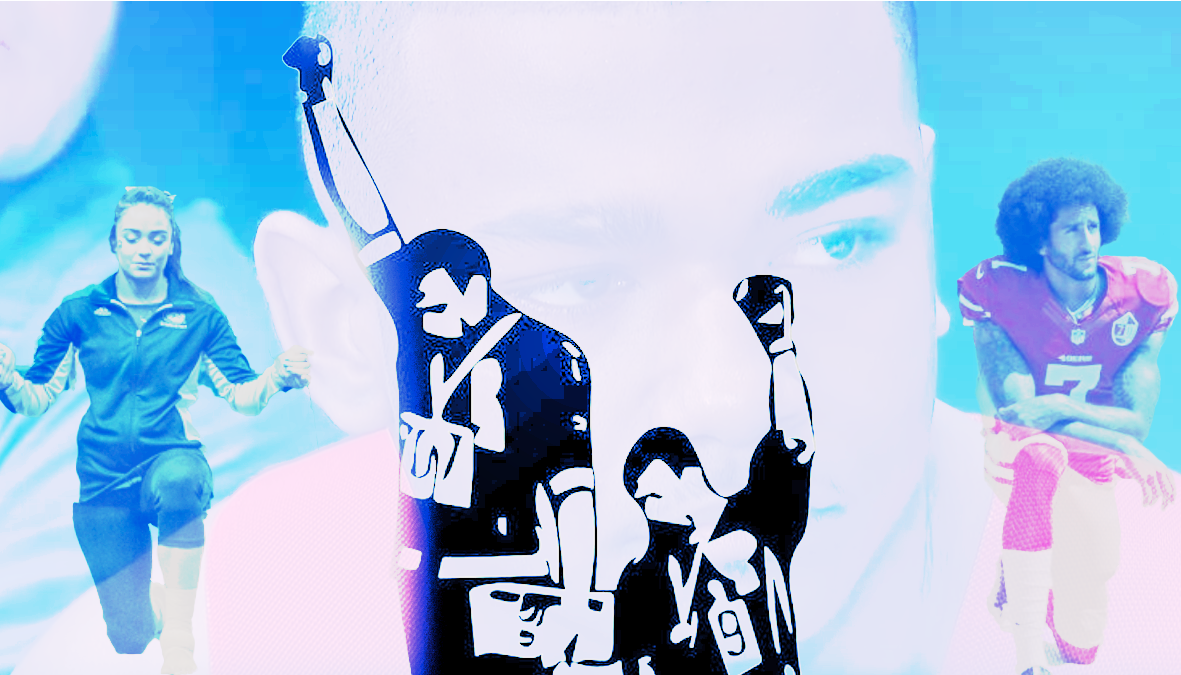 "There is police brutality. People of color have been targeted by police. …There are things we can do to hold them more accountable. Make those standards higher. You have people that practice law and are lawyers and go to school for eight years, but you can become a cop in six months and don't have to have the same amount of training as a cosmetologist. That's insane. Someone that's holding a curling iron has more education and more training than people that have a gun and are going out on the street to protect us." 
Those words are being echoed each and every day the Black Lives Matter protests continue in the streets. The words weren't spoken during any current protest, however, they were articulated by Colin Kaepernick after the first game he chose not to stand during the national anthem in the summer of 2016. The reason for Kaepernick's protest was immediately and widely written about in every major newspaper and talked about on every major sports radio show in the country. Kaepernick's jersey became the No. 1 seller in the NFL. It looked like his message was getting through.
So you can imagine the frustration U.C. Davis standout gymnast Alexis Brown must have felt when she took a knee in 2017 and was being told she was disrespecting our military. To make matters worse, Brown said she was shunned by her teammates and the school's athletic director met with her regularly in an attempt to convince her to cease her protest. But why?
In our interview with Brown she generously described the prevailing responses she received saying, "They were confused about what the actual symbol meant." How is that possible? When Kaepernick took a knee it was immediately reported that he had also worn socks that depicted pigs dressed as police officers earlier in his training camp and—expectedly—outrage ensued. So even if those offended weren't listening to Kaepernick's words, they clearly understood his stance was related to the police. Kaepernick had become the most popular player (not to be confused with beloved) in the most popular sport in the country; and the following year Brown needed to explain the protest again to her coaches and teammates in an institution of higher learning?
The issue of racism, systemic racism and police brutality is extremely uncomfortable. What's more uncomfortable is watching video after video of police abusing their power. What's more uncomfortable is reading incident reports that don't reflect what everyone is seeing with their own eyes. What's more uncomfortable is having to mourn the loss of life.
Brown embraced a position of discomfort to point out a social injustice and was essentially told to shut up and tumble. Her discomfort—and our discomfort—can't be worse than a knee to the back of the neck for nearly nine minutes until life is extinguished.
Brown told us, "We have to use our voices to speak for those who are getting murdered."
That's what Kaepernick did and it cost him his pro football career. Even as the current protests started, others, such as New Orleans Saints quarterback Drew Brees, continued to try and hijack the conversation and conflate the U.S. flag with our military. Brees has since come around and apologized. 
Comedian Jon Stewart gave an interview this week where he sharply pointed out, "…But we have an exceptionalism that we have taken for granted, and we get lost in the symbolism of who we are rather than the reality." It's fair to say those who find protests uncomfortable cling to a symbol they believe they understand rather than addressing the reality.
The reality is that the American flag is not a military symbol. Of course they use it, but the star-spangled banner is an American symbol. The flag represents each and every one of us. The original flag was created by an upholsterer who wasn't even allowed to serve in the military because she was a woman. Her name, of course, is Betsy Ross. If there's one thing we've learned over the past few months during this pandemic, it's how exceptional America can be and how it is filled with everyday heroes from the upholsterer who stitched together our first flag to the sewers today making life-saving masks and other PPE.
The reality of who we are as a nation is one where not all are treated equal. We are a nation where racism still exists and some of that racism is baked into the system. We need to listen to those who see it and experience it like Brown and two-time Olympian John Orozco. If there's one thing the gymnastics community should have learned by now it's to start by believing.
That's news to former USA Gymnastics president Mike Jacki (1983-1994) who wrote on the personal Facebook page of GymCastic host Jessica O'Beirne, "No racism in sport" in response to a link to the Brown interview. It's an odd thing for him to say considering gymnastics is a subjective sport where he is aware of score fixing taking place during his tenure. In follow-up responses on Facebook Jacki cites 1936 Olympic hero Jesse Owens as an example of how racism doesn't exist in sport. And herein lies the problem. Owens has become a symbol of the egalitarian nature of sport. Seeing Owens like this ignores the realities of what he overcame because of racism. In college Owens wasn't allowed to live on campus because the university didn't have housing for black students. Owens also didn't receive a scholarship like his white teammates; and when his team traveled Owens had to stay in separate hotels and eat in separate restaurants. Is that really a level playing field? Owens was obviously able to overcome all of these hurdles, which makes his feat in Hitler's Germany that much more impressive; but in hearing current Olympian Orozco describe how he was subjected to discipline for showing up late to practice when his white teammates received no punishment for the same infraction the next day reeks of a systemic injustice.
This is why we need athletes to speak up and use their platform. Whether the athletes are speaking up for themselves like Orozco or for others like Brown, politics has long been part of sport. In the modern Olympics, the International Olympic Committee (IOC) revived the ancient concept of the Olympic Truce that allows participants to travel to and from the Olympic Games in total safety. In 2007 then IOC president Dr. Jacques Rogge said, "Sport alone cannot enforce or maintain peace. But it has a vital role to play in building a better and more peaceful world."
How can that be if the athletes aren't allowed to speak and use their platform? U.C. Davis had an opportunity to embrace Brown's message rather than congratulate themselves for tolerating the symbolism they didn't like. Let's hope they've learned since then (more on that in a minute). Fortunately, because of Brown, Kaepernick and millions of others in the Black Lives Matter movement change is happening. On Juneteenth Colorado signed into law bill SB217, which bans the use of chokeholds and bars police from aiming tear gas or rubber bullets at protesters' heads, pelvises or backs. It also eliminates the use of the qualified immunity defense. In August of Brown's senior year, roughly 15 miles from her college campus, California passed SB1421, a transparency law requiring police departments to disclose disciplinary records for behavior involving sexual assault and use of force. This law is directly related to what Brown was protesting. Unfortunately, almost immediately police departments throughout the state began charging high fees for records, ignoring court orders and even destroying documents and files.
Earlier this month U.C. Davis head Coach John Lavallee tweeted his support for the Black Lives Matter movement and the Aggie team account tweeted that they "stand in solidarity with the protestors…" It's a nice symbol, but the reality is they wouldn't kneel with their own protestor two years ago when it might have saved a life. Knowing their state's police department transparency law is being flaunted will the team now put themselves in the uncomfortable position of taking a knee to go along with their posts on social media?
Athletes are in a unique position in our society to hold the attention of millions of eyeballs when they take their respective fields of play. That's why the knee taken by Kaepernick and Brown were so powerful. That's what made the Black Power salute during the 1968 Olympic medal ceremony by Tommie Smith and John Carlos so indelible. This attention and influence is why marketers in every industry compete for the best athletes in the world to push their product or service. Marketers know we respect the opinion of an athlete selling a shoe because they've played in it. It's an informed opinion. It's time we also buy their stories of racism based on the informed experience of the darker skin they live in.
The symbolism of taking a knee and raising a fist in the air are powerful reminders of the work that needs to be done; and in this time, at this very moment, we have a real chance to change our reality.
Steve Cooper is a journalist whose career spans two decades with contributions to some of the biggest publications in the world, including: Entrepreneur, Forbes, Bloomberg, The Huffington Post, TheStreet.com and more. Cooper is the co-founder of Hitchedmag.com and is also the co-author of the best-selling book, "Life is Short, Don't Wait to Dance."[/et_pb_text][et_pb_comments _builder_version="4.4.1″ hover_enabled="0″][/et_pb_comments][/et_pb_column][/et_pb_row][/et_pb_section]