What We're Talking About
Pull out your abacus because NQS season has begun. NQS stands for National Qualifying Score and it's the ranking system that groups teams together for their playoff runs. It can sound intimidating, but it's really not. Here's how it works:
Take each team's top six scores (three must be away meets), drop the highest score and then average the remaining five. Viola! Your NQS. 
One thing to note is that the NQS can differ greatly from a team's season average score. Since only the top scores are taken; the NQS is very forgiving of a bad score here and there so long as you have a good score that can replace it. This means a super consistent team likely won't see as much variation in their ranking as a team that is hot and cold, where the cold scores get dropped as the season progresses. 
This is what happened with Oregon State this week when they counted a fall on bars and still moved up in the NQS rankings because their 197.025 was better than the 195.450 from week 1 that they were able to drop. That's a full 1.5 point difference! 
Compare that to a team like Oklahoma that already has a historically high NQS score and has locked in their floor at 198.105. So if they have a "bad" meet it won't matter. The low score won't get calculated as one of the five qualifying scores. In order for their NQS to change (meaning to go even higher) they'll need to post better than a 197.600, which would drop their season low.  
If all this is still too much to think about, check out our up-to-date NQS tracker, where we've already done the math for you and color-coordinated the seeded teams that will be grouped together during regionals. 
Feelings
Very happy to hear Grace McCallum does not need surgery for her knee injury.
We're pretty sure John Roethlisberger wasn't supposed to announce Alicia Sacramone Quinn's pregnancy on TV, but since he did… Congratulations!
Trinity Thomas is so good that we're no longer wondering if she'll break the all-time perfect 10 record, but pondering when. Did we mention it's senior night this week?
LSU might be the most interesting team to watch this season.
Auburn gave Sunisa Lee and Derrian Gobourne a bit of a rest this week and slipped two spots in NQS ranking. We can't wait to see how the different strategies of rest versus ranking plays out.
We feel seen. "These scores were appalling! Unfair judging" read the scoresheet signed under protest, again, by Rutgers head coach Umme Salim Beasley.
If the parents in the stands aren't bringing the intensity of the Raismans, there's no need to show them.
The EU has condemned the IOC for attempting to include Russia and Belarus in the 2024 Olympics. If the IOC moves forward with this they need to explain–in detail–what has changed since they banned them. Spoiler… nothing. In fact, things have gotten worse.
We love that LIU had their first women's empowerment, My Body, My Choice meet where they dedicated each rotation to a justice warrior; and of all the events they chose bars to honor Aly Raisman.
Is it too soon to start Simone watch?
---
Facts
Covid is still a thing… Michigan vs. Nebraska was pushed to later in the month.
School shootings are tragically also still a thing and the Michigan State vs. Illinois meet, too, was pushed to the end of the month.
Emily Lopez posted the first 10.0 on bars in program history for Boise State.
The 49.325 on balance beam was a program record for San Jose State and their 196.625 ties their highest team score ever.
Jocelyn Moore finally received her perfect 10 on vault.
Jade Carey had an incredible weekend, posting two 10s: one on vault and another on floor. She also put up a near perfect 9.975 on beam.

That's no all! She set the Oregon St. all-around record with a 39.875, which also happens to be the highest score in the nation this year… and ties her for the 13th highest all-around score in NCAA history.

The 39.700 by eMjae Frazier tied the all-around program record for Cal.

And her 9.975 on floor set a new Cal record.

Ball State has an NQS of 195.915, a new program record… and there's a lot more season left to boost that number.
If Oklahoma can record a 198.125 in their next meet they would set a new all-time NQS record. And they haven't posted a score lower than that in a month!
Aleah Finnegan posted another 10, this time on beam. She just needs a bars 10 to complete the gym slam.
---
Award(s)
Skill of the Week: Haruka Nakamura's Def
Telling the Judges What's Up: JaFree Scott's over-the-shoulder pre-salute death stare to the judges table after sticking her bar dismount.
---
What's On the Socials?
Emily Lopez just put up a PERFECT 10.0 score on the bar. The junior put up the first perfect score on the bar in Boise State gymnastics history! What a routine. pic.twitter.com/b13jbFb2A3

— Bronco Nation News (@BNNBroncoNation) February 18, 2023
https://twitter.com/BeaverGym/status/1627169007571984385?s=20
https://twitter.com/ubeasley1/status/1627160694801018883?s=20
https://twitter.com/OU_MGymnastics/status/1625998185696051200?s=20
The Japanese women's prospects, already bolstered by their superb showing in Liverpool four months ago, now look that much brighter thanks to this instant gymternet classic from 14-year-old Haruka Nakamura. Def + piked Deltchev + piked Jaeger = marvelous skill selection. https://t.co/A6GNdFKFe0

— Blythe Lawrence (@_BlytheLawrence) February 19, 2023
---
Quotes
"I suffered from an eating disorder in the past–bulimia." ~ Kim Bui, Courageous Advocate
The German elite shared a post on Instagram along with a series of pictures opening up about her struggle with body image and eating.
♦
"It would eat me up inside if I stopped because I was scared of failing in Paris."  ~ Max Whitlock, British Great
Max Whitlock has returned to competition to give glory one more go.
"I know it was probably the best vault I'd done all year. I feel like it was my first legitimate stick, where I was able to hold it and show the judges, 'Yeah, I just stuck.'" ~ Jade Carey, Record Setter
Jade discussing her perfect vault, that accompanied her perfect floor, that accompanied her near perfect beam, in a record setting all-around performance for the Beavers.
♦
"My grandfather insisted on me knowing the history and struggle our people lived through as well as the difficult and unpopular path we had to take to
progress in this country. His encouragement for standing up for what is right and what is fair and equal is a lesson that I continue to carry with me
every day."  ~ Umme Salim-Beasley, Code Justice Warrior
♦♦♦
---
College & Cocktails
Listen to this week's bonus episode: Florida at LSU
Cocktail of the Week: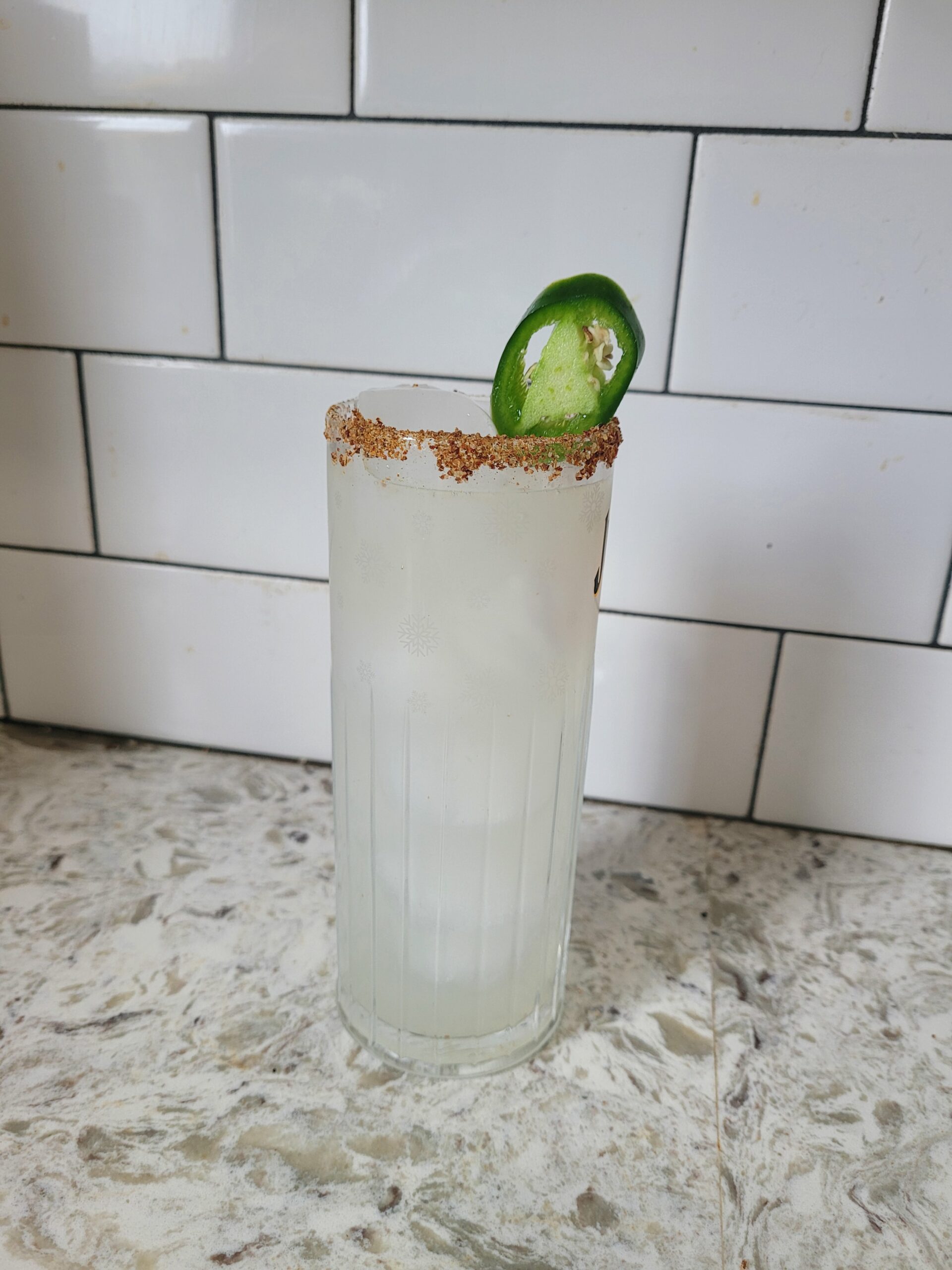 Week 7: Controversial Score
Some people won't agree with it, some people love it. Makes the meet just a little bit spiiiicy!
Boozy
2oz Tequila
1.5oz Jalapeño Limeade Base
Sparkling Water
Non-Alcoholic
3oz Jalapeño Limeade Base
Sparkling Water
Meet Week Prep: Jalapeno Limeade Base
.75c sugar
.5c agave
1/2 c cilantro
1 Jalapeño, sliced
1.5c fresh lime juice
In a saucepan, combine sugar, agave, and lime juice. Heat only until sugar dissolves. Transfer to an airtight container, stir in cilantro and sliced jalapeno, seal and fridge overnight. Strain out solids before using.
Make the Drink:
Combine all ingredients into your glass of choice with ice. Top with sparkling water
Stick the Landing:
Rim your chosen glass with tajin before making the drink, then garnish with a lime wedge after.
♦♦♦
What? You want even more? Join Club Gym Nerd and you get a bonus episode, College & Cocktails, every Friday after our meet of the week. Once the NCAA season is over you continue to get a weekly bonus episode every Friday afternoon. Plus you get access to all of our archives, exclusive content and more. Then we give the sober analysis on Monday (or Tuesday) after we've allowed the data to penetrate our feelings.
This column was composed and compiled by Steve Cooper, Editor, GymCastic; as performed by hosts Jessica O'Beirne and Spencer Barnes.
Prefer to get this delivered to your inbox? Sign up for the newsletter here.