What We're Talking About
Let's start this week off with some words of appreciation for Jade Carey and Jordan Chiles. These two are absolutely incredible. We've been on Trinity Watch (and rightfully so), but these two have been lights out lately. In her last three meets, Jade has posted a 39.825, 39.875, and 39.875. That's better than a 9.95 average on every event over her last three all-around performances. And, of course, she's racked up four perfect 10s in her last 8 routines.
Looking south a few hundred miles Jordan just posted a career high 39.850 this weekend, which included two near perfect 9.975s and two 9.95s. This comes after she chalked up her first perfect 10 of the season two weeks ago. Looking back to the start of 2023 she's been really, really close to perfection—scoring a 9.975 seven times. Jade's recorded a 9.975 nine times to go along with her six perfect 10s on the season. It's no wonder that they're currently ranked No. 1 and No. 2 in the nation right now. On February 23, 1996 Karin Lichey became the first (and only) woman to score four perfect 10s in a single meet. If that record is going to fall, don't be surprised if it's one of these two who do it.
We're talking NCAA gymnastics, which means this is a team sport! And there are some pretty freakin' good teams right now. Multiple program highs and NQS records fell this week, including scores from Oklahoma, Oregon St., Kentucky, and Missouri. Oregon St. broke the 198 barrier for the first time in program history. Kentucky lost to Florida, but used their 197.575 road score to bump their NQS to 197.275, a program record. Missouri beat Arkansas with a 197.85, which is a new program record. And Oklahoma… what do we say about Oklahoma?
You want to know how good Oklahoma is? Utah had an incredible, nation-topping score of 198.550. Except it wasn't the best score in the nation because Oklahoma also competed on Friday night and put up a ridiculous 198.575. Katherine LeVasseur (vault) and Jordan Bowers (floor) were perfect in a total team performance—in fact, it's the 5th best team score in NCAA history. To emphasize how special Friday was, that's a program record for a team that has five national championships over the last decade and moves their NQS score to an all-time record of 198.205—and it can only go up the rest of the season!
Feelings
We're loving Jenny Rowland's student store couture. On point week in and week out.
Olivia Dunne is back in the lineup for the first time this season and is all smiles.
Brooklyn Moors was back this weekend too (on vault!), but it was just an exhibition.
Congratulations, you get a bat! So much more interesting than a medal or trophy—and the Nastia Cup was in Louisville after all.
You're never too old! Oksana Chusovitina (not retired), at the age of 47, just won another medal at the Cottbus World Cup. Chuso Forever!
The debate on this should be short. The FIG is meeting and we might know this week if Russia and Belarus will be able to qualify for Paris.
Becky Downie's revenge tour has started and we're ready with our popcorn.
More of this please… and thank you Amari Celestine.
We want more wedding videos. Just be sure to watch your surroundings, right Scott Bregman?
We're saddened, but not surprised that KJ Johnson broke her foot not doing gymnastics.
---
Facts
---
Award(s)
---
What's On the Socials?
https://twitter.com/GymCastic/status/1628492759006056448?s=20
Moors sighting! pic.twitter.com/qfPBuAfmsz

— Pamchenkova (@Pamchenkova) February 25, 2023
STANDING FULL ALERT ‼️ https://t.co/dGeBeRJEUb pic.twitter.com/qDdJjdtX74

— josephine (@ringleaps) February 26, 2023
https://twitter.com/katieFoss87/status/1629269244473901061?s=20
https://twitter.com/USAGym/status/1629478928174686208?s=20
---
Quotes
"The emotional damage all these girls go through is so heartbreaking, and it could have been prevented if Han would have been stopped years ago." ~ Monica Avery, owner and coach at OSEGA Dream Academy
Monica told the New York Times that she witnessed Qi Han, owner and coach at Everest Gymnastics, kick a gymnast at a meet and reported it to SafeSport years ago.
♦
"Moments like these make you think if it's the end of something great or the beginning of something greater."  ~ Stephen Nedoroscik, World Champion
Stephen sharing his thoughts on Twitter after missing out on National team for the first time in four years.
"In 2001, the year I won my NCAA title, I could probably count the other Black women gymnasts at top-ranked schools we competed against on one hand." ~ Onnie Willis Rogers, National Champion
For the close of Black History Month, Onnie wrote an op-ed for CNN on the growth and progress that has been made in gymnastics over the last few decades.
♦
"I didn't go to the doctors or anything because I was just like, 'I'm going to push through anything at this point.'"  ~ Emily Lee, Elite Athlete
Emily describes the pain she pushed through on her way to Olympic Trials before she tore her achilles on the floor exercise on her last routine of the competition.
♦♦♦
---
College & Cocktails
Listen to this week's bonus episode: Cal at Utah
Cocktail of the Week: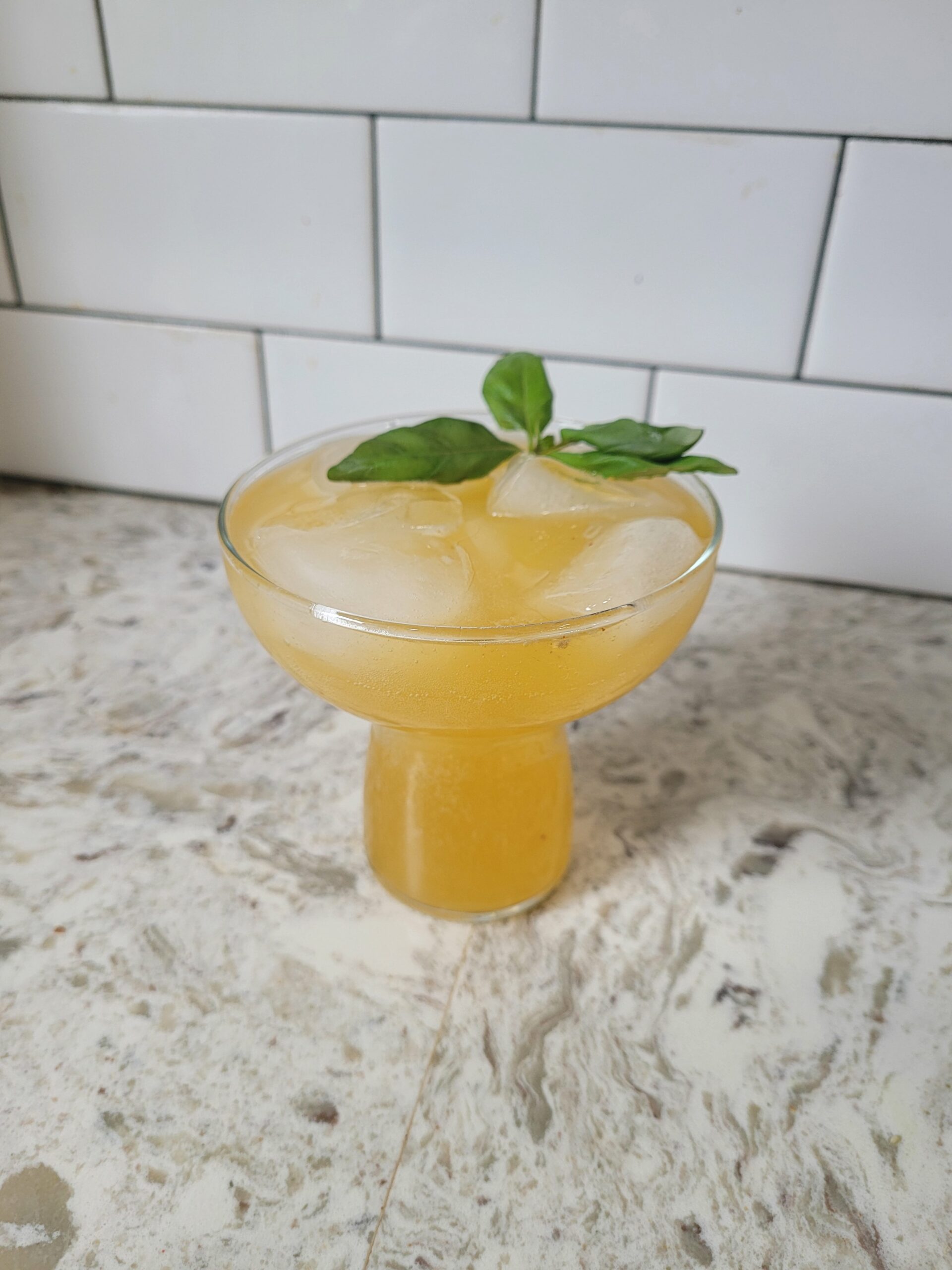 Week 8: Just a Small Hop
Is that the only deduction that's going to be taken? If you've had a couple of these, possibly!
Boozy
1.5oz Gin
1oz Apricot Nectar
2-3 Fresh Basil Leaves
.5oz Honey Syrup
Soda Water
Non Alcoholic
3oz Apricot Nectar
1 oz Honey Syrup
2-3 Fresh Basil Leaves
Soda Water
Meet Week Prep: Honey Simple Syrup
Combine equal parts honey and boiling water. Stir to dissolve. Can be used immediately or made ahead and stored in an airtight container in the fridge
Make the Drink:
In a cocktail shaker muddle together basil leaves, honey syrup, and apricot nectar. Add in gin, shake with ice to chill. Double-strain over new ice in your glass of choice.
Stick the Landing:
Garnish with a piece of fresh basil
♦♦♦
What? You want even more? Join Club Gym Nerd and you get a bonus episode, College & Cocktails, every Friday after our meet of the week. Once the NCAA season is over you continue to get a weekly bonus episode every Friday afternoon. Plus you get access to all of our archives, exclusive content and more. Then we give the sober analysis on Monday (or Tuesday) after we've allowed the data to penetrate our feelings.
This column was composed and compiled by Steve Cooper, Editor, GymCastic; as performed by hosts Jessica O'Beirne and Spencer Barnes.
Prefer to get this delivered to your inbox? Sign up for the newsletter here.