U.S. World Team Trials 
Jessica is in Texas watching live. Spencer is at home watching the stream. We will go live right here on this page Tuesday, September 19th about an hour after the meet ends (updated: 7:45 Pacific-ish). Here's how to ask questions live.
We discussed:
The weird day of falls for Simone and the official word from the FIG on her vault value
Why Shilese got such a low score (for her) on bars and what connection bonus was lost
What Jade Carey's coaches said about the vault situation
Who we think is a lock for the World team and highest scoring team
The strange E scores on floor especially Josc vs Kaliya
The spectaculars of Kaliya Lincoln and Leanne Wong
Katelyn Jong injury and what Laurent yelled to Jordan Chiles before her last pass
The wins! DiCello changed her beam skills and Josc added back her single bar release.
What events we'd ask gymnasts to do if any, on day two
And of course, everything you couldn't see on the FlipNow live stream that happened in the gym
Day 1 Scores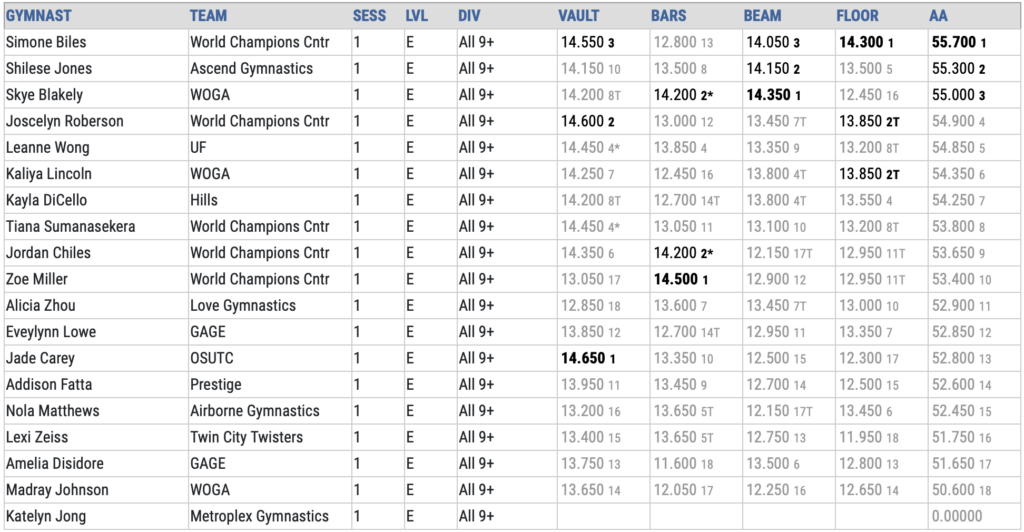 Here's how our event coverage works:
1. We give everyone the main headlines in the first 10-15 minutes.
2. We continue our conversation exclusively with our Club members.
3. What if I want to hear the rest of it and all the years of bonus content and interviews? All you have to do is
Join the Club
.
Not a member? Join here. Not sure if you are ready to join? Watch College & Cocktails week one for free here.

Short Non-Member Video


RELATED EPISODES & RESOURCES
2023 U.S. Championships
2023 Classic:
Resources & Research