LISTEN HERE

Who: Jordyn Freakin' Wieber! Olympic Gold medalist, all-around World Champion, Arkansas head coach… national treasure!
When: August 19th, Friday–festivities will begin at 11:30 a.m. (EDT)
Where: Stageworks Theatre down the street from US Championships in Tampa, FL

Tickets now on sale!

The theater is half the size as our last show, so we expect the in-person seats to sell out. So don't wait.
Club Gym Nerd members can watch the podcast being recorded and see some of the gymnastics we discuss, plus get access to all of our exclusive interviews and Behind The Scenes episodes. Club members get 8 extra episodes in August with live coverage from Euros and US Championships.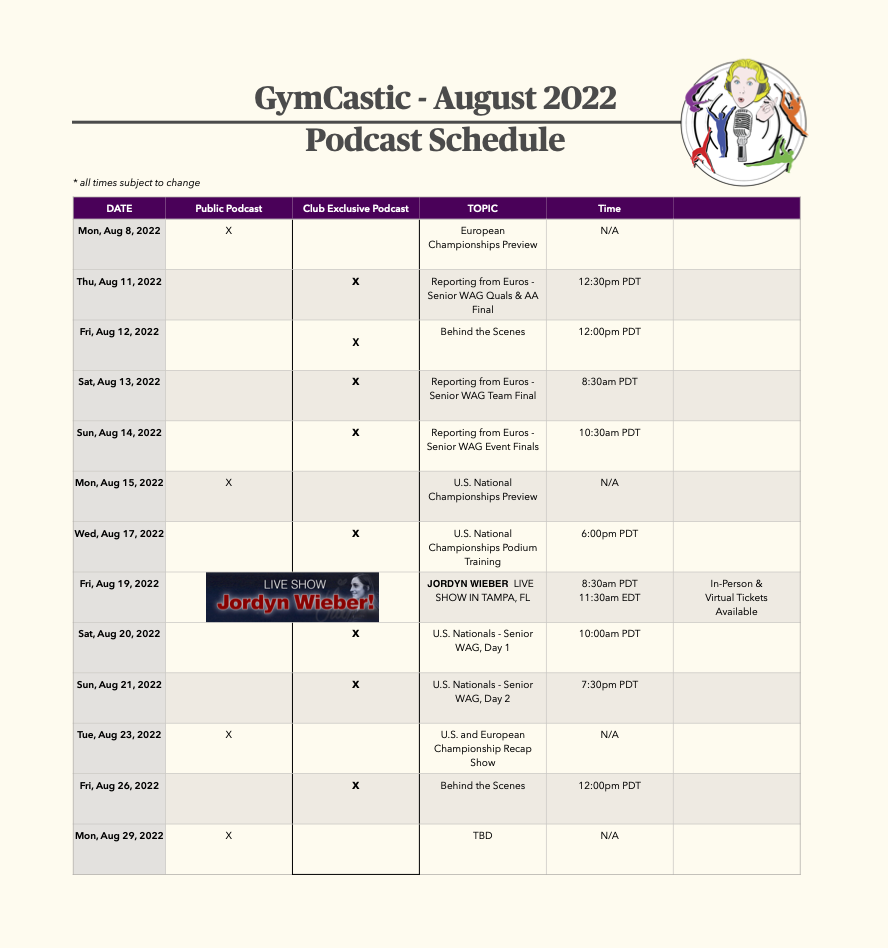 Please login to your Club Gym Nerd account to listen and/or watch this episode. Not a member? Join here.

Headlines from around the world

Rebeca Andrade set a new 2022 record for all-around score at Brazilian Nationals with a 58.100.
Final thoughts on the women's European championship: On Italian dominance, preparation, smart code work, and Germans loving Germans
US Championships preview
It's the return of Jade Carey and Jordan Chiles to elite competition. What are we looking forward to and expecting to see from them?

Why Konnor McClain's prior performances make her a favorite here, but also why there are…6? people who could legitimately win the title
Will we see Shilese Jones perform her original skills?
In the men's department, we have—wait for it—selection procedure questions. Cue gasp. Plus, is Brody Malone a lock to win? Are Shane Wiskus and Yul Moldauer still toward the top of the field in a Colt Walker world? How will Asher Hong stack up against the top seniors? And is Donnell Whittenburg getting back on national team?
Men's Euros preview

That's right, there are men at the European Championship too. Kensley tries to wrangle Jessica and Spencer as we discuss if there are any potential obstacles for the British men and Jake Jarman, the all-around chances of Ilia Kovtun and Adem Asil, the best hopes for German medals, and why floor is going to be the most interesting final.
JOIN CLUB GYM NERD
RELATED EPISODES & RESOURCES
MORE WAYS TO LISTEN