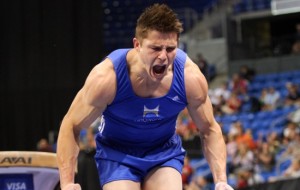 For many, Chris Brooks is perhaps best remembered for "getting extreme" after his vault at the 2012 Visa Championships:
Before Chris Brooks earned the reputation of being an excitable dude with a Blanik vault (handspring double front pike), he was seen as one of the best in the world on high bar. In 2010, he won the event at the Visa Championships, and at the World Championships in Rotterdam, he finished sixth in finals, where he competed against the likes of Zhang Chenglong, Epke Zonderland, Fabian Hambuechen, and Philipp Boy.
In 2011, Chris Brooks did not have the chance to improve on his sixth place finish. After finishing fourth in the all-around at Visa Championships, he was named an alternate to the U.S. World team, and in 2012, déjà vu. After finishing fourth in the all-around at Olympic Trials, Chris was named an alternate yet again, this time, to the U.S. Olympic team.
After coming so close to his goal in 2012, Chris Brooks was eager to prove himself in 2013, but an injured thumb kept him out of competition for most of the year. At the 2014 Winter Cup, Chris Brooks competed in the all-around for the first time since the 2012 Olympic Trials. Uncle Tim sat down with Chris to discuss his progress.
Uncle Tim: Can you give me an update on your injury?
Chris Brooks: "After taking some time off with the Kellogg's Tour and enjoying and celebrating, I came back in 2013, and things were going pretty well. I got into shape quicker than I imagined. So, I went and did a competition in Germany. I had some problems there, but I came back on fire to train. It was just a typical day in the gym. I did a Tak 1/2 on high bar and caught my thumb awkwardly, dislocated it, and popped the UCL ligament in my thumb."
"I immediately called my doctor and said, 'Hey, man, I dislocated my thumb, and it feels really weird. I don't know if it's just loose or what." He got me in the next day, and he literally just touched my thumb and was like, Yeah, the ligament's completely gone. It's completely torn. So, I had surgery and anchored it down. Recovery took a little longer than we anticipated. The doctor repaired it tighter than he normally would because he knows how much stress gymnasts' bodies go through. So, it took a little bit of time to get the flexibility back. But now, it's 100%. It's not keeping me from doing anything. I came in here healthy and trying to earn a spot on the National Team and get on top of the podium."
UT: Going into finals at the Winter Cup, you're ranked second on high bar. You were a finalist at Worlds on the event. Do you have any upgrades planned on the event?
CB: "High bar is hard for me because I have somewhat of a mental block. I went through a really, really bad injury in high school on high bar. I got grip lock while doing a Kovacs, and it almost ended my career. So, I've pretty much maxed out my routine—difficulty wise—without utilizing a Kovacs. So, the next step is to try to address the mental side and see if I can get a Kovacs back in my routine. 'Cause then I could hopefully use a Kolman or a Cassina and up my start value that way."
Chris shows Uncle Tim his scars and explains…
"I splinter fractured one bone in my arm, and the other I fractured in a few different places. I ended up with, I think it was, 5 surgeries before I came back 100%."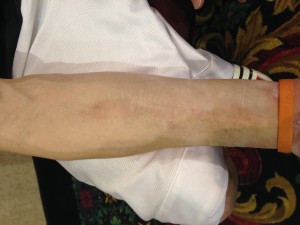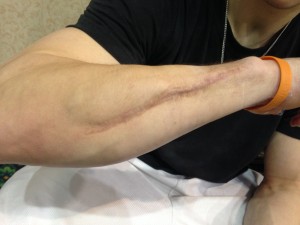 UT: Will we be seeing the handspring double front pike on vault?
CB: "I was doing handspring double pikes, and they were coming around. Then, we had a National Team camp where I was trying to put it on higher mats—not quite competition mats, but getting there. I just tweaked my knee a little bit, and at that point, I was like, I'm not going to rush it. It's a very difficult vault. I'm going to go back to the double front tuck, try to get a good landing, get through Winter Cup, and then try to get an international assignment where I can try to do the double pike again."
UT: Looking toward the future, what are your goals?
CB: "Just do well in Finals. Regain my spot on the National Team. Hopefully get an international assignment in the next couple months. And then, ramp up for Championships and hopefully getting a spot on that World team. The field right now, I think, is the deepest and the best that we have had in this country in a very long time. But I think that, if I can make a few adjustments on a couple events, I think I can put myself in a position to fight for a spot."
UT: Any plans for Rio?
CB: "Absolutely. That's the goal. I'm kind of the old guy on the block now. My heart is still in it. My passion's there, and as long as my body will allow it, I'm definitely training through Rio. I think I still have a lot I can offer the team, so I'd be very upset with myself if I didn't at least go for it."
UT: The Winter Cup is a unique meet. The little guys are running around and competing at the same time that you're training. I saw you taking pictures with a bunch of them. If you could give any advice to the next generation of male gymnasts, what would it be?
CB: "Oh, man, that's difficult. There's so much with this sport. There are so many different things. I would say, Never let anybody tell you that you can't do something, and don't ever get down on yourself. When I had this injury on high bar in high school, the doctor said that I was never going to do gymnastics again, and I told him that really wasn't an option. So, we kind of met in the middle, and he decided that he was going to be very aggressive with my physical therapy and try to get me as healthy as I could be. You know, then, I came back, and I ended up being a World finalist on high bar. So, just keep at it."
"And I thank the little guys for their support. That's the reason why I do gymnastics. Gymnastics has given me so many opportunities in my life, and it has kept me out of trouble. You know, in this sport, you kind of have to be an adrenaline junky. So, I was in the gym, working hard, instead of being young and dumb. And so, I want to give that opportunity to the youth out there—to give them a chance to try a sport that they may not have tried otherwise."

Chris Brooks's high bar routine from the first day of competition at the 2014 Winter Cup Challenge