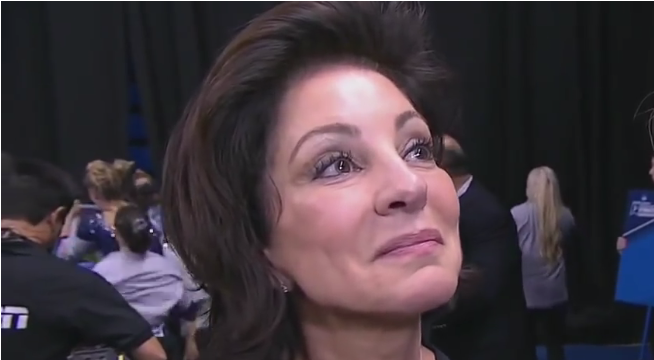 LISTEN HERE
CONTEST
What: 5 winners get a copy of Miss Val's book: Life is Short, Don't Wait to Dance 
Grand Prize: Book and 15 minute personal phone call with Miss Val.
How to Enter: Using the #DontWaitToDance on Twitter or Instagram tag us @GymCastic with a 5 second video doing your favorite UCLA floor choreography. Doesn't have to be you, use your dog, fingers, make a friend do it. 
Bonus entries: Link to the book. Enter as many times as you want. 
When: Now to October 5th
*Conflict of Interest Disclaimer: Jessica's husband co-authored this book.
THE BIG STORIES
Miss Val will retire after the 2019 season (3:30)

Nostalgia for the age of larger-than-life coaches

What does UCLA do now? And is it a knife fight for the head coach position?

MLT interview – the aftermath (20:20)

How Jessica feels about it now and why she never wants to do it again

"This is a sense in which reconciliation can serve as a powerful force for societal healing. But at the same time, these

."

Reactions, regrets, impressions, hopes, frustrations, and feedback

What Jetter and her dad had to say

Kensley attended US men's selection camp and has ALL THE SCOOPS (59:40)

Mikulak, Moldauer, Yoder, Modi, and Van Wicklen will go to Doha

Why Whittenburg was left off the national team

Marvin Kimble drama-things

Why Brett McClure is scared of the Olympic tour

The trashy gym and mismatched equipment the US men have to use
MEET NEWS
Pan American Championships (1:31:13)

Dominance from the US women (duh)

Grace McCallum's world championships chances

Trinity Thomas makes history

Don't sleep on Team Mexico

JUSTICE FOR THE WOMEN OF CUBA

The US men won with consistency

Manrique was the Manrique of the meet

Becky Downie is doing a 6.6 BARS ROUTINE
GYMTERNET NEWS (1:46:29)
Ropes and Gray is delayed until the end of 2018

Mary Lou Retton is on Dancing with the Stars

Alyssa Beckerman with Inside Gym: 

"

You hear a lot that Larry Nassar was a tumor on an otherwise perfect system and… NO! Larry preyed upon a broken system." Note to MLR

FYI: World Championships is canceled

Celine Van Gerner and Eythora Thorsdottir will not compete

Bram Verhofstad didn't make the Dutch men's team

Coline Devillard is out for France

The Thema Williams trial has begun
Peyton Ernst is retiring

Stacey Ervin did a WWE something or other
FURTHER READING
US Men – World Championship Selection
The Miss Val Show
Pan American Championships – What Happened There?
SUPPORT THE SHOW
RELATED EPISODES
MORE WAYS TO LISTEN