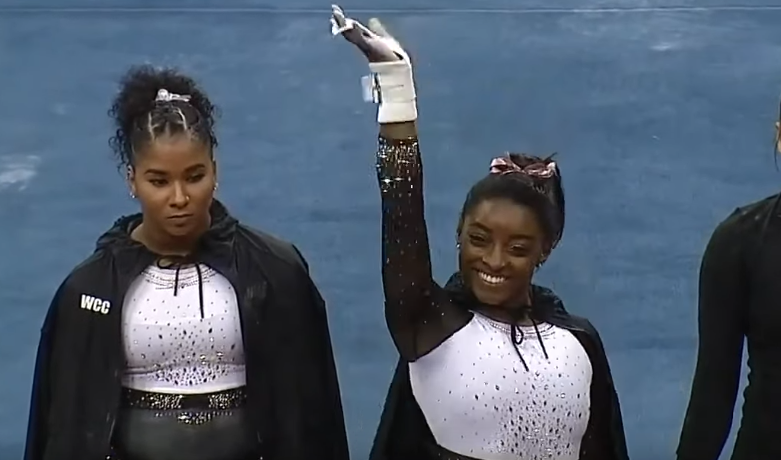 LISTEN HERE
US CLASSIC
Overall impressions

This meet was goooooooood. It's Classic. It's not supposed to be this good. 

Jessica talks about happiness and feelings and a kinder, gentler gymnastics

The broadcast: Tim said "dickmount," the Tim Daggett/Tom Forster passive-aggressive showdown about over-competing that we wanted to last forever, and much more

Listen. The WCC gymnasts walked out in capes. Simone had BILES on her back. All of our dreams are coming true. Obviously this has given us other signature leo ideas. 

Simone's floor upgrades. I mean. Guys. We need to talk about this. For a while. 

Event Queens of E: Simone's vault, McCusker's bars, Simone's beam and McCusker's beam, and McCusker's floor

Scoring records and our problems with the execution evaluation

The Pan Ams team has been named. Spencer has some concerns about the selection approach, and we need to commune about the absence of Sunisa on the team despite this.  
Our pre-meet mysteries: How MyKayla Skinner, Jordan Chiles, Faith Torrez, and Gabby Perea answered the questions we had going in, and our theories about Skinner's floor
You heard right: We're gushing about something Jade Carey did choreographically

Plus, the GAGEs did GAGE things, Morgan is right on track, and TRINITY TRINITY TRINITY

Emma Malabuyo pulled out with a broken tibia. We discuss the Texas Dreams injury situation.

We invented a new term "MenCAA" please adjust your phrasing accordingly from now on.
GYMTERNET NEWS
OK, there's not that much time for gymternet news this week, but we just had to discuss the Maria Caire/UCLA story. 
SUPPORT THE SHOW
FURTHER READING
RELATED EPISODES
MORE WAYS TO LISTEN