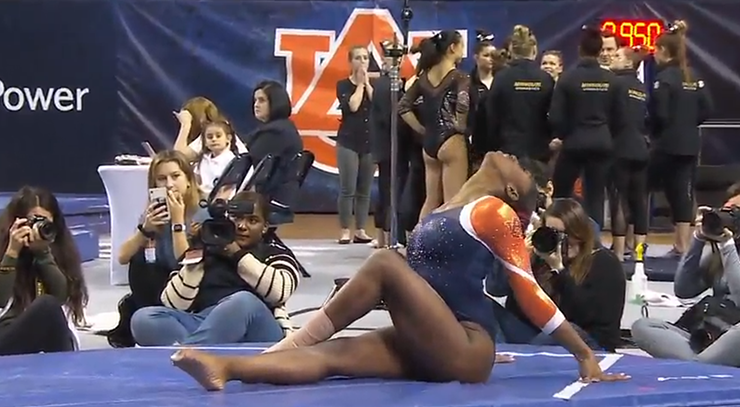 LISTEN HERE
OLYMPIC QUALIFIER NEWS
The American Cup rosters are out. We delve into the crazy-deep men's field, some of the surprises of the women's field, and what this means for Olympic qualification.


Jade Carey is going to Melbourne. How does this affect the race for the apparatus spots?
COLLEGE MEET NEWS
Kensley went to Metroplex. She shares how loud it was (very) and observations from a civilian gym viewer.

LSU/Florida was INTENSE: We break down the 10s, amazing meets from Trinity Thomas and Ruby Harrold, and the injury to Sarah Edwards

Plus, Lexy Ramler got a 10 again, what not to do when someone is trying to vault, and Derrian Gobourne showed everyone how to fall

Crack or Correct takes on the phenomenon that is Michigan home scoring
CLUB GYM NERD MINI-COMMISSION
It's Jessica's dream come true: a commission about Cuba!

We cover the highs (Artistic integrity! Originality! Annia! The Tamayo!) and the lows (federation mismanagement and funding issues) that characterize the history and legacy of Cuban gymnastics
THERE'S MORE
Gymternet News: The latest in Russia's Olympic ban saga, Kristina Baskett, the NCAA doing something good (???), and various dumpster fire developments
Feedback: We weigh in on whether the price is worth it for the experience of going to Olympic Trials
We're Still Doing This?: The argument is back on about the 10.0 in men's college gymnastics
SUPPORT THE SHOW
Join Club Gym Nerd here for access to Behind the Scenes episodes from national camp.

Buy our awesome clothing and gifts here.
FURTHER READING
RELATED EPISODES
MORE WAYS TO LISTEN