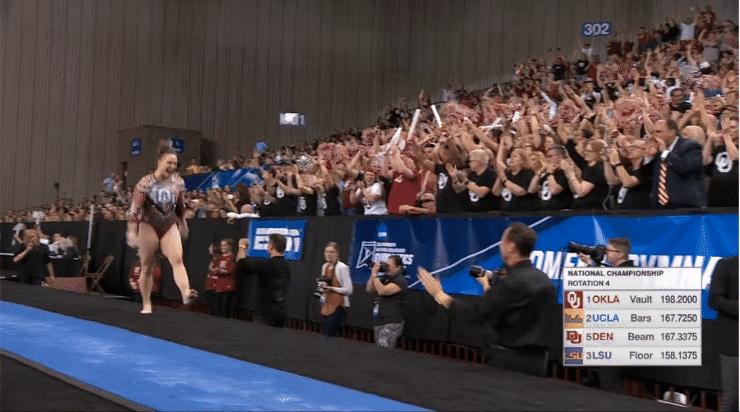 LISTEN HERE
BRENNA DOWELL (4:00)
Continuing our now two-year-old tradition of beginning the NCAA season by asking the final person to compete for last year's winning team to be our first guest of the new year, today we are delighted to be joined by Brenna Dowell! We discuss that vault from championships, leaving NCAA to pursue elite and coming back again, having that story depicted in a movie, GAGE and its GAGEness, Italian culinary adventures, her future plans, and that time she wasn't allowed to train with the team at 2015 Worlds.

MEET NEWS (40:22)
Jessica and Spencer attended the Collegiate Challenge in Anaheim, and we have a lot to say about

Ragan Smith Joy Watch

Crack or Correct: Alexis Vasquez's beam 10.000

The trend for 2020: walking off the floor in an extra fashion

Obsessions named Samantha Sakti, Alma Kuc, Chloe Widner, and Nevaeh DeSouza


A feelings moment that Jessica missed so Spencer has to talk about. UGH.

Plus elsewhere: WTF happened to LSU, meeting the judges in the bathroom, injury news, and Spencer's Crack Den delves into why we saw some…9.6s?…even from top teams…?
GYMTERNET NEWS (1:34:53)
The FIG kind of actually did something helpful?

Alexa Moreno and Simone Biles received some Best Person awards (duh)

What's happening with the AG investigation of Michigan State

USAG staffing news

A gymternet marriage shout-out!
FURTHER READING
SUPPORT THE SHOW
RELATED EPISODES
MORE WAYS TO LISTEN